Navy's Task Force 59 reaches full operational capability as it works to build a 'digital ocean' of connected assets
Task Force 59 is developing a vast integrated network of sensors and unmanned systems.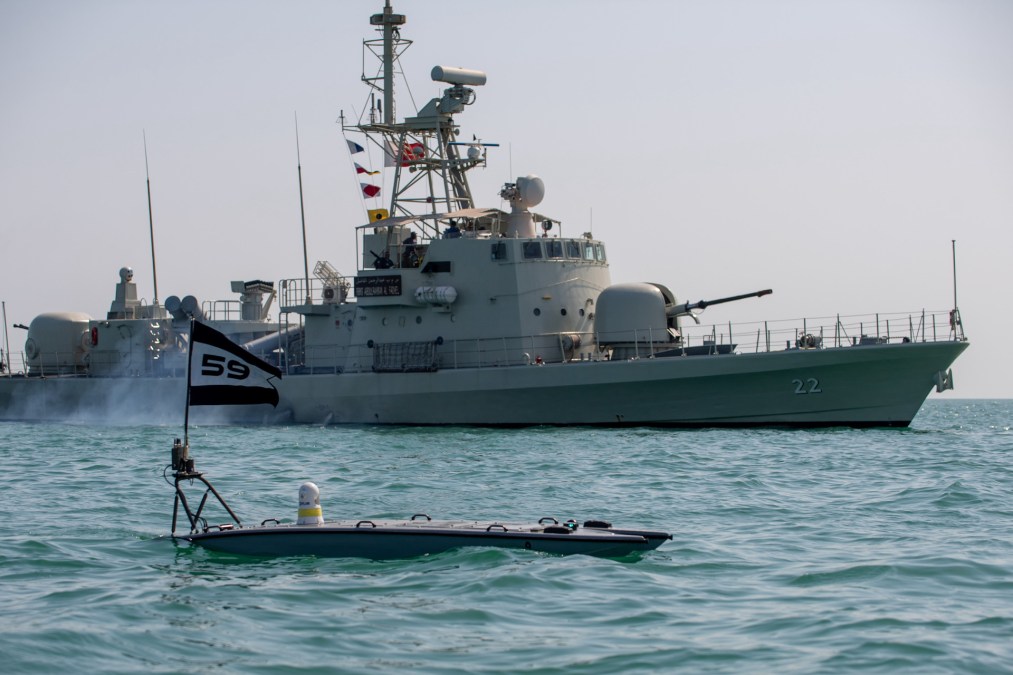 The Navy's Task Force 59 recently reached full operational capability as it aims to deliver drones and artificial intelligence for advanced maritime operations in the Middle East region, Vice Adm. Brad Cooper said Tuesday.
"This is only 15 months after we formally established it and I couldn't be prouder of our entire staff for how far we have come," Cooper, who serves as commander of U.S. Naval Forces Central Command and commander of the 5th Fleet, said at the Surface Navy Association's National Symposium.
"The path to this major milestone included 11 bilateral maritime exercises, three major international exercises, and over 30,000 hours of safely operating [unmanned surface vessels] in waters around the Arabian Peninsula," he added.
Launched in 2021, the first-of-its-kind task force was formed to help the Navy better integrate uncrewed systems and AI to strengthen the service's maritime domain awareness, and enhance its deterrence capabilities as conflicts evolve to become more digital.
Since its inception, Task Force 59 has also been known for its aggressive experimentation — particularly at a time when the Navy is strategically expanding its inventory of robotic platforms in that region.
"Today, we are operating platforms equipped with sensors, radars and cameras for many uses including navigation, data collection, and intelligence, surveillance and reconnaissance. These new data flows enhance our ability to persistently monitor the surrounding seas and enable leaders to be more predictive and precise in deploying our crewed assets," Cooper said.
In the "not-too-distant future," the Navy envisions deploying these systems "to support warfighting missions across the entire spectrum of joint functions," he noted.
The 5th Fleet's area of operations is dynamic and vast — encompassing bodies of water in the the Arabian Gulf, Red Sea, Gulf of Oman and parts of the Indian Ocean. There, Naval forces are in the process of generating a cutting-edge "mesh network" of AI-enabled unmanned surface vessels (USVs) that carry cameras and can transmit images and data via the cloud.
Exercises and demonstrations are being "regularly held" at this point with international militaries in the region, like Israel, Bahrain and Jordan, and Cooper said he expects all this collaboration on USVs and AI to grow in the near term.
"This progress is and has been vital in establishing what we're calling a 'digital ocean,'" Cooper said. "This means every partner and every sensor collecting new data, adding it to an intelligent synthesis of around-the-clock inputs, encompassing thousands of images from seabed to space, from ships, unmanned systems, subsea sensors, satellites, buoys, and other persistent technologies."
Ultimately, the overarching goal is a distributed, integrated network of systems that operate closely with those of partners in the region "to ensure safer seas and enhance maritime security for everybody."
Many might view this as too ambitious of an aim, but Cooper said it's achievable and, in his view, "we have already come a long way in a very short period of time."
Building on its early success, Navy leaders recently announced plans to establish additional uncrewed task forces around the globe modeled after how Task Force 59 functions in the Middle East. As those new teams come into fruition, Task Force 59 is also generating a new pipeline to engage ambitious, emerging Naval leaders in its work.
"Just three weeks ago, [Naval Surface Forces Commander Vice Adm. Roy Kitchener] approved early command for junior [surface warfare officers, or SWOs]," Cooper said, "opening up opportunities for our most inventive minds to lead task groups under Task Force 59 in Bahrain and USV Division One in San Diego."
In Bahrain, "these pioneering officers will join our team as we continue making progress towards our goal of establishing the world's first USV fleet," he added.