AI agents take control of modified F-16 fighter jet
DARPA's air combat evolution program aims to advance the Pentagon's autonomous systems capabilities as the U.S. military pursues robotic wingmen and other drones.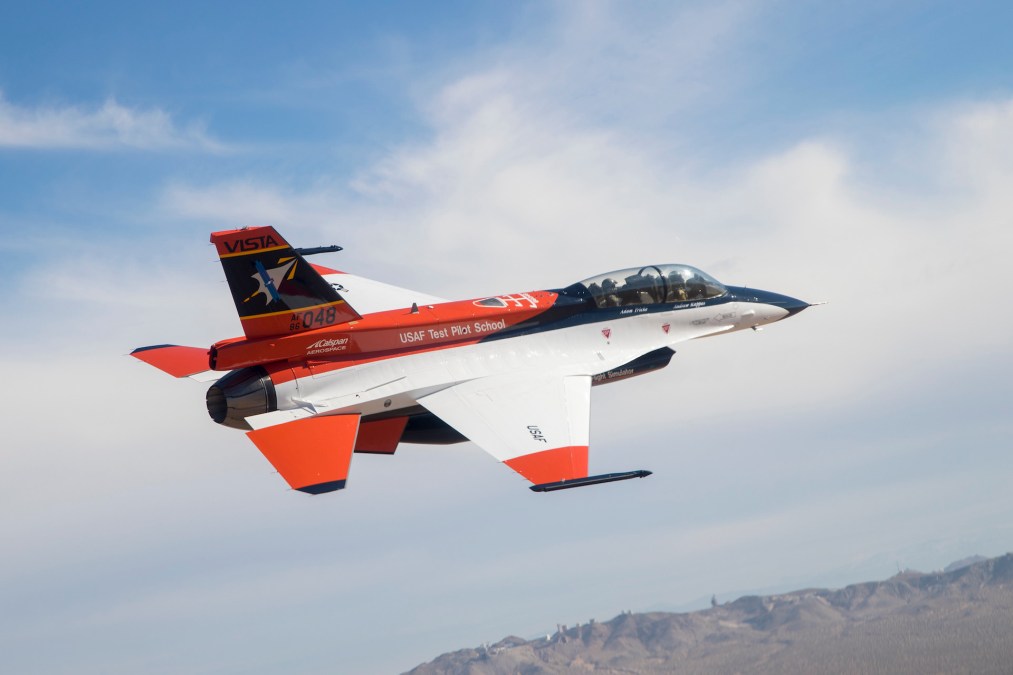 Artificial intelligence agents have demonstrated their ability to control a modified F-16 fighter jet during an initial round of test flights in California as the Defense Advanced Research Projects Agency moves forward with its Air Combat Evolution program, according to DARPA.
The ACE project aims to advance the Pentagon's autonomous systems capabilities as the U.S. military pursues robotic wingmen and other drones. Industry participants for the recent tests included EpiSci, PhysicsAI, Shield AI and the Johns Hopkins Applied Physics Laboratory, which put their algorithms through their paces.
"In early December 2022, ACE algorithm developers uploaded their AI software into a specially modified F-16 test aircraft known as the X-62A or VISTA (Variable In-flight Simulator Test Aircraft), at the Air Force Test Pilot School (TPS) at Edwards Air Force Base, California, and flew multiple flights over several days. The flights demonstrated that AI agents can control a full-scale fighter jet and provided invaluable live-flight data," DARPA said in a press release Monday.
"We conducted multiple sorties [takeoffs and landings] with numerous test points performed on each sortie to test the algorithms under varying starting conditions, against various simulated adversaries, and with simulated weapons capabilities," ACE program manager Lt. Col. Ryan "Hal" Hefron said in a statement.
"We didn't run into any major issues but did encounter some differences compared to simulation-based results, which is to be expected when transitioning from virtual to live. This highlights the importance of not only flight testing advanced autonomous capabilities but doing so on testbeds like VISTA, which allowed us to rapidly learn lessons and iterate at a much faster rate than with other air vehicles," he added.
AI agents had previously defeated a human F-16 pilot during a series of simulations that were part of DARPA's AlphaDogTrials.
DARPA did not disclose any additional information about the different results that were found in the recent flight tests compared to previous simulations.
The agency noted that a human pilot was onboard the two-seat aircraft to take over if anything went awry while the AI agents were in control during the test flights.
Although the X-62A is a modified F-16, it can also be programmed to demonstrate the flight-handling characteristics of a variety of different aircraft types. And the VISTA will support a variety of programs, according to officials.
The platform was recently upgraded with what officials are calling a System for Autonomous Control of Simulation (SACS).
"What we've done with investments from DARPA, with investments from the [Air Force] Research Lab is put it an autonomy core kind of brain on there. That's going to allow us to actually go fly autonomy [technology] and have a person still in the aircraft to intervene if we need to," Maj. Gen. Evan Dertien, commander of the Air Force Test Center, told reporters during a media roundtable in September at AFA's Air, Space and Cyber conference.
The VISTA is going to be very busy with flight testing, he noted.
"The X-62 is booked solid. We have a roadmap for the next probably two or three years of all the different programs it will support. We're also looking at efforts to try to figure out how we would actually bring up more aircraft and get autonomy engines on to accelerate this. But as far as what we'll continue to do — that that will probably evolve based on the data of what we do. But I think increasing capacity right now is one of our [desired] things," he said.
"Eventually, hopefully, we can get some other aircraft modified with the autonomy core engine and start accelerating the pace of testing, look at teaming tactics, and get two ships and three ships and things like that going," he added.
Air Force Secretary Frank Kendall has said that previous progress with the ACE initiative contributed to his decision to move forward with a "collaborative combat aircraft" program. That drone project is expected to receive significant funding in the fiscal 2024 budget, although Kendall has suggested that many aspects of the program will be classified.
"We're heading down the path to have much more capability for uncrewed aircraft," Air Force Chief of Staff Gen. Charles "CQ" Brown said Monday at a Brookings Institution event. "When you look at one of our operational imperatives — next-generation air dominance family of systems — we're going down the path of collaborative combat aircraft."
Officials envision teaming those next-gen drones with manned platforms such as the F-35 and a forthcoming NGAD fighter.
"As we look into our future budgets there's three aspects of this. There's the platform itself, there's the autonomy that goes with it, and then there's how we organize, train and equip to build the organizations to go [use that technology]. And we're trying to do all those in parallel. So we are thinking through aspects" of that, Brown said. "I think you'll see as we start looking at our future budgets and the analysis we're doing as part of our operational imperatives that we are committed to more uncrewed capability."