X-62 aircraft is 'booked solid' as a flying testbed for autonomy technology
The Air Force Research Lab and Air Force Test Center are launching a multiyear campaign to test autonomy capabilities on X-62 aircraft.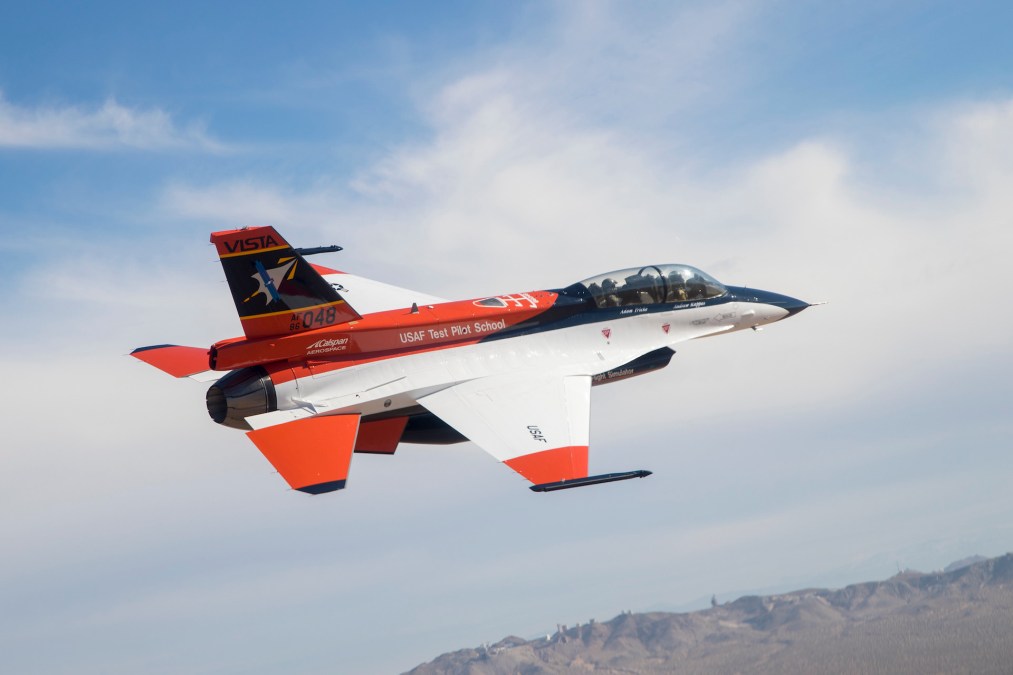 NATIONAL HARBOR, Md. — The Air Force Research Lab and Air Force Test Center are launching a multiyear campaign to test autonomy capabilities on X-62 aircraft, as the service moves forward with plans to develop robotic wingmen or "collaborative combat aircraft" that it hopes to field in the coming years. The initiative will support a variety of programs, according to officials.
The X-62 VISTA is a "highly modified" F-16 fighter jet, Maj. Gen. Evan Dertien, commander of the Air Force Test Center, told reporters during a media roundtable at the Air Force Association's Air, Space and. Cyber conference. It has previously been used to train pilots to operate various types of aircraft.
"What we've done with investments from DARPA, with investments from the [Air Force] Research Lab is put it an autonomy core kind of brain on there. That's going to allow us to actually go fly autonomy [technology] and have a person still in the aircraft to intervene if we need to," he said.
The X-62 can simulate a variety of aircraft due to its variable stability, including a slow autonomous vehicle or a high-performance fighter, he noted.
"Having an autonomy engine on there will help us start with our risk reduction. So that aircraft just went through a major modification. It's out, it's flying. We'll do some stability stuff here in the fall. And then as we go into the winter, we're taking the DARPA experiment with the Alpha Dogfight [Trials] and the [Air Combat Evolution] different experiments — and we'll take that software and actually put it on the aircraft and start developing autonomy there," Dertien said.
Data from the experiments will be sent back to AFRL and industry partners that are working on mature the technology.
The X-62 is going to be very busy with testing, according to Dertien.
"The X-62 is booked book solid. We have a roadmap for the next probably two or three years of all the different programs it will support. We're also looking at efforts to try to figure out how we would actually bring up more aircraft and get autonomy engines on to accelerate this. But as far as what we'll continue to do — that that will probably evolve based on the data of what we do. But I think increasing capacity right now is one of our [desired] things."
Adding additional platforms into the mix will help the test center.
"Eventually, hopefully, we can get some other aircraft modified with the autonomy core engine and start accelerating the pace of testing, look at teaming tactics, and get two ships and three ships and things like that going," Dertien said.
The airspace at the Air Force Test Center can serve as a sandbox for technologies developed by the Air Force Research Lab and its partners.
AFRL has been working on a platform-agnostic "autonomy core" system for drones as part of its Skyborg program, which is expected to inform the service's future collaborative combat aircraft program. The technology has already been put through its paces on other experimental aircraft.
"From a software standpoint, and what we're looking at … with the Skyborg autonomy core system being platform agnostic, we're trying to have it do some of the very basic things that aircraft do, right — aviate, navigate, communicate, and what are those parameters? But then how do we make it more specific for the platform that it's operating on? So, what are the specific apps, if you will, that plug in, if it's a fighter type, or what app, you know, that will be uniquely developed if we put the autonomy core system on a different type aircraft?" AFRL Commander Maj. Gen. Heather Pringle said during the roundtable.
When asked later by DefenseScoop if the Air Force had decided which platform would be the next to receive the autonomy core system, Pringle declined to identify candidates that are being considered.
"Right now, we're just trying to make it platform agnostic so we can develop the different apps. So we're still working through all of those," she said.