Saltzman: Space Force must 'build new infrastructure' to underpin future training 
Advancing the service's simulation capabilities has been a major priority for Gen. Saltzman since he was first tapped as CSO.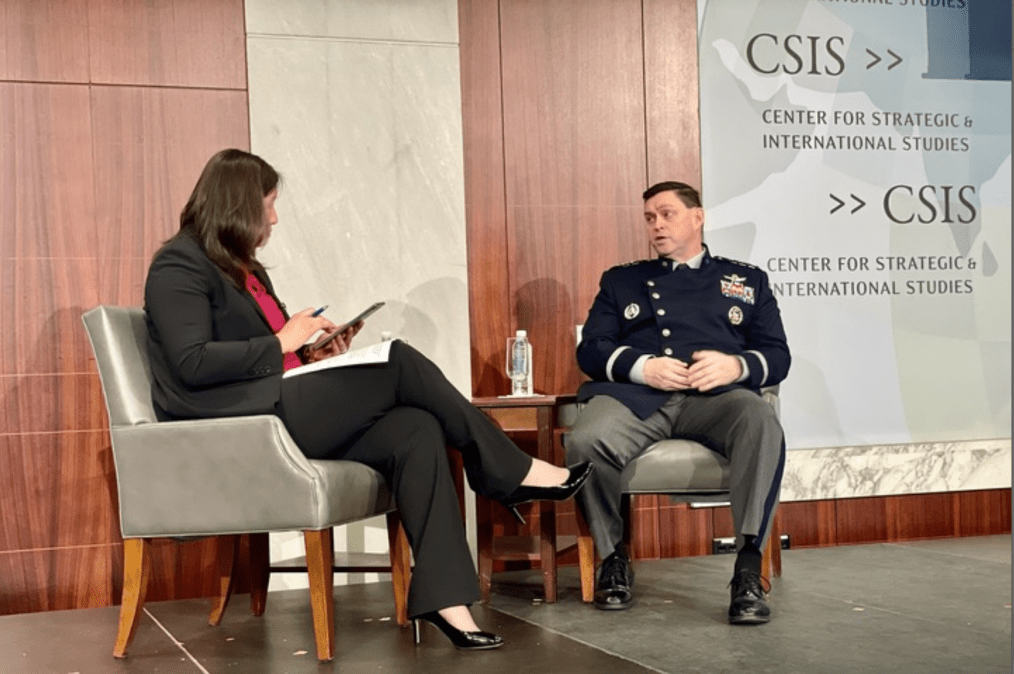 Chief of Space Operations Gen. Chance Saltzman continues to lead a staunch campaign to enable an ultramodern operational test and training environment for Space Force guardians that's more digital and tailored to the service's needs.
"We've got to train. We've got to have the ranges. We've got to develop our tactics and test them, and simulate them. And that means that I've got to build new infrastructure to provide our guardians the kinds of simulators they need and the kinds of virtual environments to test their concepts, so that we can see if it's going to work in a contested environment like the Red Sea [and] in the western Pacific," Saltzman said at an event hosted by the Center for Strategic and International Studies on Wednesday.
Saltzman is a career missile and space operations officer who has also served as a satellite operator for the National Reconnaissance Office. He became the Space Force's second-ever chief in November, after serving as the new branch's deputy chief of space operations for operations, cyber, and nuclear.
The realms of cyber and space mark the newest warfighting domains recognized and prioritized by global military powers. Given the nature of the emerging and sensitive capabilities associated with these domains, forces are limited in the systems they can use — or expose — during training.
During his time as an intercontinental ballistic missile test officer, Saltzman said he never got to launch an ICBM — "you're welcome," he quipped. "But I trained in a simulator every single month to make sure I knew exactly what to do, and that I was fully ready to do that job should I be asked to do it. What was amazing is that the simulator was exactly like it was in the field," he noted.
In his view, the Space Force should be taking advantage of new capabilities to completely simulate complex military settings that guardians need to be familiar with.
"Our connection to the actual space environment is virtual. From the operator's perspective, you are interacting through keyboards and [radio frequency] energy through antennas, and it can be perfectly replicated, I believe this, in a simulator environment. So once you build the high-fidelity simulators, then you can test, you can practice your techniques, you can have adversary inputs to see how it will behave and how the system would work. I think that gives us a powerful leg up because so much can be simulated — it doesn't have to be done in a live environment," Saltzman said.
Advancing the Space Force's testing and training capabilities has been a major priority for him since he was first tapped as CSO. When testifying to the Senate Armed Services Committee as President Biden's nominee to lead the service, he highlighted the need for new ranges and simulation technologies for guardians to hone their tradecraft. And last month, Saltzman also hinted that investments associated with this requirement will be in the budget request for fiscal 2024.
During the CSIS event, the space chief noted that in observing the unfolding war between Russia and Ukraine, an important takeaway for him, so far, is that militaries need more than just the most exquisite hardware or best equipment to "roll over" opponents.
"That's not the way it works. It takes operational concepts, it takes joint operations, it takes doctrine, tactics. It takes sustainment capabilities, logistics planning. You have to be able to pull all of that together and be able to execute a plan, not just think your forces are going to be more superior. And so for me, that means you've got to train like you plan to fight," Saltzman said.
"You've got to be able to do range operations. You have to practice tactics. You have to simulate against a thinking adversary to see if your tactics are going to hold up in a contested domain. All of those things are going to be critical to actually having success in modern warfare," he added.
When asked whether he believes the next major conflict will be the first to have a combat action in space, Saltzman said he is going to do everything he possibly can to prevent that. According to him, that would be "a losing situation, no matter how it turns out."
"The loss of a sustainable set of orbits is problematic. It would be detrimental to the economy, and certainly detrimental to military activities. So, we have to build the strategies, the operational concepts, the equipment and the resiliency that makes the cost-benefit analysis such that you would never want to attempt a strike into space or destructive force in space because it's self-defeating," he said.