Air Force preparing for 'tethered' and 'untethered' CCA drone operations
The Air Force's forthcoming unmanned "collaborative combat aircraft" must be able to operate as loyal wingmen "tethered" to manned fighter jets, as well as fly "untethered" with a high level of autonomy when required, officials say.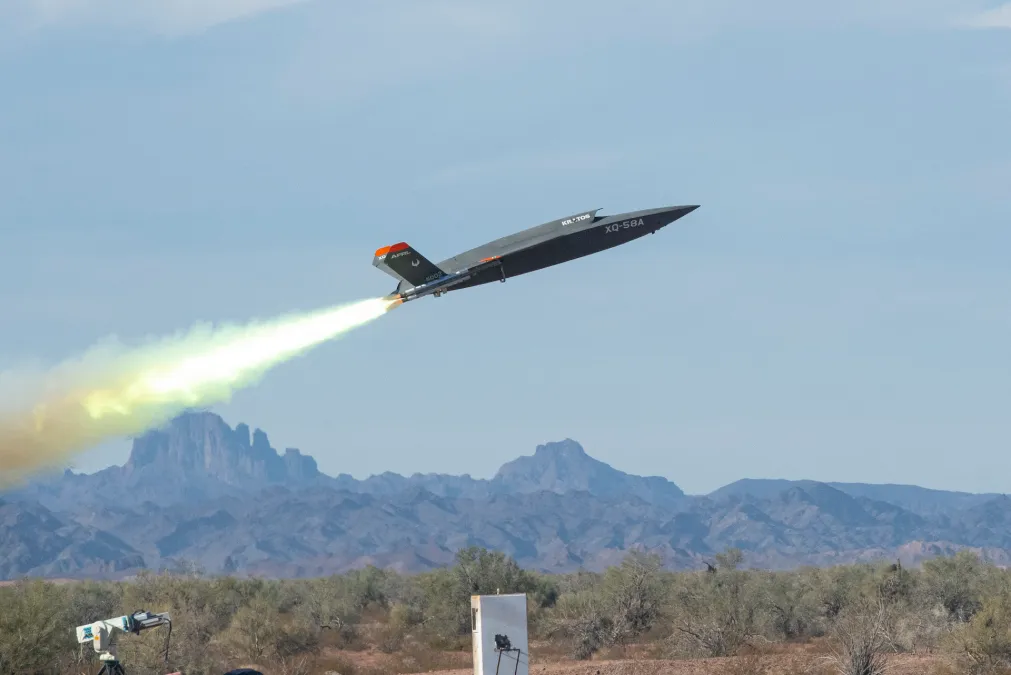 The Air Force's forthcoming unmanned "collaborative combat aircraft" must be able to operate as loyal wingmen "tethered" to manned fighter jets, as well as fly "untethered" with a high level of autonomy when required, officials say. The service is taking steps to enable that flexibility for its next-generation drones.
The Air Force plans to spend more than $6 billion on research, development, test and evaluation for its new CCA program and related projects over the next five years, including an experimental operations unit and an autonomy testbed that will support the initiative. The uncrewed platforms are expected to serve as robotic wingmen for Next-Generation Air Dominance (NGAD) fighter jets and other manned aircraft. The service is currently planning for 1,000 such systems.
"In many cases, we will tether [the CCA drones to manned platforms] in terms of range and speed and payloads and capabilities. And in other areas, we will untether in terms of geographic location, mission generation, to complicate both an enemy targeting scheme and what they have to keep track of and battle track. And then we will be able to congeal our forces to a time in place of our choosing," Maj. Gen. Scott Jobe, director of plans, programs and requirements at Air Combat Command, said Monday at a virtual event hosted by the Mitchell Institute.
"There's lots of different definitions … on what tethering and non-tethering means. But the short answer is, yes, we're going to have all of those capabilities. So we're going to have the ability to perform maneuvers in close concert with a fighter-type aircraft or NGAD platform itself. And then there are other cases where we will have [drone] swarms doing things on a platform to platform, CCA to CCA, or weapon-to-weapon collaboration level," he said.
The uncrewed systems and supporting technologies developed by industry and government agencies must have those capabilities baked into them, noted Brig. Gen. Dale White, program executive officer for fighters and advanced aircraft, which is overseeing the CCA acquisition program.
"That flexibility can't be limited by the design of the materiel solution. The flexibility has to be introduced at the mission planning level, which means the materiel solution has to be very open in terms of what it's capable of doing. And that is one of the key focus areas. Because at the end of the day, when we employ these, we want to give the mission commander … the maximum capability and the maximum flexibility," he said.
Maj. Gen. Heather Pringle, commander of the Air Force Research Lab, said modeling and simulation tools will help officials explore how the drones could operate both tethered and untethered.
Autonomy will be key when aircraft-to-aircraft communications are degraded by adversaries' attacks in the electromagnetic spectrum, Air Force officials say.
"What we've done for our concept of operations and concept of employment have built in the ability to both have a human in or on the loop. And then also, when that doesn't happen because of the contested electromagnetic spectrum that we anticipate, we still have built the capabilities from the mission planning perspective, from the rules of engagement, and from the autonomy perspective, so that these aircraft can still be effective in the fight. And so we built that into our attributes for both the platform and integration across the NGAD platform aircraft itself and the CCAs," Jobe said.
The next generation of autonomy technology has to be able to account for electronic attacks and be "predictive" in terms of what it will do when it's operating in environments where communications are disrupted, degraded, or intermittent, Pringle noted, adding that the tech needs to be reliable with AI ethics rules "baked in," so that warfighters will trust the systems.
Maj. Gen. Evan Dertien, commander of the Air Force Test Center located at Edwards Air Force Base, noted that the service is already thinking through these safety issues as it conducts experiments with these types of drones and flies them over the United States.
"We're working on … developing that autonomy, the flexibility to switch back between tethered and untethered. And when you have an unexpected break of your tethering communications, what do you want the autonomy to do? Do you want it to automatically return to base? Do you want it to posture itself to reestablish the connection? So as we're taking baby steps right now, kind of crawl, walk, run [approach]. We're working through all those kinds of different things. But we're putting a framework in place to where you know safety is kind of your number one priority, and then you build on capability from there," he said.
The Air Force plans to expand upon the autonomy work that's already been done by AFRL's Skyborg program and the Defense Advanced Research Projects Agency's Air Combat Evolution (ACE) initiative, as it pursues a "core autonomy engine" that it can put on its future drones to run algorithms.
The service has been putting Kratos' unmanned XQ-58A Valkyrie platforms and other drones developed by industry through their paces.
Next steps include additional experimentation efforts using modified F-16 fighter jets to test out new artificial intelligence and autonomy technologies that will support the CCA program.
In December, during multiple flights at Andrews Air Force Base, California, X-62A VISTA test aircraft equipped with algorithms demonstrated that AI agents can control a full-scale fighter jet and provide live-flight data, according to officials.
Additionally, the Air Force has big plans for its Viper Experimentation and Next-gen Operations Model (VENOM) project, which will also include F-16s that will serve as a "flying autonomy testbed" for the CCA effort, according to budget documents.
The Air Force is requesting $50 million for VENOM in fiscal 2024, and it plans to spend $121 million on the initiative in fiscal 2024-2028.
"The VISTA aircraft is great for the control of development, and we kind of have the safety wrapper to develop autonomy. [But] what you don't have on that aircraft is a lot of sensors. So by getting it on the VENOM aircraft, you now have an AESA radar, you have electronic warning, you have all those things that where now you can expand your autonomy algorithm to react to the inputs that it's getting to make decisions for you. So, it's kind of the next evolution into scaling up what autonomy can do. And that's what … the VENOM aircraft will help us do," Dertien said.
Air Force officials have said they hope to have collaborative combat aircraft ready to be fielded by the time the manned Next-Generation Air Dominance system comes online. Last year, Air Force Secretary Frank Kendall suggested the NGAD platform could reach some sort of operational "capability" by 2030.
At the Mitchell Institute event on Monday, White declined to say when he expects CCA drones or the next-gen manned fighter will be ready for fielding, citing classification reasons. But he did note that "I don't think we're going to wait for an NGAD to roll out a CCA."