Kendall: ARRW missile test was unsuccessful; Air Force now more committed to another type of hypersonic weapon
The Air Force is now more committed to the Hypersonic Attack Cruise Missile (HACM) than the Air-launched Rapid Response Weapon (ARRW).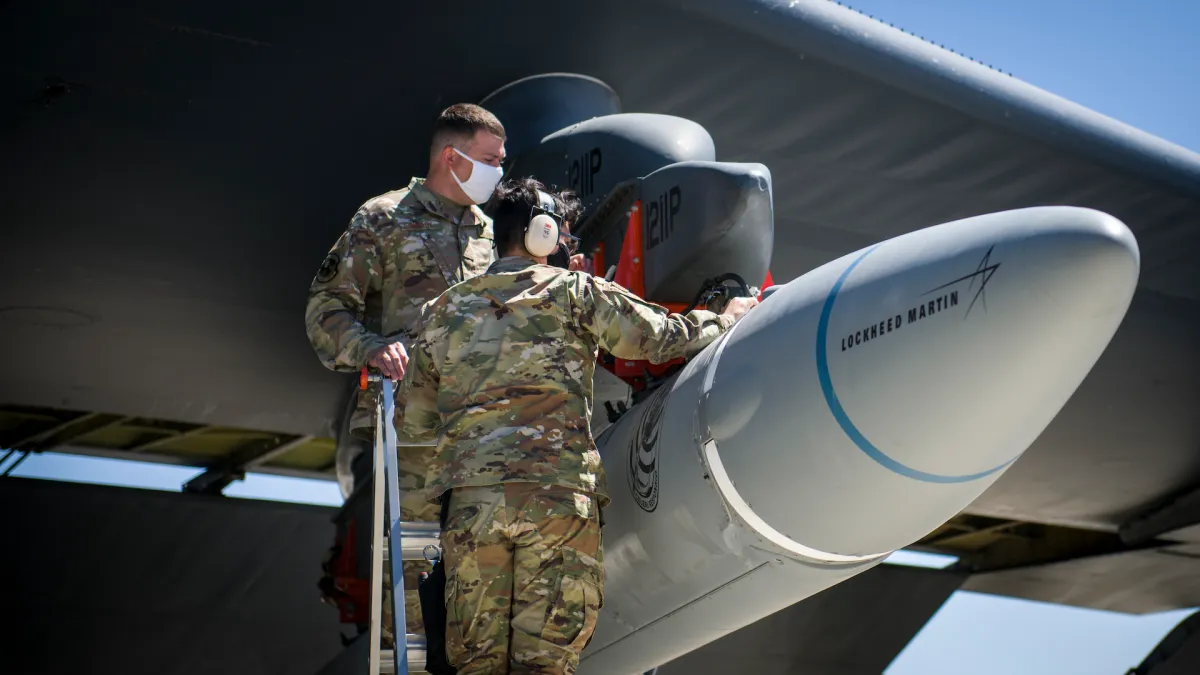 A recent flight test of the Air Force's Air-launched Rapid Response Weapon (ARRW) was "not a success," and the service is now more committed to developing a different system known as the Hypersonic Attack Cruise Missile (HACM), Secretary of the Air Force Frank Kendall told lawmakers Tuesday.
The 412th Test Wing at Edwards Air Force Base in California conducted the second "all-up-round" flight test of the full prototype operational ARRW on Mar. 13 by releasing the missile from a B-52H Stratofortress bomber, Air Force Material Command said in a press release last week. The test focused on ARRW's end-to-end performance and "met several of the objectives," the release said, adding that engineers and testers "are collecting data for further analysis."
However, on Tuesday Kendall stated that the test was unsuccessful and that the service now plans to reevaluate the program in its future budget requests.
"The one we just had was not a success. We did not get the data that we needed from that test. So, they're currently examining that to try to understand what happened," Kendall said while testifying to the House Appropriations Committee's defense subcommittee. "We have two more test articles that we can use. And we'll probably have to make a decision on the fate of ARRW after we complete the analysis and hopefully do those two tests."
The Air Force is asking for $150 million in research and development funding for ARRW in its fiscal 2024 budget request in order to complete the rapid prototyping program and conduct flight tests of the weapon.
While recently released budget justification documents indicate R&D investments for ARRW will end after fiscal 2024, Kendall said officials will revisit the program's funding as they build the budget requests for fiscal 2025.
Lockheed Martin is the prime contractor for the program.
"Lockheed Martin is committed to developing hypersonic technology on an accelerated timeline to meet this critical national security need," the company said in a statement to DefenseScoop when asked to comment on the recent test after Kendall's remarks on Tuesday.
ARRW is a boost-glide missile that uses a rocket motor to propel the weapon to hypersonic speeds of Mach 5 or higher. Hypersonic missiles are also designed to be highly maneuverable in-flight, making them difficult for adversaries' air defense systems to intercept.
The ARRW program has seen both progress and setbacks since the Air Force began pursuing the weapon. After repeatedly pushing the program's timeline back, it was announced that the system could be operational as early as fall 2023, according to an Air Force Global Strike Command release in December.
ARRW is now in what Lockheed has referred to as an "extremely aggressive schedule" for development and testing. In December, the program conducted the first launch of a full prototype operational missile at Edwards Air Force Base — a successful flight test lauded as a major milestone in the Air Force's pursuit of hypersonic capabilities.
While ARRW remains up in the air, Kendall told lawmakers that the Air Force is more confident in its other hypersonics program — the Hypersonic Attack Cruise Missile (HACM). The cruise missile differs from ARRW in that it will leverage a scramjet engine to achieve hypersonic flight rather than a boost-glide system.
"We see a definite role for the HACM concept," Kendall said. "It's compatible with more of our aircraft and it will give us more combat capability overall. So we're more committed to HACM at this point in time than we are to ARRW."
The Air Force plans to spend $1.9 billion over the next five years to research and develop HACM, including $381.5 million in fiscal 2024, according to budget justification documents.
In September, the service awarded Raytheon Technologies a $985 million contract to develop and demonstrate HACM by operationalizing prototype designs the company completed as part of the Southern Cross Integrated Flight Research Experiment (SCIFiRE). The program was part of a multi-year, bilateral project arrangement with Australia.
Updated on March 28, 2023, at 7:05 PM: This story has been updated with a statement from Lockheed Martin.