Navy's future HALO 'hypersonic' missile might not actually be hypersonic
The Navy is pursuing what it calls a Hypersonic Air Launched Offensive Anti-Surface (HALO) weapon. But the missile's top speed might not qualify as hypersonic, a program executive officer at Naval Air Systems Command suggested.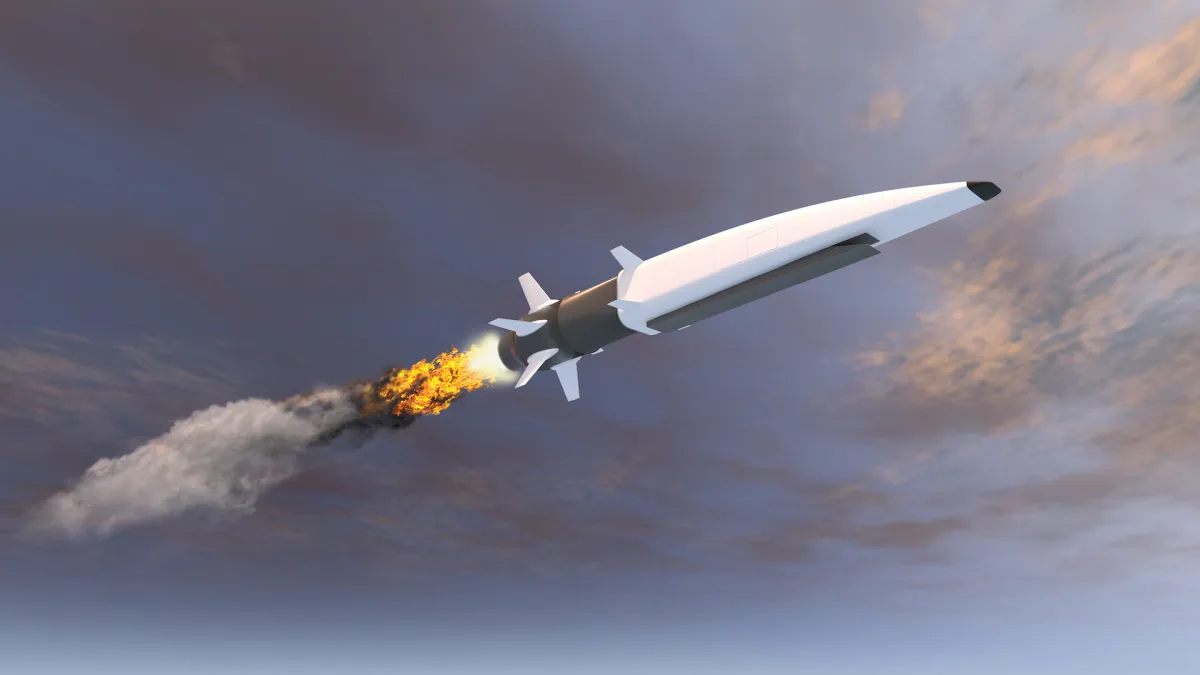 The Navy is pursuing what it calls a Hypersonic Air Launched Offensive Anti-Surface (HALO) weapon. But the missile's top speed might not qualify as hypersonic, a program executive officer at Naval Air Systems Command suggested.
Mach 5 — or 3,836 miles per hour — is the speed threshed that separates hypersonics from supersonic systems, and the HALO system may fall in the latter category.
"From a speed perspective, the hypersonics is a little bit of a misnomer [for HALO]. We're not actually that concerned about Mach 5. It's about distance and time — can I close the range that we want as quickly as possible … It's going to be probably in the high Mach 4-plus category as far as its peak speed. But we're really focused on, can I close distance at speed, potentially, to the point where [in-flight target update] is not required," Rear Adm. Stephen Tedford, PEO for unmanned aviation and strike weapons at NAVAIR, said during a briefing at the Navy League's Sea-Air-Space conference on Monday.
Last week, NAVAIR awarded two contracts to Raytheon Missiles and Defense and Lockheed Martin, with a total value of $116 million.
"The initial contracts to Raytheon and Lockheed Martin will provide technical maturation and development through preliminary design review of the propulsion system required for a carrier suitable hypersonic weapon system. The contract period of performance for each award will end in December 2024 with each company's preliminary design review working towards a prototype flight test," NAVAIR said in a release.
The HALO system will be a "high speed, long range air-launched weapon that will provide greater anti-surface warfare capability than what's available today," per the release.
The service wants to equip its aircraft-carrier-based fighter jets with the missile, which could sink enemy ships.
The Navy plans to spend about $450 million on research and development for HALO, also known as the Offensive Anti-Surface Warfare Weapon Increment 2, in fiscal 2024-2028 with the aim of fielding the system in fiscal 2029.
However, developing such a capability will be no easy feat, Tedford acknowledged.
The Air Force is also pursuing air-launched hypersonic missiles, but Tedford suggested the Navy in some ways faces a more daunting challenge because of size constraints that are unique to carrier-based platforms.
"This is no hit against our Air Force brothers because they've done a lot of work in the hypersonic space along with DARPA. But if I get to carry it on a B-52 [bomber], there's pretty much nothing I can't launch, OK, because it's huge. But if you have to be able to move it around an aircraft carrier flight deck loaded, and cat and trap off an F-18, it completely changes the equation on what you can carry — which makes hypersonics a challenge when you then limit its length and its size. That's what this [HALO] program is trying to solve. And we're trying to do it before the end of this decade with an [initial operational] capability," Tedford said.
The system will need to fit on an F/A-18E/F Super Hornet, he noted.
"It'll be exterior carriage on an F-18. It's not likely something that's going to size fit inside the bomb bay of an F-35. But its intended first platform will be the F-18," he told DefenseScoop during the briefing.
DefenseScoop asked Tedford if he anticipates that HALO will be a scramjet-powered cruise missile along the lines of some of the systems that industry has been working on for DARPA and the Air Force.
"Whether or not it is scramjet or ramjet technology, we don't necessarily have a preference. We want the capability. So right now, like I said, the preliminary award for HALO went to Lockheed Martin and Raytheon. It's a dual source. This is only phase one. So this gets both companies to a preliminary design review, OK. But the speed at which we are going and trying to achieve an initial operational capability before the end of the decade, it is, in my opinion, very much going to be based on technology we have today — and things that are going to bring that together to be able to get through" the testing and development period, he said.
The Navy plans to leverage some of the work being done for other Defense Department programs, including the Air Force's Hypersonic Attack Cruise Missile (HACM).
"We actually are pulling the data from HACM and DARPA, and we're using that in our review as we march towards this preliminary design review" of HALO, Tedford told DefenseScoop.
Once the HALO system is ready to go into production, the Navy is initially eyeing a production run similar to that of the Long Range Anti-Ship Missile (LRASM), according to Tedford.
The Navy is planning to buy 585 LRASM weapons in fiscal 2024-2028, which would bring the total number procured to 833, according to budget justification documents.