Pentagon's S&T budget request would boost funding for microelectronics, integrated capabilities
The $17.8 billion budget request is the Defense Department's largest ever for science and technology.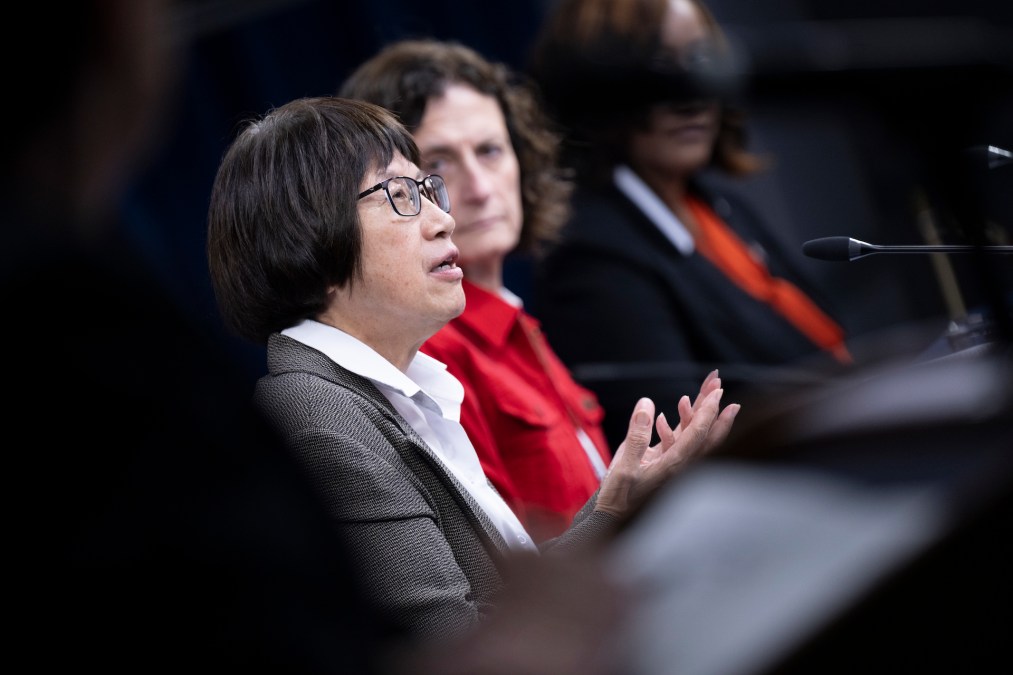 The Defense Department is asking for $17.8 billion in fiscal 2024 to fund its science and technology initiatives, including microelectronics advancements, joint capabilities and more, a senior official said Thursday.
The request is the department's largest ever for S&T projects and marks an 8.3% increase over what was enacted by Congress in fiscal 2023, Undersecretary of Defense for Research and Engineering Heidi Shyu said during a webinar hosted by the National Defense Industrial Association.
Science and technology is considered a critical component of the Defense Department's research, development, test and evaluation budget. It includes funding for basic research, applied research and advanced technology development.
Shyu noted that basic research across the department would increase by 4% from fiscal 2023 to around $2.5 billion. The Office of the Under Secretary of Defense for Research and Engineering would receive a 43% funding boost over last year, she said.
"We are very well posed in terms of wanting to make sure that we're supporting basic research because that really provides the seed for future capabilities," Shyu said during the webinar.
Several of the Pentagon's "critical technology areas" would also receive increased investment in fiscal 2024. The department is asking for $6.9 billion to fund continued research, development and prototyping of the 14 technologies considered to be vital to the United States' national security.
The request includes funding across Shyu's office, the Defense Advanced Research Projects Agency, the Defense Technical Information Center, the Missile Defense Agency, the Office of the Secretary of Defense Strategic Capabilities Office and the Test Resource Management Center, Shyu said.
Almost a quarter of the funding for these technologies would be allocated to microelectronics, Shyu noted. The Pentagon is seeking $1.7 billion to fund the critical technology, according to Shyu's presentation during the webinar.
Microelectronics are key circuits and components that act as the "brain" for many military and commercial systems. But because a majority of microelectronics are manufactured overseas, the Defense Department in recent years has prioritized the need to secure its own supply chain within the United States.
In particular, microelectronics innovations are driving an increase in DARPA's budget request of $4.4 billion for fiscal 2024, DARPA Director Stefanie Tompkins said during the webinar. The research agency is specifically seeking $892 million to fund its microelectronics projects as part of a five-year-long Electronics Resurgence Initiative, she said.
While other efforts — such as the State-of-the-art Heterogenous Integrated Packaging (SHIP) program and the Creating Helpful Incentives to Produce Semiconductors (CHIPS) legislation — focus on near-term supply chain vulnerabilities, DARPA's initiatives are looking at future advancements in microelectronics manufacturing, Tompkins said.
"We are focusing on 3D heterogeneous integration. We have spent a fair amount of time and resources in the last five years figuring out the science of that," she said. "A big part of what we will be doing in the next iteration of our Electronics Resurgence Initiative is the manufacturing ability — so the actual science of scale. Now that we've proven that something is possible once, how do we make sure that it's actually possible in the real world and will operate under real-world conditions?"
When combined with microelectronics funding, the requests for integrated sensing and cyber and integrated network system-of-systems make up over half of the Pentagon's budget request for its critical technology areas in 2024, Shyu noted. The department is seeking $1.2 billion for integrated sensing and cyber and $763 million for integrated network system-of-systems.
For its other critical technology areas, the department is asking Congress for $629 million for trusted artificial intelligence and autonomy, $601 million for hypersonics, $407 million for biotechnology, $403 million for space technology, $318 million for future-generation wireless technology (FutureG), $280 million for directed energy, $249 million for advanced materials, $159 million for quantum sciences, $45 million for human-machine interfaces and $30 million for renewable energy.