In wake of fatal collisions, Navy accelerates software-defined radar deployments on surface ships
The Navy is replacing aging and legacy navigation radars across its surface combatant fleet with a software-configurable technology called Next Generation Surface Search Radar (NGSSR).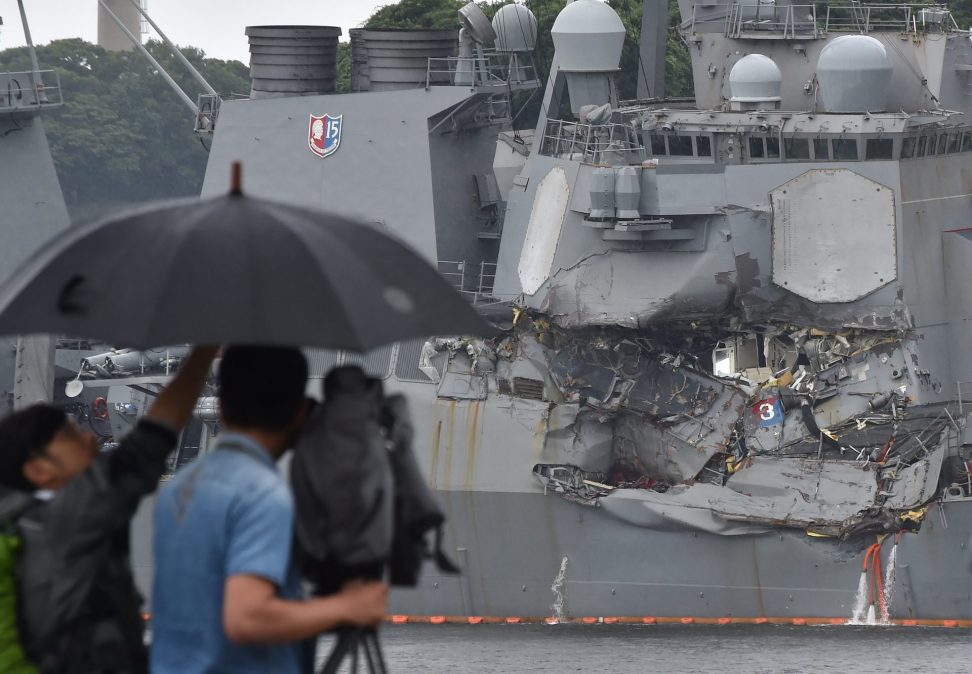 The Navy is replacing aging and legacy navigation radars across its surface combatant fleet with a software-configurable technology called Next Generation Surface Search Radar, or NGSSR.
Justification documents for the Defense Department's fiscal 2024 budget request confirm that this major modernization effort and the commercial production of NGSSR have "been accelerated as a result of the" 2017 investigations conducted in the aftermath of the separate, fatal collisions involving the USS McCain and USS Fitzgerald.
"NGSSR has all solid-state electronics, and has more advanced radar signal processing and waveforms than the radars it replaces," the Navy's Major Program Manager for Above Water Sensors Capt. Jason Hall told DefenseScoop in an email.
"This allows detection, discrimination, and tracking of very small targets" — like fast attack craft or fast inshore attack craft and periscopes — "as well as providing fire control quality track data to support surface gunfire," he explained.
In June 2017, the USS Fitzgerald destroyer collided with a Philippine-flagged container ship off the coast of Japan. Months later in August 2017, the USS McCain destroyer collided with a Liberia-flagged oil and chemical tanker near Singapore.
In total, 17 U.S. sailors lost their lives between those two crashes. Both incidents were deemed avoidable in a follow-up oversight review.
"The technology associated with the NGSSR predated the 2017 collisions. As a result of the Comprehensive Navy Review of the collisions, the Navy determined that accelerating the fielding of NGSSR would address some findings from the review as well as modernize the existing surface search radars," Hall told DefenseScoop.
The short-range, two-dimensional, surface search and navigation radar system AN/SPS-73(V)18 NGSSR, he explained, is "the Navy's program of record replacement radar" for the current legacy AN/SPS-73(V)12 and A(V)12 navigation radars, various commercial off-the-shelf or contractor-furnished equipment navigation radars currently in use by the surface fleet, and for the SPS-67(V) surface search radar.
An internal Pentagon fact sheet about NGSSR and viewed by DefenseScoop states that this next-gen radar "improves detection, navigation, and situational awareness capabilities of the fleet, modernizes decision support tools and reduces watchstander workload to improve readiness."
Hall said: "The Navy continues installing NGSSR on all surface ships. The installation plan includes both new construction and in-service 'backfit' upgrades."
Technologies used to develop and refine NGSSR have roots that trace back to projects performed by the former small business 3Phoenix, Inc., under two Small Business Innovation Research (SBIR) opportunities: N04-138 for "Real Time Data Fusion and Visualization for Environmental Research Data," and N07-213 for "Improved Clutter Management Techniques for High Resolution Radars."
"The result of efforts from these two SBIR Phase III topics are being leveraged to combine the functionality of two other radars into the single radar known as the NGSSR," Hall said.
The startup 3Phoenix was eventually acquired by a larger company that, following subsequent other mergers, is now Ultra Maritime.
"The current NGSSR contract was awarded to Ultra in 2019," Hall noted. That full award was valued at more than $136 million, at the time of that announcement.
Now, "per the PB24 budget exhibit, the program is procuring a total quantity of 200 NGSSR systems. Procurement of 35 systems was previously funded, and the remaining 165 systems will be procured in the future," Hall told DefenseScoop.
The 2024 justification documents clarify that "starting in FY24, funding has been realigned from [budget line item] 2980 to new [budget line item] 2981, resulting in 36 NGSSR procurements and 46 installs being reflected in this budget." While 2980 referred to items valued at less than $5 million, 2981 is specifically for in-service radars and sensors.
"Past and future budget figures can be found in the FY24 budget documents," Hall said.
DefenseScoop has not received clarification from the Navy regarding exactly how much the service has spent on NGSSR prior to the 2024 budget request, and how much it projects investing in deploying the new systems overall.