Biden selects Gen. Randy George to succeed McConville as Army chief of staff
Gen. Randy George, currently serving as Army vice chief of staff, has been nominated to succeed Gen. James McConville as the service's top officer.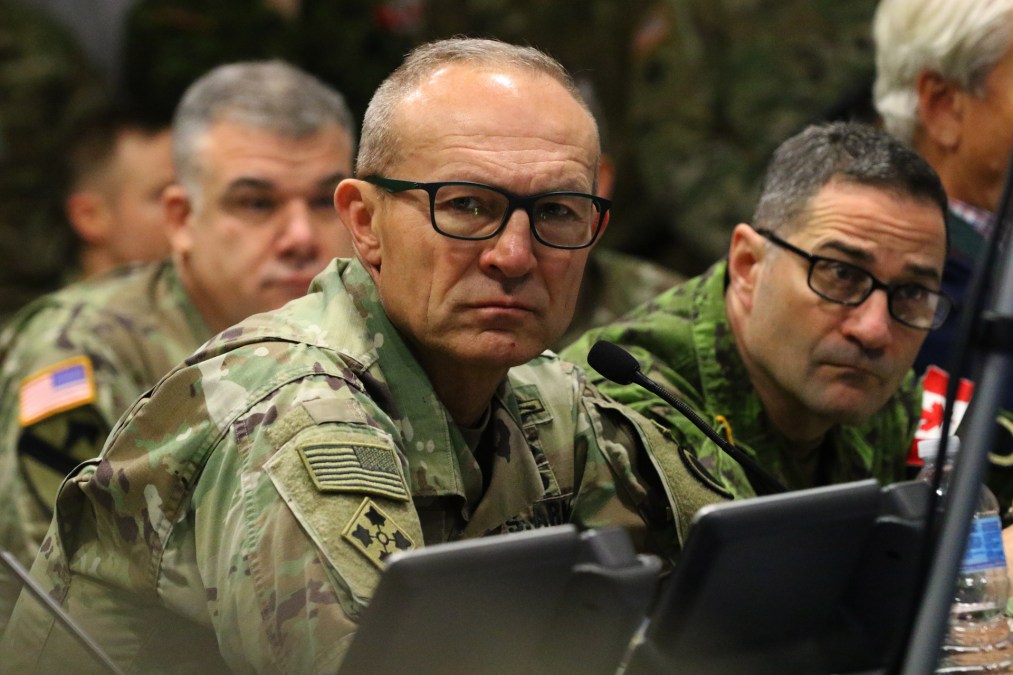 Gen. Randy George has been nominated by President Biden to succeed Gen. James McConville as the service's top officer, according to a notification on Congress.gov.
George is currently serving as vice chief of staff of the Army.
If his nomination is confirmed by the Senate, George would take over as Army chief of staff at a time when the service is undergoing a major transformation effort and is pursuing an ambitious modernization agenda that includes new systems for long-range fires (including hypersonic missiles), next-generation combat vehicles (including optionally manned and robotic combat vehicles), future vertical lift, the network, air-and-missile-defense, assured position navigation and timing (PNT), synthetic training environment, and "soldier lethality."
After nearly two decades of counterinsurgency operations in Afghanistan and Iraq, the Army is trying to acquire new high-tech equipment to better position itself for competition with advanced adversaries such as China and Russia.
George's nomination was referred to the Senate Armed Services Committee on April 20, according to the notification.
George rose through the ranks as an infantry officer after graduating from the U.S. Military Academy at West Point in 1988. He has deployed in support of Operation Desert Shield/Desert Storm, Operation Iraqi Freedom, and Operation Enduring Freedom in Afghanistan. He also served on the Joint Staff and holds a master's degree in economics from the Colorado School of Mines, according to his Army bio.
He took on his current role as vice chief of staff in August 2022. Prior to that, he served as a senior military assistant to Secretary of Defense Lloyd Austin.
DefenseScoop has reached out to the White House, the Office of the Secretary of Defense, the Army and the Senate Armed Services Committee for comment on George's nomination. This story will be updated when comments are received.
It's not immediately clear when the SASC will hold a confirmation hearing for George.
Biden's nomination of George is the president's latest move in selecting a new member of the Joint Chiefs of Staff. Last year, Biden tapped Gen. Chance Saltzman to be the Space Force's chief of space operations. Additional nominations for new service leaders are expected in the coming months. In addition to McConville departing as Army chief of staff, Marine Corps Commandant Gen. David Berger and Chief of Naval Operations Adm. Michael Gilday are also approaching the end of their terms this year. There may also be an opening for a new Air Force chief of staff if Gen. Charles "CQ" Brown is nominated to succeed Gen. Mark Milley as chairman of the Joint Chiefs of Staff, as many national security observers anticipate.