Navy's powerful new supercomputer — Nautilus — is officially open for DOD use
The system is housed at the Stennis Space Center in Mississippi, where the Naval Meteorology and Oceanography Command is headquartered.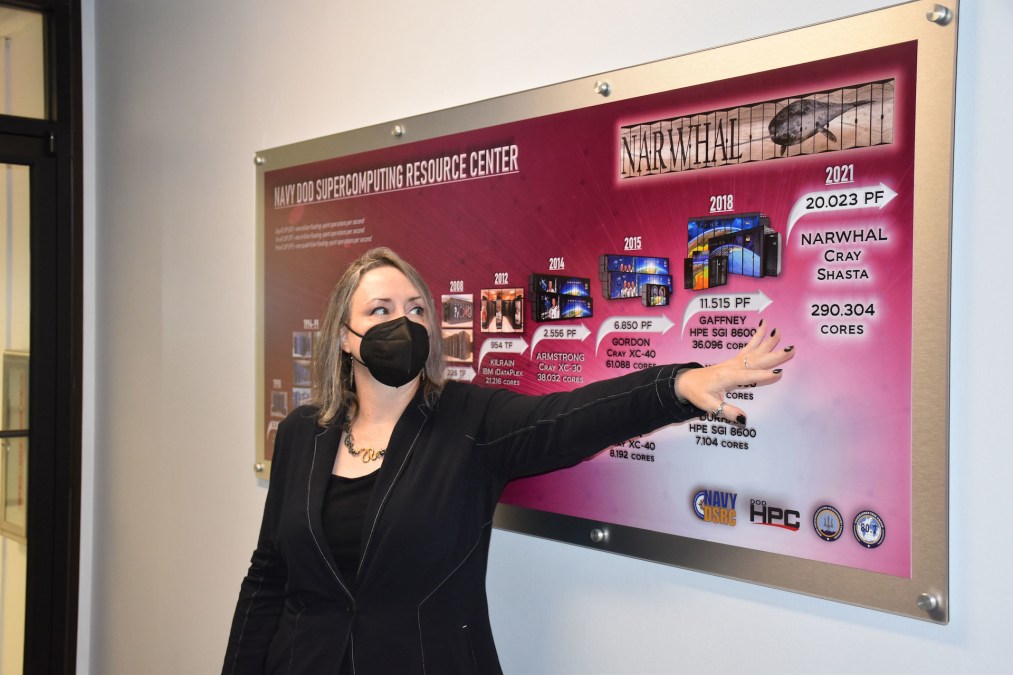 The Navy's leading high-performance computing services and support provider officially added a powerful new machine to its arsenal: a supercomputer named Nautilus.
With this new addition unveiled this week, Defense Department scientists and engineers now have a total of six supercomputers and associated, advanced resources to access via the Navy DOD Supercomputing Resource Center, or DSRC. It's funded through the department's High-Performance Computing Modernization Program (HPCMP).
"Nautilus will support thousands of users from various communities in the DOD — chief among them Naval Oceanography," Navy DSRC Director Christine Cuicchi told DefenseScoop in an email on Thursday.
The massive system is housed at the Stennis Space Center in Mississippi, where the Naval Meteorology and Oceanography Command is headquartered.
Though its name wasn't revealed at the time, a deal for the supercomputer was among two contracts worth a total of $68 million that the Pentagon awarded to technology company Penguin Computing TrueHPC in 2021.
"To commemorate the first instance of a supercomputer architected by the company Penguin to be in the [DSRC], Nautilus was named after the nuclear submarine USS Nautilus (SSN-571) which was the world's first operational nuclear-powered submarine. USS Nautilus was also the first submarine to transit the North Pole, during what was called Operation Sunshine," Cuicchi explained.
Typically, high-performance supercomputers are measured in flops, or floating-point operations per second. Each flop essentially points to a possible calculation, like addition, subtraction, multiplication, or division. A petaflop system can make one quadrillion of those calculations per second.
Poised to rank among the world's most powerful supercomputers, Nautilus boasts a peak performance of 8.2 petaflops.
Cuicchi confirmed that the machine "was delivered to the Navy DSRC in 2022, and upon recently passing acceptance testing to ensure it meets performance requirements, is now available for up to 4,000 users."
Those officials are largely on science and technology, and research, development, test and evaluation teams in the Navy, Army, Air Force and other DOD components. But soon, Nautilus will be open for use by all members in the DSRC network.
Navy officials are usually pretty tight-lipped about the applications that run on military supercomputers.
"A highly capable supercomputer, Nautilus will enable scientific discoveries that support the department in numerous scientific disciplines, including computational fluid dynamics to accelerate and improve ship and aircraft design and refinement; climate, weather, and ocean modeling to inform force and fleet movements; and computational chemistry including solid-state modeling used to develop new high performance materials for advance rocket engine components and semiconductor lasers — just to name a few," Cuicchi noted.
The system features artificial intelligence- and machine learning-focused technology, as well, she added.
Nautilus is considered "the sister" to the HPE Cray EX supercomputer Narwhal, according to Cuicchi.
Following a recent boost that came around the same time of the new delivery, Narwhal — DOD's largest unclassified supercomputer — now has a performance capacity of 13.6 petaflops of computing performance.
Narwhal is named after the only submarine in the Navy fleet to have been powered by a natural circulation nuclear power plant, USS Narwhal. It entered service at the DSRC in 2021.
"Much like the Navy DSRC weathered Hurricane Katrina without interruption to its service to DOD HPC users, USS Narwhal survived Hurricane Hugo while submerged in the Cooper River in [Charleston, South Carolina]," Cuicchi told DefenseScoop.
With these enhancements, the Navy DSRC now offers its users a total of more than 30 petaflops of aggregate computational capability.
"We're thrilled to continue supporting the DOD with this powerful new supercomputer and await the exciting new discoveries it will enable," Cuicchi said.