Offensive cyber training pilot could mean significant cost savings
The Army, on behalf of the joint force and U.S. Cyber Command, is piloting an eight-month course to train personnel for offensive cyber operations.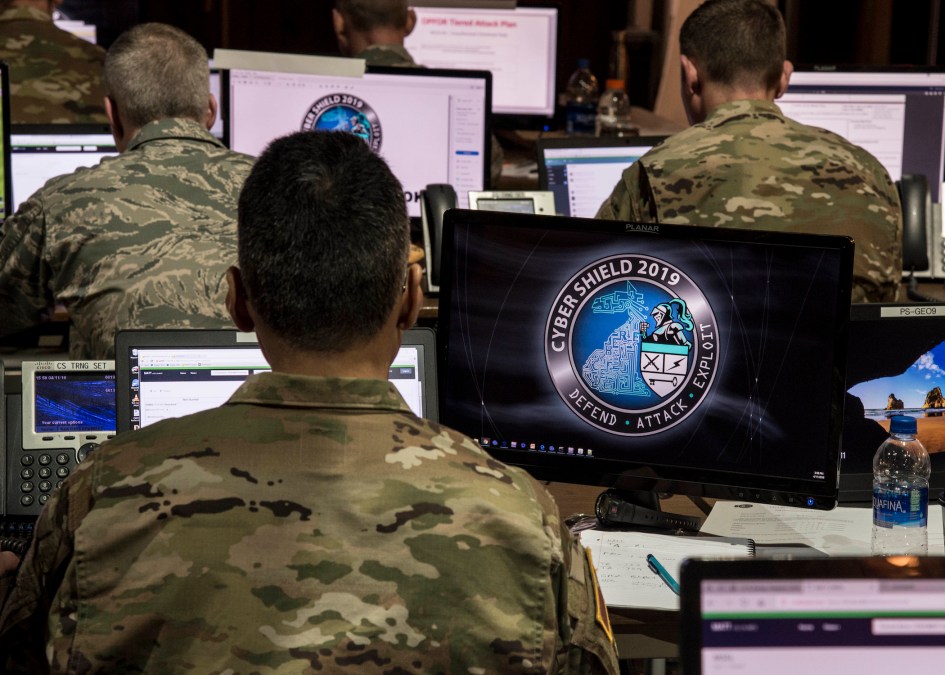 BALTIMORE, Md. — A pilot course to train the Department of Defense's offensive cyber warriors could engender significant cost savings in the long run, according to the commanding general of the Army Cyber Center of Excellence.
The Army last month kicked off an eight-month pilot to train the cyber mission force — the cadre of personnel that each of the services provides to U.S. Cyber Command to conduct cyber operations — to go on the attack.
"Our critical shortfall and the most significant readiness factor is tied to our offensive operators," Maj. Gen. Paul Stanton told DefenseScoop this week in an interview at the AFCEA TechNet Cyber conference.
It takes a really long time to train these personnel and that's why Cybercom, through the Army as executive agent for advanced cyber work-role curriculum development, decided to focus on a new pilot to improve the training.
This training for what's called Interactive On-Net Operator (ION) is highly advanced and requires a significant time investment of between one to three years to complete. It can cost between $220,000 to $500,000 per service member, according to the Government Accountability Office.
Stanton, who previously talked about the pilot last summer, noted that some of the defensive training didn't have to be fully conducted behind closed doors in a classified setting, given many of the tactics and fundamentals are commercially known.
"We've been able to teach our defensive courses more broadly, early on in the formation of the cyber mission forces," he said.
On the flip side, the offensive training, some of which stems from efforts to train high-quality National Security Agency operators, was lengthy and had to occur in highly classified environments — which led to higher costs.
"One of the most expensive aspects of our former training model was it all needed to be in highly classified environments, which means that the instructors have to have those clearances, they have to maintain that classified environment. And that's just really, really expensive," Stanton said.
The pilot course will help Cybercom personnel understand fundamentals that can be broken out in a way that forces can be trained in an unclassified setting — with more practical elements taught in the next phase in a classified environment.
"There's the potential for very significant cost savings in the revised model," he said.
Moreover, while the course is taking place at Fort Gordon at the Army's cyber school, the intent is that the course will eventually be distributed, which will mean additional cost savings in not paying for personnel to move around to a central location to do the training.
With authorized growth for the cyber mission force in the next five years — and as Cybercom teams face readiness issues — getting this training right will be critical.
"It's absolutely key and essential that the graduates of a new course have the same skill sets and the same technical abilities that they had previously. We just need to be able to do it at a broader scale because of the growth," Stanton said. "This is a highly collaborative effort. All of the services, the NSA and U.S. Cyber Command are all tied in together to help us assess if this pilot is going to do what we need it to."
Given the highly dynamic nature of cyberspace, the military must have an adaptable and flexible model to prepare operators as tactics evolve.
"If we create one educational and training model and expect it to last for several years, that's naive given, again, the rate of change of technology and the rate of change of our enemies," Stanton said. "Frankly, as we expand the trained and educated workforce, it will align with the execution of missions. We'll realize that when a service member sat down to execute a mission, they were lacking some technical competency that they really needed in order to do whatever that mission required. Well, if I see that in a repeated sense and it wasn't just a one-off, unique requirement for that particular mission, well we should look at that and does it make sense to incorporate it into the actual training and education."
Officials are currently taking a phased assessment process where they will assess the course at different points in time throughout the training. Stanton said the military is probably a year or so away from being able to assess fully if this pilot is suitable.