Kendall vows Air Force NGAD program won't repeat 'serious mistake' associated with the F-35
"I spent years struggling to overcome acquisition malpractice, and we're still struggling with that to some degree," Secretary of the Air Force Frank Kendall told reporters.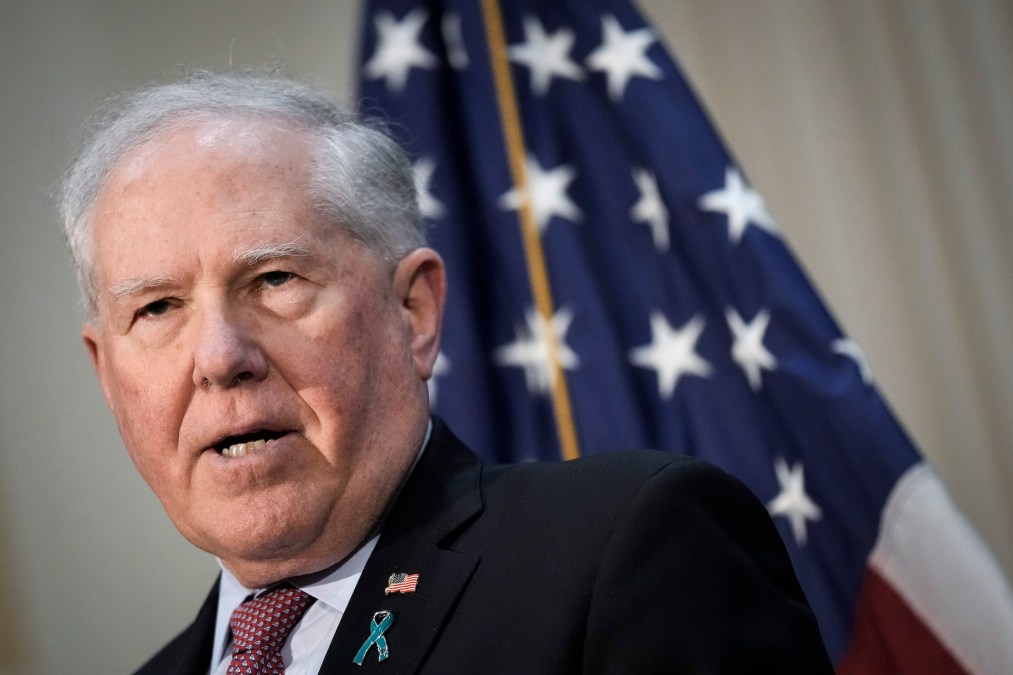 The Air Force is moving forward in its quest to acquire sixth-generation stealth fighter jets. In doing so, it won't be taking the same approach that led to problems with the fifth-generation F-35, the service's top official told reporters Monday.
Last week, the Air Force announced that it had sent a classified solicitation to industry for "an engineering and manufacturing development contract" for the Next-Generation Air Dominance (NGAD) system, and it plans to make an award in 2024.
"We're not going to repeat the — what I think, quite frankly, was a serious mistake that was made in the F-35 program of doing something which … came from an era which we had something called 'total system performance.' And the theory then was when a contractor won a program, they owned the program [and] it was going to do the whole lifecycle of the program … What that basically does is create a perpetual monopoly. And I spent years struggling to overcome acquisition malpractice, and we're still struggling with that to some degree," Secretary of the Air Force Frank Kendall told reporters during a Defense Writers Group meeting.
"We're not going to do that with NGAD. We're gonna make sure that the government has ownership of the intellectual property it needs. We're gonna make sure we're also making sure we have modular designs with open systems so that going forward, we can bring new suppliers in … and we'll have a much tighter degree of government control over particularly that program than we've had" in the past, he added.
The F-35 also went into production too soon, Kendall said, and as a result "a lot" of design changes had to be made after production had already started. The overlap of development and production, an acquisition approach known as "concurrency," has been blamed for some of that program's woes.
The NGAD initiative is being managed by the program executive office for fighters and advanced aircraft, which is currently led by Brig Gen. Dale White.
The program has been "well-structured and well-led," Kendall said.
The Air Force plans to award the EMD contract to a single vendor, according to Kendall.
Lockheed Martin — the prime contractor for the F-35 — Boeing and Northrop Grumman are viewed as top contenders for the award.
The Air Force hopes to begin fielding NGAD platforms by the early 2030s, if not sooner.
The Air Force and industry have been working toward sixth-gen fighter technologies for years, Kendall noted, including during his tenure as the Pentagon's acquisition chief during the Obama administration.
"That's produced experimental prototypes that have verified, validated, proved out the technologies that we set out to acquire. And so those are the basis for the NGAD program," he said.
Additionally, "model-based system engineering and digitalization has kind of moved forward a significant amount so that we can integrate our design teams between the government and contractors much more effectively and efficiently. Everybody lives basically in the same design laboratory, if you will, or design environment. So, we have intimate knowledge of what the contestants, the competitors are doing in their designs. We're very involved with them," Kendall noted.
In its release last week about the classified solicitation, the Air Force did not provide any public information about requirements, when industry received the solicitation, or response due dates. However, in a statement accompanying the release, Kendall noted that the NGAD platform will be "a generational leap in technology" over its predecessors and will include "attributes such as enhanced lethality and the ability to survive, persist, interoperate, and adapt in the air domain, all within highly contested operational environments."
The Air Force also wants to team the NGAD with a new generation of drones known as "collaborative combat aircraft" (CCA). The robotic wingmen were not included in the solicitation that went out for the NGAD, according to the Air Force.
At the Defense Writers Group event on Monday, Kendall declined to say when a request for proposals for the AI-enabled autonomous drones will be released.
"We're working with a number of potential suppliers now. I don't think I can say anything more at this point about the [acquisition] strategy for that [but] it's moving forward in parallel with the NGAD program," he said.
DefenseScoop asked Kendall how many vendors the Air Force intends to award an EMD contract for the collaborative combat aircraft program.
"We haven't finalized that yet. As many as possible, is the answer. And it'll be more than one. How many, I don't know. It's a question of what we can afford and for how long," Kendall said. "CCA is a major program, basically. It's going into EMD for production, just like any of the others. And once you get into that mode, you're committing a lot of money to that product. And as with NGAD, at some point it's not economically viable to carry more than one — it just doesn't work because of the number you're gonna buy."
The Air Force is tentatively planning to have 1,000 of the drones.
"When you start talking numbers like that, carrying two suppliers longer starts to make more sense. So, we'll be looking at what we can afford to carry longer term for CCAs. It's also a fairly revolutionary capability, so I think there's some pretty strong arguments for not necking down to a single one any earlier than we have to," he said.
The Air Force wants to incentivize industry to make the CCAs as capable as possible while still meeting cost constraints. To maximize capacity, the service wants the drones to cost only a fraction of an advanced manned fighter aircraft, he noted.
"One of the core requirements for CCA is that they're affordable, and [so] … you're not going to put a full everything that goes into a modern fighter like an NGAD or F-35 into that platform. So with modular designs, with specific subsystems for specific missions, with some basic capability that you can complement and use in combinations right across different platforms, you can get some really interesting and affordable results from that," Kendall said.
"Right now, a fighter might carry a targeting pod, it might carry weapons under its wings, it might carry a self-protection jammer. And those systems are integrated into a single platform … Once we introduce CCAs, we can start talking about effectively taking some of those things off of that fighter and putting them on a CCA — but not all of them," he explained.
To the adversary, "you'd have to think of every CCA that you see coming as potentially having any of those systems or some combination of them. So the very difficult problem you present to an adversary is that you have got to treat each of those aircraft as if it was a full-full threat. And that really gives you a lot of leverage," he added.
Kendall noted that he's concerned about the possibility of a budget impasse on Capitol Hill and the Air Force having to potentially operate under a year-long continuing resolution in fiscal 2024. That would be detrimental to the NGAD and CCA programs.
"Both of them have pretty big growth ramps going into '24. Yeah, we'd have to go back and figure out how to restructure both the programs to be within the funding limit. And that would be a very inefficient and severe constraint. It would cost us a lot of money. We estimate that we'd lose about $10 billion worth of capability buying power if we had a year-long CR," Kendall told DefenseScoop.