NGA working with combatant commands to integrate 'Maven' AI capabilities into workflows
Maven is on track to become an official program of record by this fall, senior officials told DefenseScoop.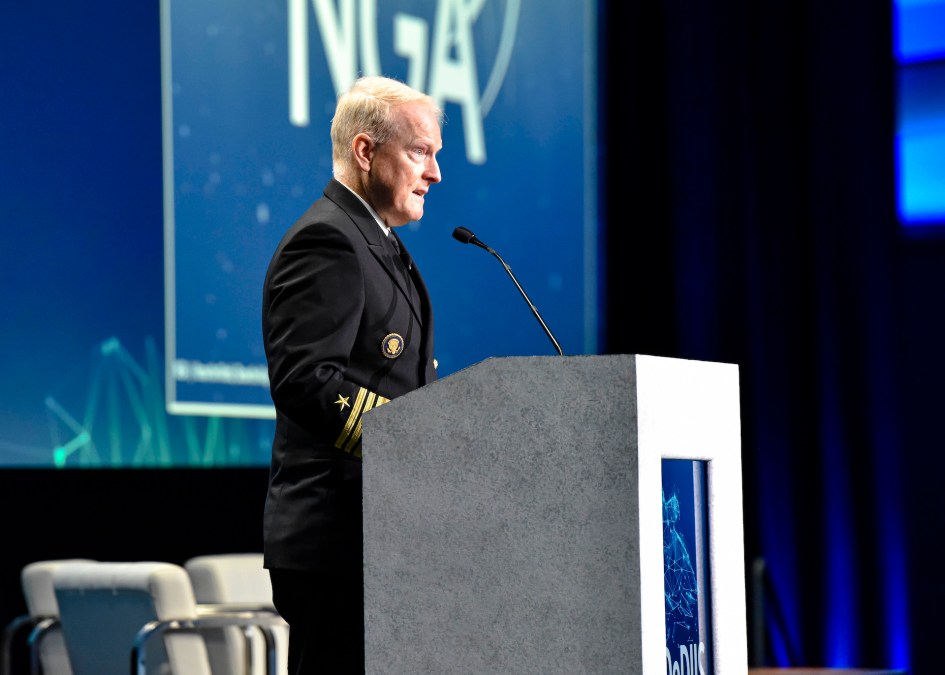 ST. LOUIS, Mo. — Poised to soon become an official program of record, Maven — the Defense Department's flagship computer vision effort that was until now called "Project Maven" — has made "some of its most significant technological strides" and "already contributed to some of our nation's most important operations" in the wake of its high-stakes transition, according to National Geospatial-Intelligence Agency Director Vice Adm. Frank Whitworth.
Last year, responsibilities for original Project Maven elements were split between NGA and the new Chief Digital and Artificial Intelligence Office (CDAO), while its oversight moved to the Office of the Undersecretary of Defense for Intelligence and Security (I&S).
"As we look back on just a couple of months since we've actually inherited leadership of the geospatial portion of the program, the fact that it's no longer [just] a 'project' is very real to us," Whitworth said during his keynote at the annual GEOINT Symposium on Monday.
He confirmed his team has been moving to embrace AI and machine learning to quickly fuse enormous amounts of data from across disparate datasets, and are working to automate significant portions of dynamic collection, imagery, exploitation, and reporting workflows to rapidly exploit data that can help anticipate notable activity.
"In mere months since taking over the project, we've made important strides. We've worked closely with the combatant commands to integrate AI into workflows — accelerating operations and speed-to-decision. It benefits maritime domain awareness, target management, and our ability to automatically search and detect objects of interest. We've increased fidelity of targets, improved geolocation accuracy, and refined our test and evaluation process. And we've ensured Maven models can run in other machine learning platforms," Whitworth explained.
Even amid its transition into its latest iteration, Maven is "playing an essential role" in informing future military operations, in his view.
Geospatial intelligence, or GEOINT, is gleaned from satellites and other systems.
On today's operational landscape, "the volume of GEOINT data expands with the proliferation of collection systems and expansion into the space domain," Whitworth noted.
Though most details connected to Maven's actual use in the real-world are sensitive or classified, Whitworth in a press briefing at the symposium expanded on how his team is collaborating with military commands to integrate AI and supporting algorithms associated with Maven into mission workflows.
"I have a saying that all targeting is inherently geospatial — and so the targeting crowd will be relying on a lot of our outputs," he told DefenseScoop, clarifying that "most people, at least in combat readiness terms," refer to targeting as "the intended effect at a particular place at a particular time."
Maven-aligned algorithms can detect objects on Earth based on certain factors, to a certain level of positive identification or geolocation accuracy — and essentially inform the determination of military targets.
When asked for a tangible example of how NGA is technologically supporting U.S. military units via Maven, Whitworth said: "I wish I could [disclose that], because I am dying to tell that story. However, I might be responsible to be too specific with exactly where on the Earth it's being applied. But I can definitely tell you that there are three-star equivalents — people with whom I've served — who are proving to be really excited participants in the growth of Maven."
NGA has been providing key insights on Russian forces and infrastructure since before the conflict started unfolding in Ukraine last year. Now, combat happening there is informing Maven and some of the agency's other AI-affiliated pursuits.
In particular, the conflict is enabling NGA to train its AI models on imagery and data showing "destroyed equipment," NGA's Data and Digital Innovation Director Mark Munsell told reporters at the GEOINT symposium.
Maven is on track to become an official program of record by this fall, Whitworth and Munsell said.