Army looking to accelerate C2 on the move
The Army is imploring industry to help devise solutions to allow units to do command-and-control on the battlefield without having to stop.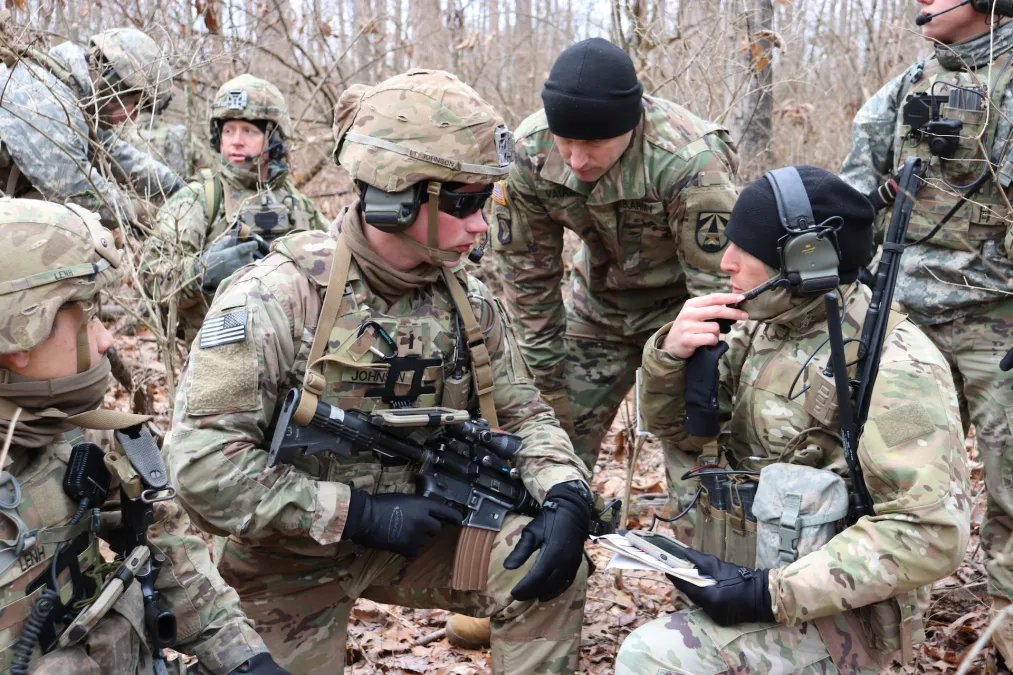 PHILADELPHIA, Pa. — As the Army seeks to modernize its network — now looking at the division as the main focus versus the brigade — one of the changes will be figuring out how to do command-and-control on the move.
Officials for years have been discussing that forces have to move much faster on the battlefield against more sophisticated nation state enemies — and even more recently, articulating that establishing communications at-the-halt may not be viable for most Army formations.
"Two new focus areas going forward and you'll hear throughout the conversation that we'll have here … Number one, we're going to focus on C2 on the move — not at the halt. We're going to focus in and drill in on C2 on the move," Maj. Gen. Jeth Rey, director of the Army network cross-functional team, told member of industry on Wednesday as he opened the Army's Technical Exchange Meeting in Philadelphia.
"Commanders understand that they need to continue to move and command [and] control … We need industry partners to come on board to help us figure that out," he said.
Officials have explained that adversaries such as Russia and China will be able to locate U.S. military units much faster, meaning they can't stop to set up the large sprawling command posts seen during the counterterrorism and counterinsurgency conflicts in the Middle East.
Part of that could be providing greater Wi-Fi capability on the move.
"Some recommendations — and these are merely just recommendations from things that we've seen at the National Training Center — that may be beneficial for some of the team that's here … [include] a secure Wi- Fi on-the-move type of capability," Col. Terry Tillis, commander of the operations group at the National Training Center told the conference. The NTC provides some of the Army's most grueling tests that simulate campaigns of conflict in a matter of weeks to test and stress units.
"We've talked about the on-the-move piece of it, but it's something that we've seen work, we've seen certain units do it and it's something we could get for all the [Stryker brigade combat teams], [armored brigade combat teams] — are things to think about that might be helpful," Tillis added.
Some top Army personnel have also explained smaller units might only be afforded minutes to stop, which means they probably won't even be operating with command posts.
"I'm not sure that there is such a thing as a command post battalion and below. I talked about turrets and tablets. We're going to have to be able to fight our formations out of our combat systems, out of rucksacks … That's a big change," Gen. James Rainey, commander of Army Futures Command, told the conference. "At brigade level, I think we're going to need to have redundant command posts, but they're going to have to be really small, they're going to have to be able to hide in the electromagnetic spectrum, they're going to need to be able to hide physically and they're going to have to move constantly."
Additionally, units will have to scale down in size and numbers. Tillis said one of the lessons from units in Europe — which are paying attention to what's happening in the Ukraine-Russia war — is they must be more survivable.
"The one word that came out of Europe, and I'll just leave it at [a reference to] Europe, is 'survivable.' What that meant to the ground maneuver force was well, we have to get survivable. Everybody started showing up at the National Training Center and I would say also the Joint Readiness Training Center trying to get survivable, which meant they were down to one or two vehicles and then they called it a command post," Tillis said. "We can't be as large as we've been, 180 vehicles, some places you'll see others that are about 180 personnel down to like 70 to 80 vehicles."