Navy receives first E-6B jet with new nuclear command, control and communications upgrades
Northrop Grumman has delivered the first E-6B Mercury aircraft with Block II modifications to the Navy. Five kits were integrated onto the platform, "implementing efficiencies and improving aircraft command, control and communications functions," according to the contractor.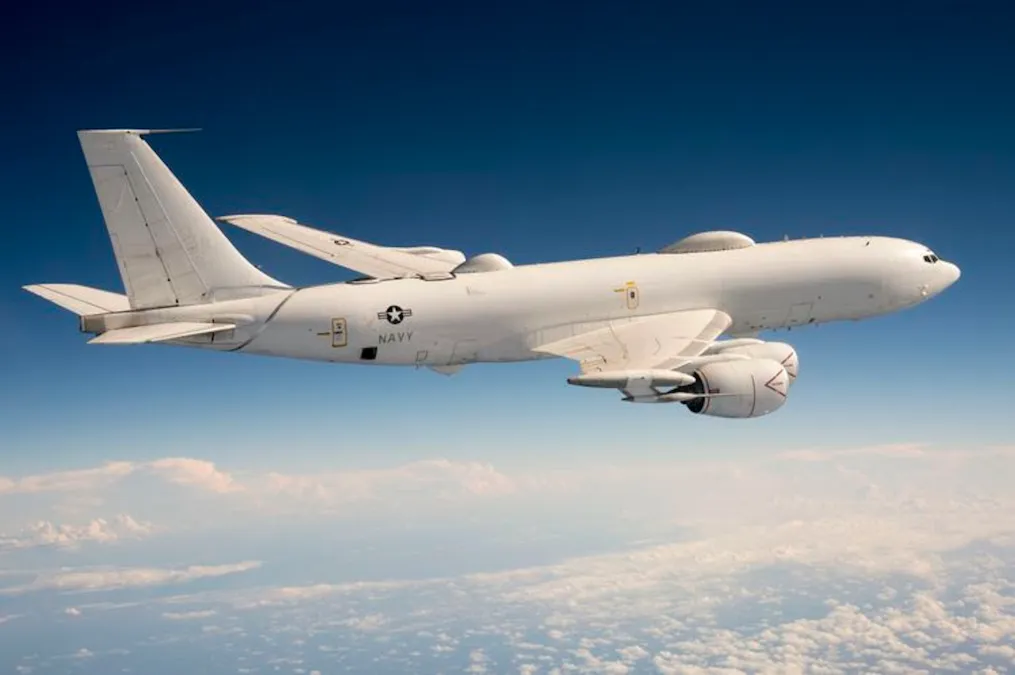 Northrop Grumman has delivered to the Navy the first E-6B Mercury aircraft outfitted with Block II modifications, the contractor announced Tuesday.
As part of the upgrade, five kits were integrated onto the platform, "implementing efficiencies and improving aircraft command, control and communications functions," according to a release.
The E-6B, which was first deployed in the late 1990s, is a derivative of a Boeing 707 commercial aircraft and carries a crew of 22 personnel. The purpose of the airborne nuclear command post is to provide "survivable, reliable, and endurable" C3, including connecting the president of the United States and secretary of defense with U.S. strategic and non-strategic forces, according to the Navy.
Airborne nuclear command posts are considered to be less vulnerable to adversary nuclear attacks than fixed, ground-based sites.
The Mercurys and their crews are tasked with ensuring comms links with the Navy's ballistic missile submarines — part of a mission known as "take charge and move out" (TACAMO) — and the Air Force's ground-based intercontinental ballistic missiles.
"The E-6B operates across a wide-frequency spectrum to transmit and receive secure and non-secure voice and data information," Northrop Grumman said in the release.
The Block II upgrade was performed as part of an $111 million Integrated Modification and Maintenance Contract (IMMC) awarded to the company last year. The contractor has already started upgrades on a second E-6B at its aircraft maintenance and fabrication center in Lake Charles, Louisiana, and it will continue to carry out these modifications on other platforms in the fleet "over the next several years," it said.
According to Naval Air Systems Command, the Block II upgrade consists of six modifications to improve the aircraft's command, control and communications functions connecting the National Command Authority with U.S. forces.
The improvements are coming as the U.S. military is trying to modernize its aging nuclear platforms and supporting technologies.
The five "essential functions" for nuclear command and control are detection, warning and attack characterization; adaptive nuclear planning; decision-making conferencing; receiving and executing presidential orders; and enabling the direction and management of forces, according to the Pentagon's 2022 Nuclear Posture Review, which notes that resilient NC3 capabilities as "a critical enabler of mission assurance for nuclear operations."
"Our NC3 system must provide command and control of U.S. nuclear forces at all times and under all circumstances, including during and following a nuclear or non-nuclear attack by any adversary," the document states. "We will employ an optimized mix of resilient approaches to protect next-generation NC3 architecture from threats posed by competitor capabilities. This includes, but is not limited to, enhanced protection from cyber, space-based, and electro-magnetic pulse threats; enhanced integrated tactical warning and attack assessment; improved command post and communication links; advanced decision support technology; and integrated planning and operations."
As the Block II upgrades continue, the Navy is looking ahead and pursuing a next-generation airborne nuclear command post and communications relay, through the E-XX program.
Northrop Grumman has already announced that it's partnering with Lockheed Martin Skunk Works, Raytheon Intelligence and Space, Crescent Systems and Long Wave to develop a solution to meet the Navy's requirement.
"The E-XX Program is for the TACAMO-only mission replacement for the E-6B Mercury aircraft. The prime contractor (Prime) shall integrate a Government procured Very Low Frequency (VLF) subsystem from Collins Aerospace and shall design and integrate a modernized TACAMO mission system into a Lockheed Martin C-130J-30 aircraft," according to a presolicitation published on Sam.gov.
The program is gearing up for engineering and manufacturing development work. The Navy anticipates releasing a request for proposals in August, with proposals due in January 2024 and a contract award in September 2024.
The Defense Department will provide the prime with three C-130J-30 platforms and a VLF system design "to support EMD development, integration activities, and system testing ultimately culminating in [Milestone] C and production decisions. Additional systems will be directed by the Government, and will either be directed contractor furnished equipment, or provided as Government Furnished Equipment," per the presolicitation.