Upcoming Space Force-NRO critical thinking wargame to focus on space conflict in 2030
Those who participate in the "great power space competition event" will brainstorm what technology and techniques the U.S. needs to compete in future conflicts in space.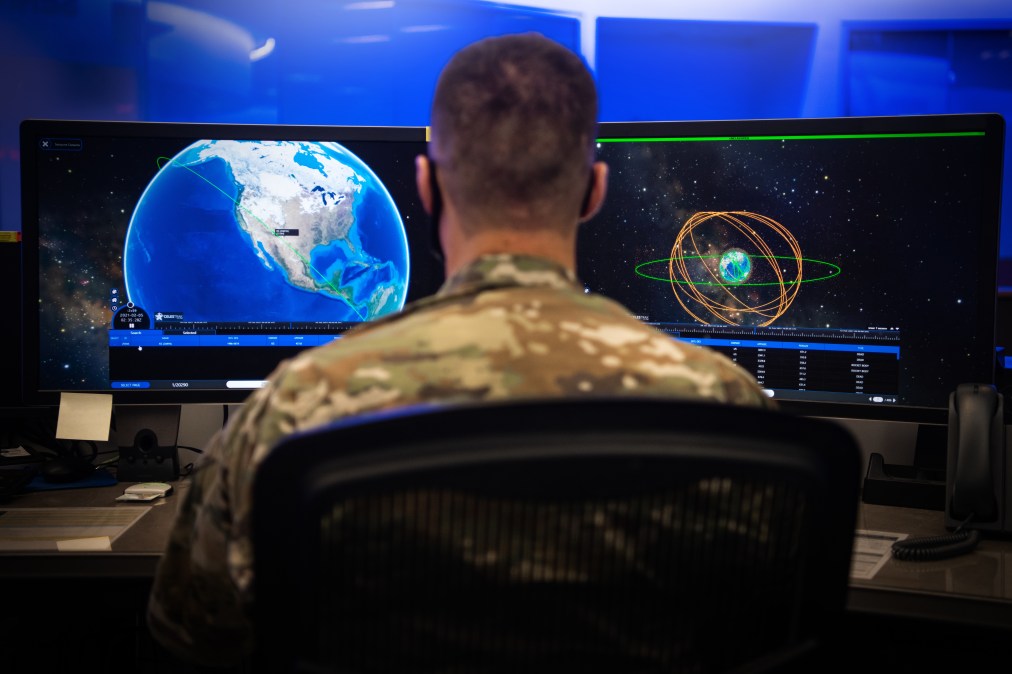 The Space Security Defense Program (SSDP) — a joint Space Force and National Reconnaissance Office organization — is planning a "great power space competition event" to brainstorm the technology and techniques that will be needed for the United States to compete in future conflicts in space.
The confab will bring together experts from industry, academia and government to think through challenges and what solutions — available both now and in the future — will be required, according to a solicitation posted on Sam.gov on Wednesday.
"The space operational environment is a complex web of state and non-state actors and private individuals; friendly, neutral, and hostile audiences; information networks; information systems and links; and information itself in a myriad of formats," the document states. "The space information environment of 2030 will be even more complex due to geopolitical competition and conflict, new technologies, increasing prevalence of AI enabled operations and information manipulation techniques, and advancements in adversary space capabilities and systems."
During the gathering, participants will be given a scenario that involves threats posed by adversaries across the entire range of space operations — including ground, link and on-orbit environments — and tasked to find "multidomain and multidimensional" solutions, according to the solicitation.
The SSDP will also ask participants to describe what the space operational environment could look like in 2030, what technologies will be needed to conduct space domain awareness and targeting, and how the United States could deter aggressive activity in space with capabilities and mission concepts.
In recent years, leaders at the Pentagon have highlighted the growing number of threats to U.S. space capabilities — particularly from adversaries like China and Russia. A 2022 report from the Defense Intelligence Agency noted that the space domain has become increasingly militarized, and that some nations have developed and deployed anti-satellite weapons and other counterspace capabilities.
With those trends in mind, the SSDP's upcoming confab will look at "bolstering the U.S. ability to compete by, with and through space during competition with near-peer adversaries," the solicitation notes. "This includes, but is not limited to, the preservation of on-orbit capabilities, preservation of space enabling infrastructure (SEI), gaining/ maintaining information advantages in space, and gaining/maintaining unfettered access and freedom of maneuver as it pertains to U.S. national security interests during competition."
Capabilities and concepts discussed during the gathering could be developed further through a subsequent "Rapid Capability Assessment," per the solicitation.
The document outlines more than 40 areas of expertise that the hosts are interested in, including artificial intelligence, offensive cyberspace operations, missile defense, electronic warfare and more.
The gathering is SSDP's first "innovation foundry event," which is a process spearheaded by U.S. Special Operations Command to facilitate engagement between subject matter experts in different emerging technology areas. The goal of such events is to discuss real-world scenarios and to generate capability solutions that could, potentially, lead to further research and development of prototypes.
The confab will be held Aug. 22-24 in Tampa, Florida. Applications to participate are due by July 16.