Lockheed Martin wins contract for Army's long-range electronic warfare program
Lockheed has won the Army's Phase 2 competition for the Terrestrial Layer System-Echelons Above Brigade, designed to collect and detect signals at extended ranges.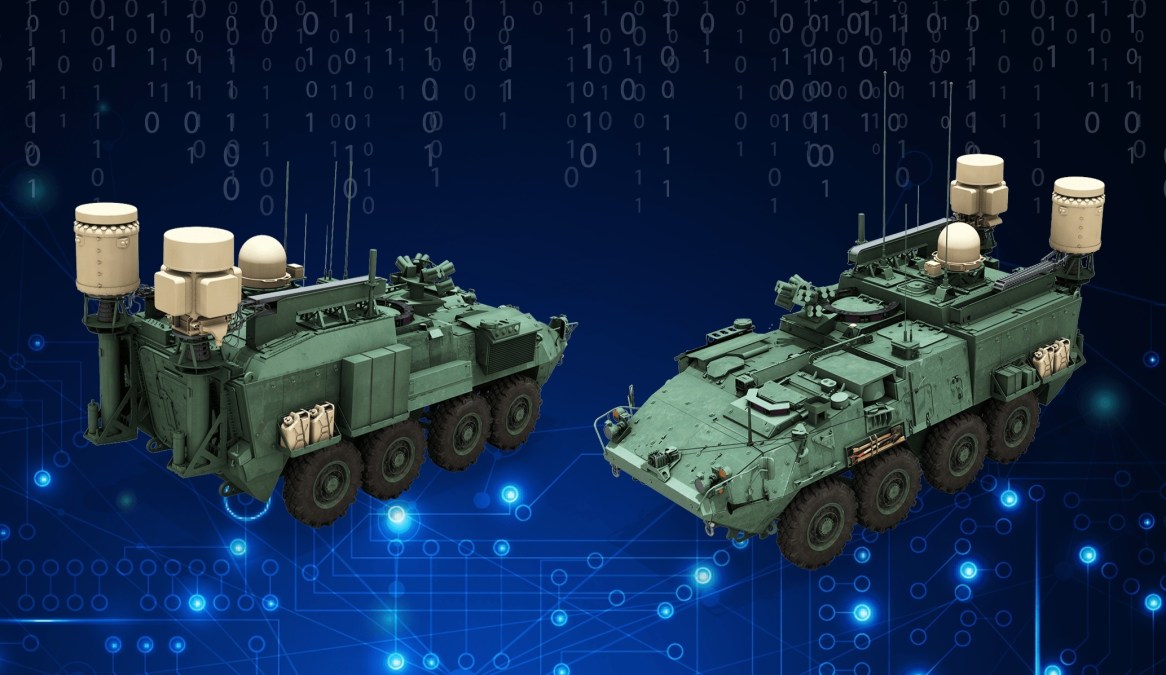 Lockheed Martin has won the second phase of the Army's long-range electronic warfare program.
The contract is for Phase 2 of the Terrestrial Layer System-Echelons Above Brigade, a capability that will be designed for higher echelons — primarily division and corps — that will need to monitor and sense the battlefield across greater distances than lower, more tactically focused echelons. It will be used by the Army's Multi-Domain Task Force.
The technology comes as advanced adversaries are forcing the Army to operate at greater distances, and therefore, the service needs to be able to sense farther and at higher echelons.
The other transaction authority agreement totals $36.7 million for a 21-month period of performance, the Army announced Tuesday.
Lockheed Martin, in a release, said that in the coming months, it will build a prototype system at its Syracuse, New York facility.
The Army last year awarded Lockheed and General Dynamics an initial contract to develop designs for the system during an 11-month competition period.
The Army had recently altered its approach to TLS-EAB, recognizing that a one-size-fits-all model might not be suitable. For example, a platform in Europe might not be the right tool for the operating environment in Asia.
According to Army budget documents, the service plans to spend $859,000 for procurement in fiscal 2024 for TLS-EAB, which will be a new-start program. It also plans to spend $66.4 million on research-and-development in 2024, which will go toward integration, demonstration, experimentation, prototyping and vendor testing, among other activities. Total R&D funding funding for the effort over the next five years is projected to be $175.8 million.
The Army is using a middle tier acquisition approach for the program "to rapidly deliver an integrated ground intelligence, electronic warfare and cyber capability on multiple platform types to align with maneuver forces," the budget documents state.
The first unit issued is slated for the third quarter of 2025, with production and fielding expected in 2026 through 2030.
The TLS-EAB award is a big win for Lockheed as that rounds out a series of capabilities the company is providing the Army in the electromagnetic spectrum.
Previously, Lockheed has been awarded contracts for TLS-Brigade Combat Team — the first brigade-organic integrated signals intelligence, electronic warfare and cyber platform — and the Multi-Function Electronic Warfare system, an airborne pod that's designed as the first brigade-organic airborne electronic attack asset that will also provide limited cyberattack capability.
The Army recently put out a request for proposals for a dismounted capability associated with TLS-BCT.
Additionally, the Army is still bidding out for the next phase of its Electronic Warfare Planning and Management Tool, for which Raytheon has been doing development work. The system is described as the glue holding all EW capabilities on the battlefield together, serving as a command-and-control planning capability that allows forces to visualize the potential effects of these types of weapons and chart courses of action to prevent their forces and systems from being jammed during operations.
"The U.S. Army's Family of Systems concept is a proven model for developing and delivering converged cyber and electronic warfare technologies into the hands of the warfighter quickly, cost efficiently, with lower risk, and at the speed of relevance," Deon Viergutz, vice president of Spectrum Convergence at Lockheed Martin, said in a release. "Moving into this next phase, we are going to continue to embrace Soldier Touch Points to drive the design while leveraging a proven DevSecOps pipeline and an open architecture that will enable a highly interoperable, configurable 21st Century Security solution that can be easily tailored for specific mission requirements."
The Army has been pursuing a yearslong effort to rebuild its electronic warfare arsenal and architecture for the battlefield. After divesting much of its capability following the Cold War, modern threats have forced the service to develop new, more sophisticated systems.
The military writ large has been vocal about the pitfalls of so-called vendor lock, or relying on a singly company to provide a large majority, if not all the capabilities of a particular system. The Army has worked to institute open systems such as the C5ISR/EW Modular Open Suite of Standards.
Correction: An earlier version misstated the contracting phase awarded.