The Army has big plans for electronic warfare procurement in fiscal 2024
The Army is adding much more procurement money for electronic warfare systems in its fiscal 2024 budget request.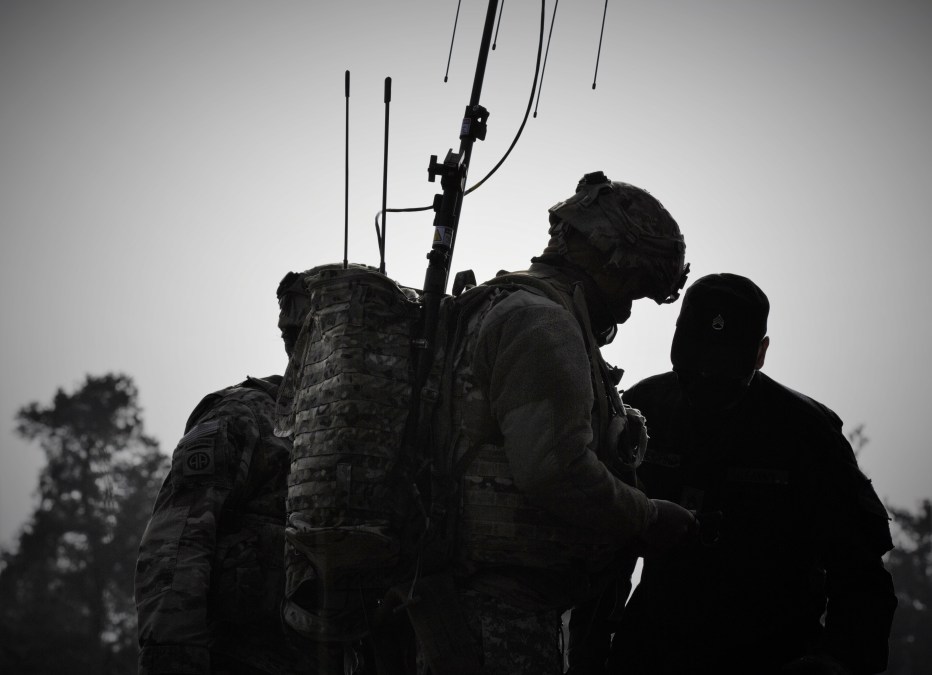 The Army has increased its procurement request for electronic warfare funding since last year in almost every major program.
Army budget documents note that the service requested a total of $67 million for electronic warfare procurement in fiscal 2024, which is more than triple the $21 million enacted for fiscal 2023.
While these types of jumps in funding are often anticipated in future years defense program requests, many significant Army electronic warfare programs didn't include any procurement funding for fiscal 2024 in the fiscal 2023 budget released last year.
Part of the jump is due to the fact that this year appears to be a culmination of years of prototyping and research and development of systems the Army was pursuing as it seeks to rebuild its entire EW arsenal.
At the end of the Cold War, the Army divested much of its electronic warfare inventory. Modern conflicts, particularly Russia's incursions in Ukraine over the last decade, have pushed the Army to rebuild its arsenal, which includes offensive jamming capability, defensive capability and tools to sense and manage the electromagnetic spectrum.
"There was a recognition that given Russia, China threat, the Army's got to rebuild its EW capability," Doug Bush, assistant secretary of the Army for acquisition, logistics and technology, told reporters at the annual McAleese and Associates Defense Programs Conference, told reporters March 15. "I know, it's one of the undersecretary's priorities. We definitely see the need. We got rid of a lot of that, now we got to get it back."
Undersecretary Gabe Camarillo has previously said electronic warfare keeps him up at night and that he has been concerned about the Army's EW and electronic protection capabilities for the last decade or so.
Army officials have described an overall architecture for which major electronic warfare systems will plug into. Capabilities will be part of a layered approach providing complementary effects that build off each other.
Budget documents show the biggest spend is for counterintelligence/security countermeasures at $22.8 million for fiscal 2024. This goes towards counterintelligence requirements and funding address requirements for the exploitation of signals intelligence as well as to the European Deterrence Initiative. The Army plans to spend $2 billion over the next five years on the program.
The Army is requesting $21.3 million for the Electronic Warfare Planning and Management Tool (EWPMT), which is the glue holding all EW capabilities on the battlefield together. The tool serves as a command-and-control planning capability that allows forces to visualize the potential effects of these types of weapons and chart courses of action to prevent their forces and systems from being jammed during operations.
That funding request will go towards fielding, budget documents state.
The fiscal 2023 budget didn't include a procurement funding line for 2024 as the program was undergoing a change in acquisition strategy.
In terms of research and development funding, the Army is requesting $2.2 million in fiscal 2024 for EWPMT under a new start titled Navigation Warfare Situational Awareness (NAVWAR-SA), which is described as a systems approach to detecting, geolocating and determining the impact area of Global Positioning System (GPS) in a contested environment. Officials have previously alluded to the notion that EWMPT's next phase would focus on so-called Position, Navigation, and Timing (PNT) issues.
Separately, it is also planning to spend $5 million in research and development that will go toward integration with other platforms such as the Terrestrial Layer System, Multi-Function Electronic Warfare (MFEW) and other sensors.
There was also no funding request for research and development for EWPMT in last year's budget documents forecasted for fiscal 2024.
Additionally, the Army is requesting $15.9 million for the MFEW Air Large pod. This airborne pod is designed as the first brigade-organic airborne electronic attack asset and providing limited cyberattack capability has been somewhat maligned over the past couple of years.
The fiscal 2022 budget saw a cut in what previous budget plans had forecasted would be $12 million in procurement. The Army added back $3 million for MFEW in its fiscal 2023 budget request. However, in the future years defense program last year, documents didn't provide any procurement funding.
Officials had explained to reporters that MFEW had to "prove it" following the loss of procurement funds, but ultimately, through testing, realized an incredible return on investment.
While originally planned to be mounted on an MQ-1C Gray Eagle, the Army is now taking a broader approach in that the pod could be mounted on any airborne platform that has sufficient space and power for it. Moreover, in addition to its electronic attack mission, it will play a bigger role in the Army's deep sensing mission, officials have said.
Top officials such as Camarillo have said they are impressed with the program.
In fiscal 2024, it plans to spend $15.9 million on two low-rate initial production systems. The budget also is projecting that in fiscal 2025, it will procure an additional four pods for $23.3 million, but no additional pods are projected to be procured across the future years defense program.
In budget documents from fiscal 2023, the Army didn't include any procurement funding for fiscal 2024.
The Army is requesting $5.5 million in research and development for MFEW in fiscal 2024. There also was no funding planned for fiscal 2024 in last year's budget documents.
The last two items included in the $67 million procurement request include a $6.6 million spend for Air Vigilance, which is a software-intensive Automated Information System (AIS) with specialized hardware that collect intelligence data on emerging threat aerial systems, according to budget documents, and CI Modernization at $400,000.
The Army stated that the Terrestrial Layer System is not included within the electronic warfare spend category of $67 million. Rather, it falls within the tactical intelligence category.
The TLS includes a brigade system, which will be an integrated electronic warfare, signals intelligence and cyber platform mounted on Strykers, and a system for echelons above the brigade involving similar capabilities but mostly for deep sensing for larger echelons.
The Army adjusted funding for TLS-BCT this year. Budget documents released last year projected the Army requesting $201.1 million in fiscal 2024 for procurement for TLS-BCT, however, that has shifted to prioritize infantry units and dismounted systems, which are cheaper than the Strykers.