DARPA taps Raytheon for next phase of air-breathing hypersonic program
Raytheon received an $81 million contract to work on the More Opportunities with the Hypersonic Air-breathing Weapon Concept, or MoHAWC, program.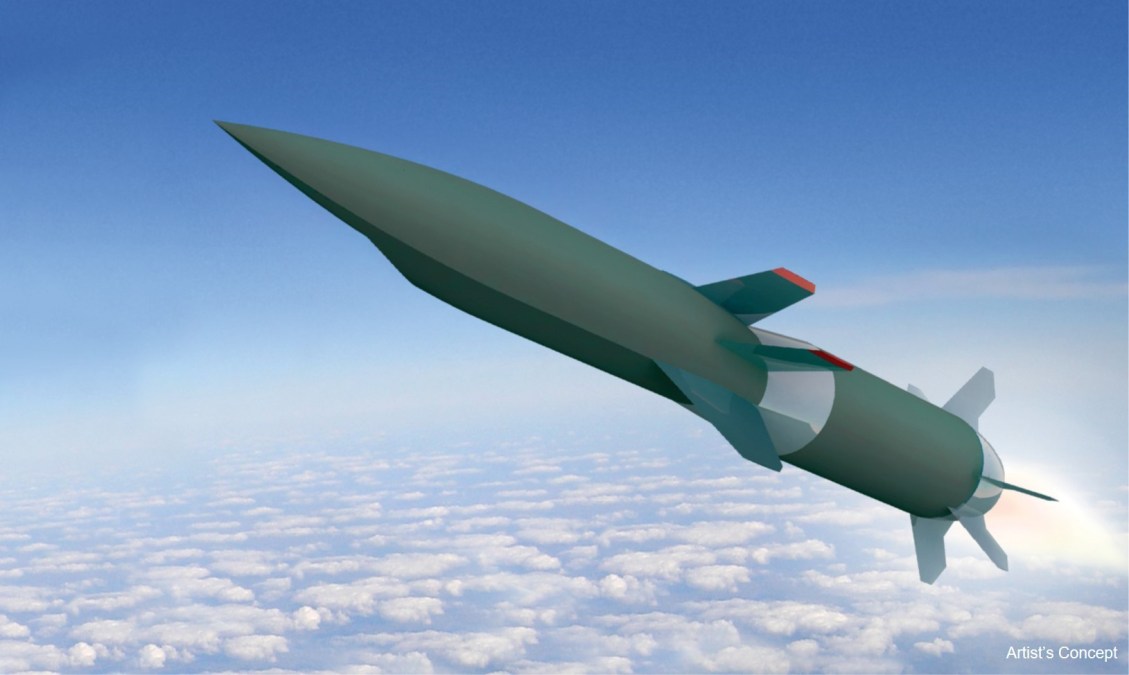 The Defense Advanced Research Projects Agency has selected Raytheon and its partner Northrop Grumman to continue the development and maturation of its scramjet-powered hypersonic missile known as the Hypersonic Air-breathing Weapons Concept (HAWC).
Raytheon received an $81 million contract to work on the More Opportunities with the Hypersonic Air-breathing Weapon Concept, or MoHAWC, the Pentagon announced Saturday. The new effort is a successor to the HAWC program — a joint initiative between DARPA and the Air Force to develop and demonstrate an air-breathing hypersonic cruise missile — that wrapped up in January with its final successful flight test.
The follow-on effort aims to continue development, integration and demonstration of technologies to prove the effectiveness and efficiency of air-launched hypersonic cruise missiles, Salvatore Buccellato, DARPA program manager, told DefenseScoop in an email.
"These technologies include advancing hydrocarbon scramjet-powered propulsion operation, upgrading aircraft integration algorithms, and improving manufacturing approaches," Buccellato wrote.
Under the new contract, Raytheon and Northrop Grumman will build and fly additional HAWC flight vehicles, applying data and lessons learned during the original program to mature the weapon's design, a company press release said. The team will add manufacturing improvements to the original vehicle's design and flight tests to "expand its operating envelope while validating system performance models," the release added.
DARPA's budget request for fiscal 2024 includes $30 million for MoHAWC. The program's estimated deadline is January 2026, according to the contract announcement.
MoHAWC is one of the many hypersonic weapons programs currently underway within the Pentagon. Able to travel at speeds of Mach 5 or greater through the atmosphere and maneuver mid-flight, hypersonic missiles are much harder to detect and intercept when compared to conventional ballistic missiles that fly predictable flight paths.
Raytheon served as a prime contractor for DARPA's original HAWC program and conducted several flight tests of a missile propelled by a Northrop Grumman air-breathing propulsion system. Also called a scramjet, air-breathing engines achieve hypersonic flight by pulling oxygen in from the atmosphere.
"We applied learnings from each successful HAWC flight test to ensure that it is the most sophisticated system of its kind," Colin Whelan, president of Advanced Technology for Raytheon, said Monday in a statement. "Continuing this important program will expand our knowledge of hypersonic flight and allow us to deliver the critical capability our warfighters need."
Lockheed Martin also worked on the HAWC program, partnering with Aerojet Rocketdyne. However, Buccellato confirmed to DefenseScoop that Raytheon will be the only performer on the follow-on MoHAWC effort.
While HAWC was a joint effort with the Air Force, MoHAWC will bring in both the Air Force and the Navy for collaboration "to meet future technology insertion dates for service programs of record," Buccellato noted.
The Air Force has two different hypersonic programs: the Air-launched Rapid Response Weapon (ARRW) and the Hypersonic Attack Cruise Missile (HACM). After ARRW failed an all-up-round prototype test in March, the service decided to scrap its procurement plans for the weapon and instead focus on the more successful HACM.
Raytheon is also the prime contractor for HACM and received a $985 million contract from the Air Force in September. Like HAWC, the weapon is a cruise missile — which the service has had a bit more success with compared to boost-glide hypersonics such as ARRW. The airframe and engine designs of HAWC are very close to HACM's, meaning that program will also directly benefit from MoHAWC's advancements, according to Raytheon.
The Navy, however, has focused its hypersonic development efforts on Conventional Prompt Strike — a sea-launched weapon to be installed on Zumwalt-class destroyers in fiscal 2025 and Virginia-class submarines in fiscal 2028. The sea service is also pursuing the Hypersonic Air Launched Offensive Anti-Surface (HALO) weapon, although Navy program managers have indicated the weapon might not actually reach hypersonic speeds.