DARPA wraps up air-breathing hypersonic program, plans follow-on for hypersonic cruise missiles
Plans are in the works for a follow-on effort, which could include building and flying more air vehicles to help mature the technology.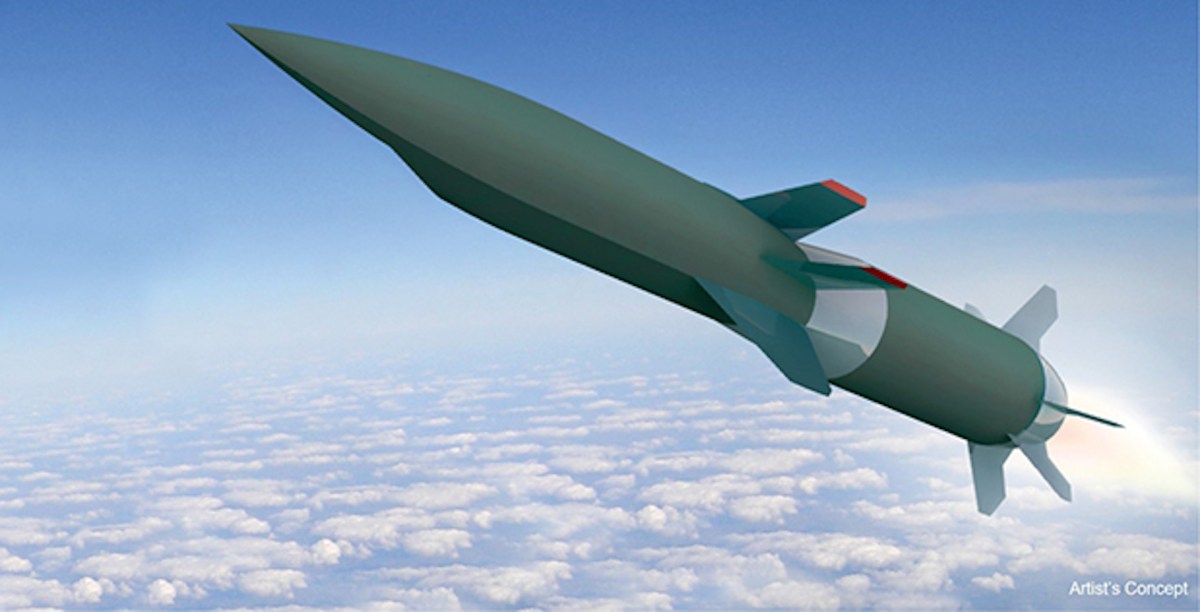 The Pentagon's Defense Advanced Research Projects Agency has completed the final test flight for its Hypersonic Air-breathing Weapons Concept (HAWC) program, DARPA announced on Monday. But plans are in the works for a follow-on effort.
Two industry teams — one led by Lockheed Martin and one led by Raytheon — have been working on HAWC efforts for several years, with the aim of furthering hypersonic "air-breathing" cruise missile technology. The U.S. military is looking for new quick-strike capabilities that can hit time-sensitive or heavily defended targets, and the Pentagon research-and-development community has been working with industry to mature the cutting-edge tech.
The Department of Defense is keen on acquiring hypersonic cruise missiles because they are expected to be less expensive and more compact than some of the boost-glide systems that the U.S. military is pursuing. Their smaller size and lower price tag could make them more affordable to buy in larger quantities and allow them to be integrated into a broader range of platforms such as fighter jets.
The final HAWC flight test earlier this month involved a Lockheed Martin variant that was propelled with an Aerojet Rocketdyne scramjet, according to DARPA. An agency press release announcing the event and the conclusion of the program did not disclose where the final test occurred.
The missile flew more than 300 nautical missiles, reached altitudes greater than 60,000 feet, and achieved hypersonic speeds above Mach 5. The system demonstrated "improved capabilities and performance," according to DARPA.
The event "capped a program that accomplished all of its initial objectives. It was the final flight test for HAWC, which is providing critical data to inform Air Force Research Laboratory (AFRL) hypersonic technology maturation efforts," per the release.
DARPA had also been flight testing a Raytheon missile propelled by a Northrop Grumman scramjet.
"The nation's hypersonic portfolio now has two feasible hypersonic airbreathing missile designs (Lockheed Martin and Raytheon) to improve and mature in the future," per the DARPA release.
In a statement, HAWC program manager Andrew "Tippy" Knoedler said the project "brought a wealth of data and progress to the airbreathing hypersonic community."
Information gleaned and lessons learned are expected to be applied to other Pentagon programs.
The release did not mention specific Air Force efforts that might be formed by the recently concluded program, but AFRL recently awarded an IDIQ research-and-development contract, worth up to $334 million, to Leidos for its Mayhem project, which will also focus on advancing air-breathing hypersonics capabilities.
Additionally, the tech developed by Raytheon and Northrop Grumman for the HAWC program could transition into the Air Force's Hypersonic Attack Cruise Missile (HACM) program. In September, the Defense Department announced that Raytheon had been awarded a $985 million contract to develop the weapon.
However, the completion of the HAWC project doesn't spell the end of DARPA's hypersonic cruise missile efforts. Plans for a follow-on initiative, called the More Opportunities with HAWC (MOHAWC) program, include building and flying more air vehicles to help mature the technology.
"Those missiles will expand the operating envelope of the scramjet and provide technology on-ramps for future programs of record," the agency said.