Doug Beck hints at strategic shifts that DIU's 'next phase' has in store
The Defense Innovation Unit's new director spotlighted his team's big plans to help the Pentagon "drive disruption at scale."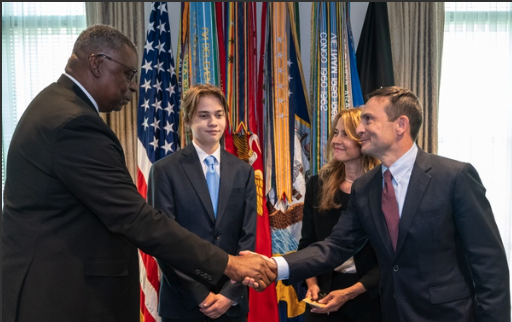 In his first press briefing as the Defense Innovation Unit's new director, Doug Beck spotlighted his team's big plans to help the Pentagon "drive disruption at scale" and hinted at potential forthcoming shifts in how the commercial-to-military technology incubator operates.
"I'm viewing this as kind of the start of an ongoing dialogue — and we'll have more to share soon," he told reporters during the virtual engagement on Thursday.
Dialing in from the sidelines of the Aspen Security Summit, Beck discussed how his experiences working around Asia, serving in Iraq and Afghanistan, advising Defense Department leadership, and making an impact as an Apple executive and Navy reservist prepared him to lead the unique organization at a time when he believes there's an unprecedented "imperative for" the U.S. military to leverage commercial capabilities.
"I'm very optimistic that we are truly at a tipping point for change, which is what we're focused on capitalizing on right now," Beck said.
DIU was launched by then-Defense Secretary Ash Carter in 2015 with the aim of tapping into commercial innovation hubs and acquiring new technologies from nontraditional vendors. Beck noted that he was in conversations with Carter and other military leaders back then — giving feedback on plans that led up to the unit's origin.
"Phase one was a little bumpy at the start, but it really was about the simplest point of just building a bridge between the Department of Defense on the one hand, and the United States tech sector in Silicon Valley and around the country," he said.
DIU's "phase two" saw Raj Shah and then Mike Brown steer the organization as permanent directors, in Beck's view. That most recent stage, he said, involved "proving that real military problems can be solved" by tailoring commercial technologies and using rapid acquisition authorities to accelerate prototype deployments that meet the services' needs.
"What we have to do now is take that capability that has been built and employ it for strategic effect, which means leverage it with the focused speed and scale to help us to deter major conflict or win if we are forced to fight — and that is what this next phase of DIU has to be about. And that is why the secretary has elevated DIU to be a direct report to him and explicitly call out how critical scaling that impact is as part of the mission. And that is why I upset my 'apple cart,' so to speak, to come join the team," Beck said.
During a panel on Wednesday at the Aspen Security Summit and throughout the press call on Thursday, he repeatedly emphasized this deliberate focus on scaling commercial solutions across the Defense Department as a top DIU priority.
"It's about moving from a world where you find great technology solutions to military problems and then serve them up to the organs of scale of the department [with] a combination of hope, and expect that then they will be picked up and scaled from there. It's shifting from that model, to a model that begins from the demand signal for those most critical imperatives from the department — that starts with the combatant command, that works with the services," Beck told reporters.
In response to DefenseScoop's questions during the briefing, he confirmed that his team is currently working on a comprehensive report — due to Secretary Lloyd Austin in September — that's all about "this next phase of DIU and the role that DIU can play in helping to catalyze the community of innovation across the department."
When asked if there may be an impending organizational restructure of DIU associated with this move into the next "phase," Beck said: "I'll share [the report] with the secretary. Obviously, that will come with all kinds of implications about how we're going to [accomplish] that. And I promise you as soon as we're ready to talk about that publicly, you will be right up at the top of the list to hear about it."