Navy pings industry while scouting for new tech to help Pacific Fleet counter China
The sea service released a sources-sought notice for its Pacific SCOUT initiative.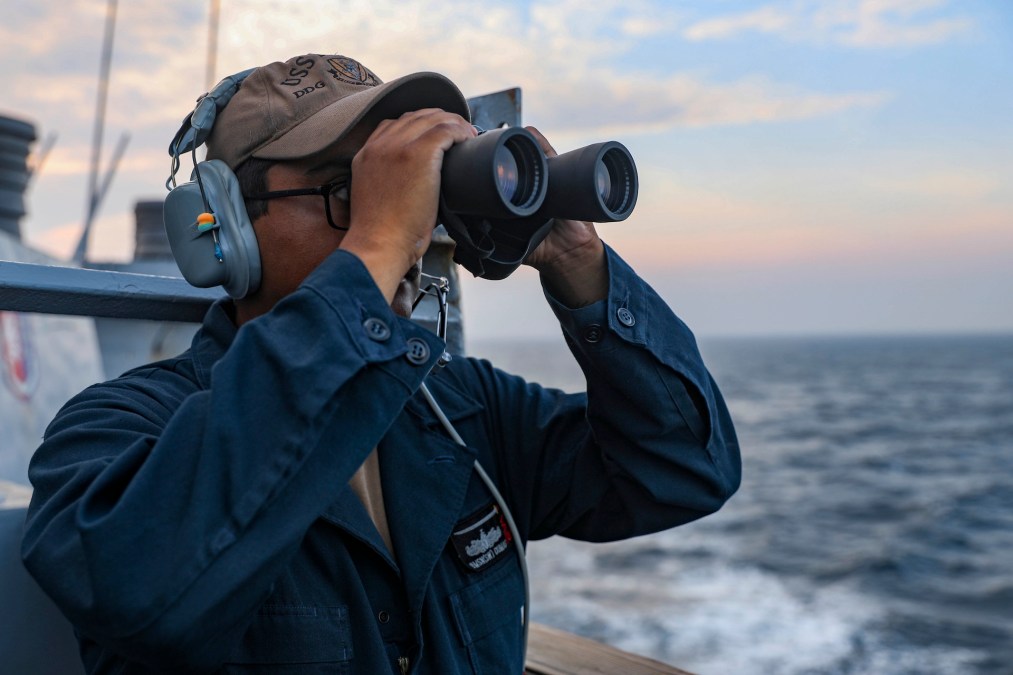 The Office of Naval Research-Global is hunting for new capabilities that could bolster the Pacific Fleet, and the sea service just released a sources-sought notice for its Pacific SCOUT initiative.
The Navy is looking to move fast with the effort, and it isn't keen on systems that will require long development timelines. It wants to examine capabilities currently at technology readiness level 6 or greater that could be fielded in the next one to three years, according to an RFI released this week.
The Navy plans to conduct limited technical assessments this fall, with limited objective experiments expected in the February-March 2024 time frame at government ranges, and an advanced capability experiment in the May-July 2024 time frame somewhere in the Indo-Pacific region.
That RFI noted that China is the sea service's "peer competitor" in the Indo-Pacific. And Pacific SCOUT is being launched as U.S. military planners and world leaders are concerned that Beijing's forces might try to invade Taiwan in a few years. Technologies are needed to defeat adversaries' amphibious forces in a contested environment, according to the document.
For the upcoming technology experimentation campaign, the sea service is focused on four "problem sets" that it has to contend with: long-range fires, naval operational architectures, contested logistics, and counter-C5ISRT (command, control, computers, communications, cyber, intelligence, surveillance, reconnaissance and targeting).
Pacific Fleet's missions "will require the use [of] unmanned systems at scale to support lethal and non-lethal missions. Additionally, the missions will require the deployment of advanced sensor grids and employment of unmanned, semi-autonomous, systems as part of long-range kill chains as well as adoption of next generation decision support and control systems to link all elements of the kill chain. The supporting technology and capabilities required in an [area of responsibility] that is geographically dispersed, disruptive by nature and deployed in large but controlled numbers. Lastly, the technology and capabilities are required to interface with a common decision support and command and control system," the RFI states.
The Navy is interested in cost-effective "asymmetric" capabilities, which could include the employment of robotic systems and mines to counter enemy forces or "close the kill chain" for long-range fires; seabed warfare and other undersea offensive capabilities for area access and attack missions; and tactical-level command, control and communications tools that can operate in a highly contested environment.
It's also looking to employ a nimble, robust and secure network architecture to enable joint and coalition forces to find, track, target and engage enemy forces, including with sub-surface communications and weapons pairing.
Navy and Marine Corps officials are worried about the logistical challenges of operating and sustaining their forces at sea and ashore in the vast Indo-Pacific region, where U.S. troops and platforms could be targeted by China's long-range weapons and other so-called anti-access systems.
To help with the delivery of critical items to forward-deployed forces, such as munitions, fuel, food and spare parts, in a contested environment, they're looking for "logistical distribution optimization decision aids," ship-to-ship and ship-to-shore logistics enablers, solutions for the conversion of containers to "break bulk assets" while afloat, and secure comms equipment for commercial maritime vessels.
To tackle the counter-C5ISRT problem, the service wants tactical technologies that could stymie adversaries' efforts to target U.S. maritime forces and thereby reduce the effectiveness of their high-tech weapons.
"In order to perform these missions, information will be collected from many sources to generate actionable intelligence so that limited assets can be deployed as required in order to systematically and effectively accomplish all mission requirements. In so doing, [Pacific Fleet] will work across the Joint force, with allies, partner nations and other US agencies to develop, analyze, and vet intelligence information. Additionally, PACFLT will conduct develop agile, resilient, and secure Joint and Coalition fires network/architecture to support long-range fires, execute logistics in a contested environment, and provide tactical level capabilities to reduce Counter-C5ISRT risk to manned forces," per the RFI.
Included on the service's list of potential solutions are decision-making aids, sensor fusion, artificial intelligence, data processing on the edge, and machine learning algorithms for target recognition, natural language processing, pattern-of-life recognition, long-range sensors, persistent ISR platforms and payloads, and other capabilities.
Responses to the sources-sought notice are due Aug. 29. Vendors tapped to participate in Pacific SCOUT are expected to be notified by Sept. 29.
Meanwhile, the Naval Surface Warfare Center Panama City Division and the Office of Naval Research-Global will be hosting a virtual industry day related to the initiative on Aug. 14.