UAP hearing sparks clash between Pentagon officials, witnesses
In official and unofficial statements shared online and via email late last week, Defense Department personnel pushed back on assertions made at last week's House hearing on UFO transparency.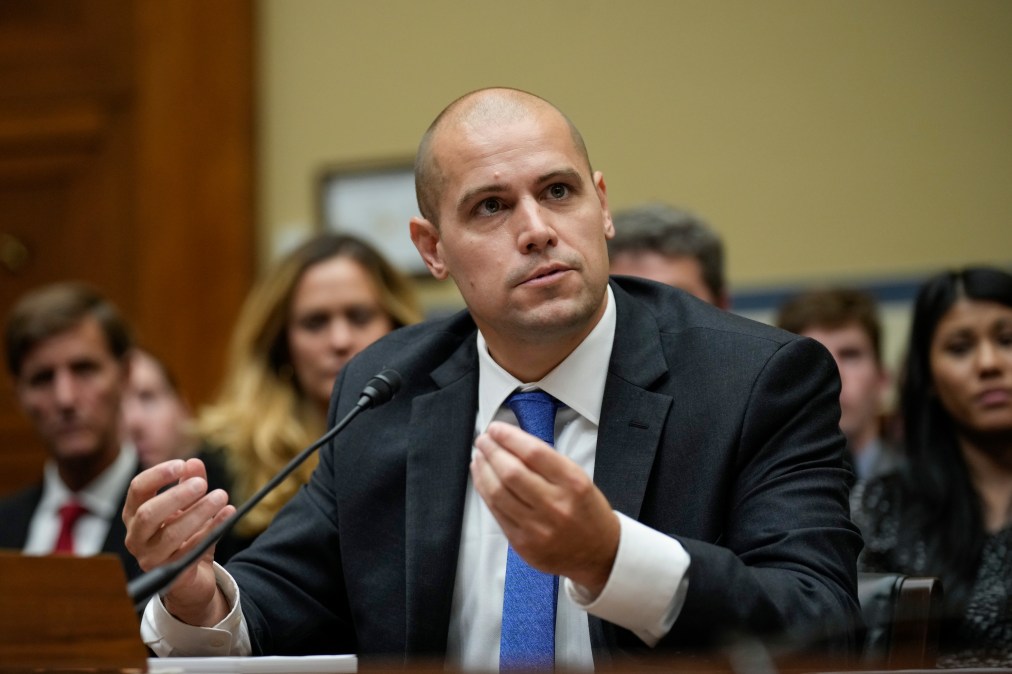 Defense Department officials are warning that some allegations raised by former military and intelligence officials at a House hearing on UFO transparency last week could deter new potential witnesses from informing its All-domain Anomaly Resolution Office's ongoing investigations into reported incidents and ultimately undermine congressionally required activities.
Retired Navy Cmdr. David Fravor, former Navy pilot Ryan Graves, and former Air Force intelligence officer and federal civilian David Grusch each testified under oath July 26 about recent military-aligned "unidentified anomalous phenomena" (UAP) encounters that they said demonstrate an "existential threat to national security."
Grusch — who said he recently made an official whistleblower filing via the Intelligence Community Inspector General — shared the most sensational allegations with lawmakers, including accusations that the U.S. government had secretly recovered UAP-type craft and "non-human biologics" from crash sites, that senior defense and IC leaders have retaliated against him and others who came forward, and that the All domain Anomaly Resolution Office (AARO) is not seriously engaging with him on such matters.
In official and unofficial statements shared online and via email late last week, Defense Department personnel pushed back on a number of those and other assertions the witnesses made at the hearing.
AARO Director Sean Kirkpatrick issued a fiery statement spotlighting "his own personal observations and opinions" — but "not necessarily official DOD and IG positions" — on social media Thursday. The Pentagon authenticated his post Friday.
In it, Kirkpatrick wrote that he "cannot let yesterday's hearing pass without sharing how insulting it was to the officers of" the Defense Department and the intelligence community who have been "working diligently, tirelessly, and often in the face of harassment and animosity, to fulfill their Congressionally-mandated mission."
Allegations of "retaliation, to include physical assault and hints of murder, are extraordinarily serious, which is why law enforcement is a critical member of the AARO team, specifically to address and take swift action should anyone come forward with such claims. Yet, contrary to assertions made in the hearing, the central source of those allegations has refused to speak with AARO," Kirkpatrick wrote — pointing at Grusch without directly stating his name.
He also said AARO has yet to see credible proof regarding allegations of any reverse-engineering programs for non-human technology, and that some information reportedly obtained by Congress has not been shared with his office.
Pentagon spokesperson Sue Gough declined to weigh in on Kirkpatrick's statement in an email to DefenseScoop late Friday evening.
"The department is aware of Dr. Kirkpatrick's post, which are his personal opinions expressed in his capacity as a private citizen and we won't comment directly on the contents of the post. We do want to reinforce the department's unwavering commitment to openness and accountability to the American people and Congress," she wrote.
Still, Gough's official Pentagon responses also echoed some of the notions articulated by the AARO director.
"The department has no information that any individual has been harmed or killed as a result of providing information to AARO. Any unsubstantiated claims that individuals have been harmed or killed in the process of providing information to AARO will serve to discourage individuals with relevant information from coming forward to aid in AARO's efforts," she wrote.
"To date, AARO has not discovered any verifiable information to substantiate claims that any programs regarding the possession or reverse-engineering of extraterrestrial materials have existed in the past or exist currently," she reiterated.
Gough did not respond to follow-up questions from DefenseScoop Monday regarding new or existing channels for service members to flag UAP incidents, and whether or not there's been an uptick in new reports to AARO — or intensified harassment — since the hearing.
According to Graves, the former F-18 pilot who testified last week, DOD's responses reflect "a perfect example of why witnesses are reluctant to come forward."
"The Pentagon Press Office statement following the hearing was misleading. The disconnect between pilot witness testimony under oath at the Congressional hearing and the Pentagon Press Office's dismissal is a perfect example of why witnesses are reluctant to come forward. It makes zero sense that our military would undermine its own servicemen and women when they are reporting serious flight risks," he told DefenseScoop on Monday.
Based on his own experiences with military-connected UAP, Graves formed and now runs the witness program Americans for Safe Aerospace to provide an entity for the public to safely and securely report observations or encounters. He testified at the hearing that his team estimates roughly only 5% of UAP sightings are currently reported to AARO.
"I hope Congress will hold DOD accountable and push for more support for witnesses and whistleblowers. For example, the [Pentagon] Press Office says AARO welcomes witness accounts — but AARO has not even implemented a public reporting mechanism as required by last year's [National Defense Authorization Act]. How are witnesses even supposed to get in contact?" Graves told DefenseScoop.