Lawmakers pledge to pursue greater transparency on 'existential threat' of UAPs
Three witnesses shared new details about their own and other military officials' reported UAP experiences throughout what is said to be the first of many House hearings on the phenomena.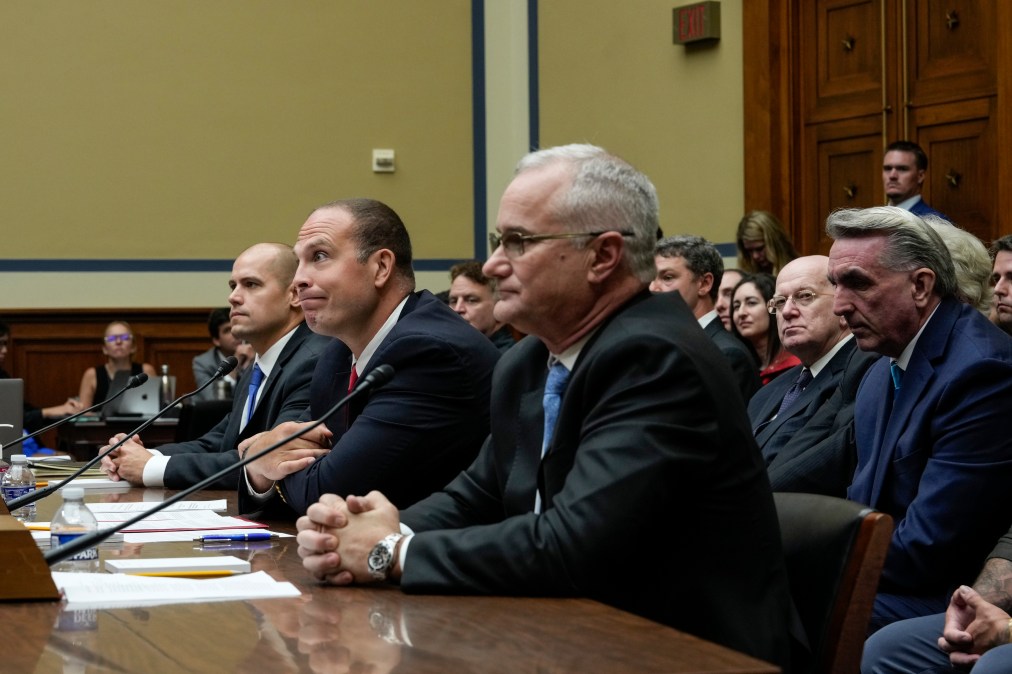 House lawmakers vowed Wednesday to place more pressure on the Pentagon for answers to existing and emerging questions about its growing cache of secretive unidentified aerial phenomena (UAP) records after three former U.S. defense officials shared personal accounts of potential government-concealed encounters with what they think could be craft and technologies of "non-human origin."
At a House Oversight and Government Accountability subcommittee hearing on UAP transparency — which was highly-anticipated and well-attended — retired Navy Cmdr. David Fravor, former Navy pilot Ryan Graves, and former intelligence officer David Grusch each testified under oath that they believe such seemingly inexplicable phenomena pose "an existential threat to national security," and can likely collect reconnaissance information about the U.S. and test for vulnerabilities in the nation's technology infrastructure.
The three witnesses shared new details about their own and other military officials' reported UAP experiences throughout the event.
Fravor — former commanding officer of Strike Fighter Squadron Forty-One, known as the Black Aces — shared how after his team in 2004 captured footage of a UAP that appeared to be shaped like a "Tic Tac" during a routine training mission with the USS Nimitz aircraft carrier off the California coast, there was no immediate investigation of the incident.
"None of my crew were ever questioned, tapes were never taken, and after a couple of days, it turned into a great story to tell friends," Fravor said.
The Navy eventually authenticated a 90-second video that was captured in 2017.
"What is not seen is the radar tape that showed the jamming of the APG-73 radar in the aircraft, but we do see on the targeting pod video that the object does not emit any infrared plume from a normal propulsion system that we would expect," Fravor noted.
"I would like to say that the Tic Tac Object that we engaged in November 2004 was far superior to anything that we had at the time, have today, or are looking to develop in the next 10-plus years," he also said.
Graves, a former F-18 pilot with more than a decade of Navy service including two deployments in Operation Enduring Freedom and Operation Inherent Resolve, testified that he witnessed advanced UAP on multiple sensor systems firsthand.
In 2014, he said, "UAP sightings became an open secret among our aircrew. They were a common occurrence, seen by most of my colleagues on radar and occasionally up close."
That year, "a pivotal incident occurred during an air combat training mission" in an exclusive block of airspace ten miles east of Virginia Beach, he noted in his opening testimony.
"All traffic into the training area goes through a single GPS point at a set altitude. Just at the moment the two jets crossed the threshold, one of the pilots saw a dark gray cube inside of a clear sphere — motionless against the wind, fixed directly at the entry point. The jets, only 100 feet apart, were forced to take evasive action. They terminated the mission immediately and returned to base. Our squadron submitted a safety report, but there was no official acknowledgment of the incident and no further mechanism to report the sightings," Graves explained.
Based on those and other experiences, Graves founded and now runs the UAP witness program Americans for Safe Aerospace to provide observers with a "haven" to share their experiences without fears of professional retribution.
On the sidelines after the hearing, Graves told DefenseScoop that he hopes his testimony will inspire the "many" active duty military pilots he knows who have encountered UAPs on the job to come forward and speak up about their experiences.
"I think that Congress needs to hold the Department of Defense accountable — not only to increase reporting but also to share that data," he said.
The biggest bombshells during the hearing were dropped by David Grusch, who served as an intelligence officer for 14 years — first in the U.S. Air Force at the rank of major and most recently, from 2021 to 2023, at the National Geospatial-Intelligence Agency at the GS-15 civilian level.
Grusch served as an agency co-lead for unidentified anomalous phenomena and trans-medium object analysis — and also reported directly to the Pentagon's UAP Task Force (UAPTF) that recently evolved into the All-Domain Anomaly Resolution Office (AARO).
"I was informed, in the course of my official duties, of a multi-decade UAP crash retrieval and reverse engineering program to which I was denied access to those additional read-ons. I made the decision, based on the data I collected, to report this information to my superiors and multiple inspectors general, and in effect become a whistleblower. As you know, I have suffered retaliation for my decision," Grusch testified.
Both he and Graves also hinted at "upsetting" retaliation tactics they and others they know allegedly faced from senior government leaders for coming forward with UAP information.
Though he said most of what he knows can only be discussed in a classified environment, Grusch also spoke briefly of "non-human biologics" or "bodies" found with some of the recovered UAP craft.
In response to those claims, lawmakers pointed out how Dr. Sean Kirkpatrick, the inaugural director of the Pentagon's AARO, testified at a hearing in April that, at that point, his team's research had "found no credible evidence thus far of extra-terrestrial activity, off-world technology, or objects that defy the known laws of physics."
Grusch said he met once this year with Kirkpatrick — and hoped to brief him further on the topic moving forward — but that the AARO director never followed up.
"AARO's congressionally-mandated historical review of U.S. government UAP programs is ongoing. We are not going to comment on any details of the review, including interviews. AARO is committed to following the data and its investigation wherever it leads," Pentagon spokesperson Sue Gough told DefenseScoop in an emailed response to questions regarding Grusch's request.
She added: "AARO has established a safe and secure process for individuals to come forward with information to aid AARO in its congressionally-mandated historical review. AARO welcomes the opportunity to speak with any former or current government employee or contractor who believes they have information relevant to the historical review."
AARO is set to supply Congress with its next UAP investigation report and briefing sometime this summer. Beyond that, lawmakers suggested further testimony, and relevant legislation, is already in the works.
"I'm shocked, actually, by just the amount of information that came out [of this], because of all the roadblocks that were put up against us. So I think what's going to happen now is the floodgates [are open]. Other people are going to say, 'I've got some information I'd like to come swear in.' And that's what we're going to start doing: We're going to start talking to people, and we're going to start naming names," Rep. Tim Burchett, R-Tenn., told DefenseScoop in a press gaggle immediately after the hearing.
"This is just the first of many [hearings]," Burchett said in the press gaggle.
Throughout and after the hearing, he and other lawmakers also repeatedly emphasized that UAP transparency is an inherently bipartisan issue.
"I confess that I'm very much a newcomer to this whole field, so I'm just reading up on it now. But I certainly would support as much transparency and disclosure as possible — and we have to treat it through the lens of reason and science," Rep. Jamie Raskin, D-Md., told DefenseScoop after the hearing.
"There was a lot of credibility to the witnesses, and what they were saying did not seem outlandish to me. That doesn't mean that everything was necessarily true that we've heard. We've got to maintain a skeptical mind. But we should be able to arrive at factual conclusions without fear," Raskin said.