Defense Department stands up generative AI task force
Task Force Lima will "assess, synchronize, and employ" generative AI technologies throughout the Pentagon.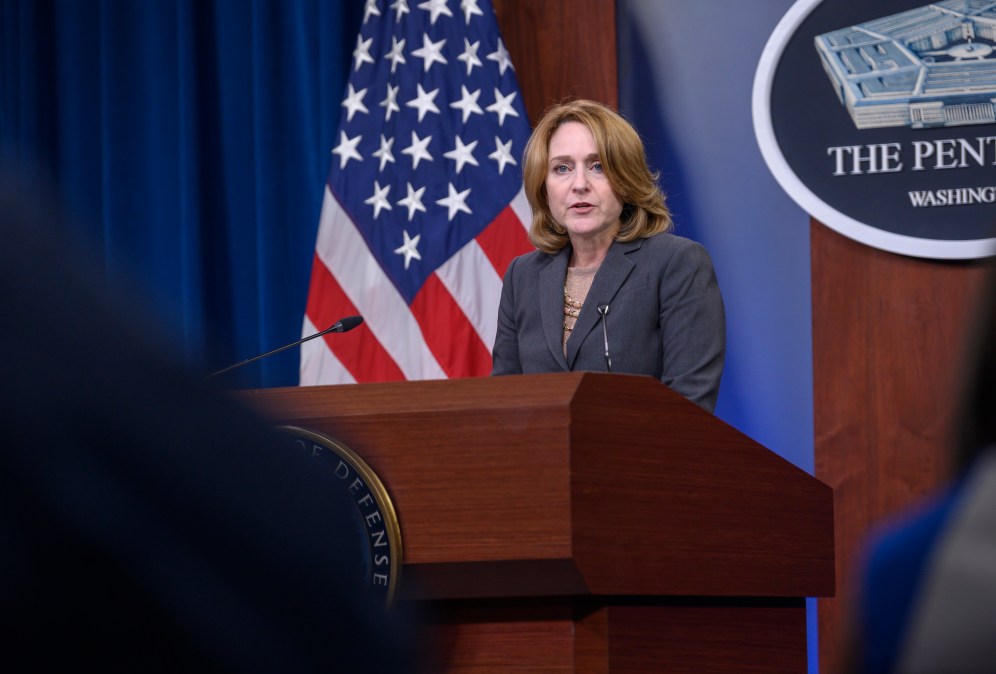 The Pentagon launched a new task force Thursday dedicated to understanding how the Defense Department can effectively and responsibly leverage generative artificial intelligence tools such as large language models.
Called Task Force Lima, the new organization will be led by the Chief Digital and Artificial Intelligence Office's (CDAO) Algorithmic Warfare Directorate and will "assess, synchronize, and employ" generative AI technologies throughout the Pentagon, according to a DOD press release.
A key objective for Task Force Lima will be to minimize redundancy in its generative AI efforts across the Pentagon while mitigating potential risks the technology may pose.
"The establishment of Task Force Lima underlines the Department of Defense's unwavering commitment to leading the charge in AI innovation," Deputy Secretary of Defense Kathleen Hicks, who directed the organization's creation, said in a statement. "As we navigate the transformative power of generative AI, our focus remains steadfast on ensuring national security, minimizing risks, and responsibly integrating these technologies. The future of defense is not just about adopting cutting-edge technologies, but doing so with foresight, responsibility, and a deep understanding of the broader implications for our nation."
Generative AI is a subfield of artificial intelligence that generates content — such as text, audio, code, images, videos and other types of media — based on prompts and data they are trained on.
While viral generative AI platforms like ChatGPT have gone viral in 2023, the Defense Department has been cautious about the viability of commercially available technology that has been known to "hallucinate" and provide inaccurate information.
"The DoD has an imperative to responsibly pursue the adoption of generative AI models while identifying proper protective measures and mitigating national security risks that may result from issues such as poorly managed training data," Pentagon CDAO Craig Martell said in a statement. "We must also consider the extent to which our adversaries will employ this technology and seek to disrupt our own use of AI-based solutions."
According to an Aug. 10 memo from Hicks, some of the organization's goals will be to identify ongoing efforts related to generative AI at the Pentagon; analyze potential mission areas, workflows and use cases for large language models and generative AI; support the development of and oversee the integration of the technology throughout the department; recommend a long-term government plan for generative AI; and many others.
The memo also lists immediate and future deliverables Task Force Lima will be responsible for — from interim guidance to the department on "current risks, challenges, and best practices for the use of [large language models] and generative AI" that is due within 45 days of the memo's publication to a Pentagon-wide environment dedicated to rapid large language model and generative AI and iteration scheduled for fiscal 2024.
Task Force Lima will be responsible for providing guidance and recommendations to policy-making bodies related to generative AI, according to Hicks' memo. The organization will report its lessons learned to the Defense Department's Responsible AI Working Council, it stated.
"These capabilities unlock new opportunities, just as they pose significant new risks," Hicks said in the memo. "The DoD faces an imperative to explore the use of this technology and the potential of these models' scale, speed, and interactive capabilities to improve the Department's mission effectiveness while simultaneously identifying proper protection measures and mitigating a variety of related risks."