Cadre of advanced Navy robo-ships transit the Pacific, make first-ever port call in Japan
Four uncrewed surface vessels recently transited across the Pacific Ocean via the U.S. Navy's Integrated Battle Problem 23.2 exercise.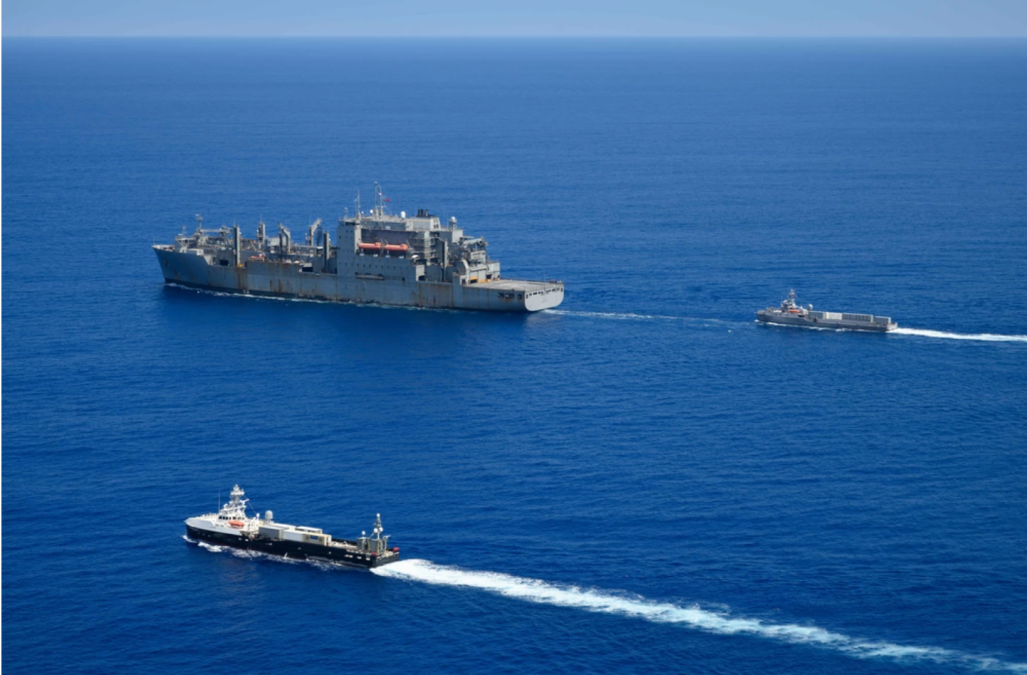 Four uncrewed surface vessels recently transited across the Pacific Ocean — mostly autonomously, with little help from humans — via the U.S. Navy's Integrated Battle Problem 23.2 exercise, which just culminated in the Indo-Pacific region.
Those four USV prototypes include the medium-sized Sea Hunter and Sea Hawk and large-sized Mariner and Ranger. They partly underpin the sea service's campaign to experiment with maritime drones and prepare for a future where it aims to operate a hybrid fleet of manned and unmanned ships.
Earlier this summer, the four vessels departed Southern California to move largely on their own across the Pacific for the Integrated Battle Problem exercise. On their way, ahead of arriving in Yokosuka, Japan at the headquarters of U.S. 7th Fleet this week, the platforms integrated with other Navy platforms they passed, the Carl Vinson carrier strike group during Large Scale Exercise 23, and with Japan-based units including Destroyer Squadrons 7 and 15, among others.
The port visit in Yokosuka marked the first time any uncrewed U.S. Navy asset of this type has stopped in Japan, according to a release.
Cmdr. Jeremiah Daley, the USV Division 1 commander who oversaw this transit and other demos and exercises the vessels have participated in, briefed reporters about the effort during a call from Japan on Thursday evening.
"We're using these unmanned systems in this group of ships that I have with me for sensing above, on and below the sea — with the specific intent against high-end adversaries, improving the intelligence surveillance and reconnaissance for battlespace awareness in all three domains, increasing the accuracy of targeting solutions … and closing kill chains faster and keeping them closed for longer periods of time. That will play a very integral part in how we train to fight and having the ability to support the delivery of offensive fires from longer distances," Daley said.
He also emphasized the significant role uncrewed vessels will play in future conflicts, noting their potential to add capacity to the Navy's fleet while mitigating personnel requirements and keeping sailors out of harm's way.
"We have a finite number of manned surface combatants. We have the ability to build so many so quickly because of their size and scope — and manning a destroyer with 330 qualified sailors is also not an easy task to do. The ability to turn one surface action group of three destroyers, add a certain number of USVs and convert them into three surface action groups covering three, or four, or five times as much water space with the same number of manned service combatants is a game-changer," Daley told DefenseScoop during the call.
Through the Navy's Integrated Battle Problem 23.2 exercise, Daley and his team sought to validate concepts of operation for transits across short and very long oceanic distances — and for conducting command and control of the prototypes from an operations center ashore, as well as a variety of afloat units.
However, he declined to share much details about the uncrewed vessels' payloads.
"We're continuing to refine the autonomy, but for a significant portion of the transit we were in autonomy going across the Pacific Ocean without human intervention — or as far as having the need to intervene," the commander told reporters during the call.
In every port visit and region they operated in, the team attempted to integrate as many facets of the fleet as possible.
Daley noted that, broadly, USV Division 1 is "learning a significant amount from what would be required when the Navy does start to project further and scale these vessels into a program of record."
Though he would not disclose any information about future operations, Daley said the division "will continue to exercise our capabilities with a host of units."