Army working on next-gen fires platform
The Army will soon begin an iterative modernization of its AFATDS system for next-generation fires.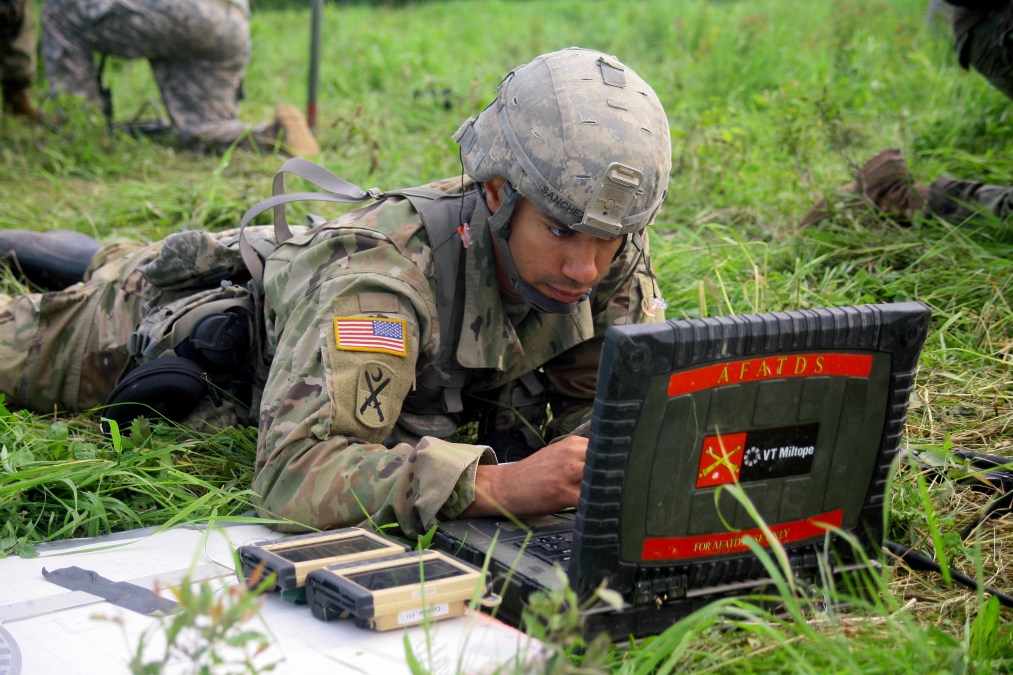 ABERDEEN PROVING GROUND, Md. — The Army is planning on developing a next-generation fires platform soldiers can use to shoot a variety of platforms at targets in a highly precise manner.
The Advanced Field Artillery Tactical Data System (AFATDS), which provides fully automated support for planning, coordinating and conducting fires, has been around for nearly a quarter century. As a result, the Army wants to modernize that platform, but not fully replace it.
"When I say a modern solution, right, AFATDS does all the calculations and the fires tables and all that, that math has to stay, right? It's more all these new data sources, all these new platforms, all these new sensor-to-shooter architectures — how do we integrate that data in a quick, streamlined way? We need a modern architecture to do that," Mark Kitz, program executive office for command, control, communications-tactical, told DefenseScoop in an interview on the sidelines of an event hosted by AFCEA's Aberdeen chapter Tuesday. "I think there's been this perception that you have to be in the fires community to do AFATDS. There's only two or three companies in the world that know how to do that. Well, maybe that's true, the math, right? Maybe the math part of it has two or three companies that know how to do it. But it's just modern software. It's integrating data."
Kitz described what he called AFATDS Next as a modernized series of applications soldiers can use for targeting.
"I think it's a suite of apps. That's why I say a suite of applications because one, we're never going to be able to afford one whole monolithic application to take over for AFATDS, and two, it should be a suite of applications that live in a common environment," he told DefenseScoop.
AFATDS had been working to integrate into the Army's Command Post Computing Environment, a web-enabled system that will consolidate current and future mission systems and programs into a single user interface.
This strategy for a next-generation fires platform aims to leverage advancements in technology that can better present that information for soldiers engaged in fast-paced combat of the future. This means likely fully bringing it into the cloud as opposed to the laptop-based system that exists today.
"I was recently out at I Corps and they've put AFATDS in the cloud. They didn't need that laptop, they were just using their web browser and being able to use AFATDS," Kitz said.
This modernization will not only reduce hardware across the force but also improve access.
"Being able to just access AFATDS in the cloud, or access their applications, even on an [Android Team Awareness Kit] device. Are there things that we can do on a Nett Warrior or in a [Joint Battle Command – Platform] that can more integrate fires, how I deliver that data," Kitz said.
Moreover, this increased access can improve information-sharing with partner nations.
"One of the challenges is how do we share fires data collaboratively? How are we marketing the data, how is that data coming out? Today, that data comes out of AFATDS in a very proprietary way. We can't collaborate that way. We get around all that because it works, but we got to get to a more collaborative way," Kitz said.
Kitz described an iterative modernization approach going forward. The plan, as it currently stands, is to conduct six months of industry engagements and then in fiscal 2024 issue a contract aimed at modernizing the fires architecture.
AFATDS "was built on code based in 1995. It's still based on [Abstract Interfaces for Data Analysis] code. We have got to get to a modern solution. That's really what we're going to challenge industry with doing," he said. "Rather than go to just the folks that know the math, we're going to put this out a little bit larger to industry to see what they can do."