Army's special adviser units beginning to test operations in the information environment
A few of the Army's SFABs conducted a first-of-its-kind validation event.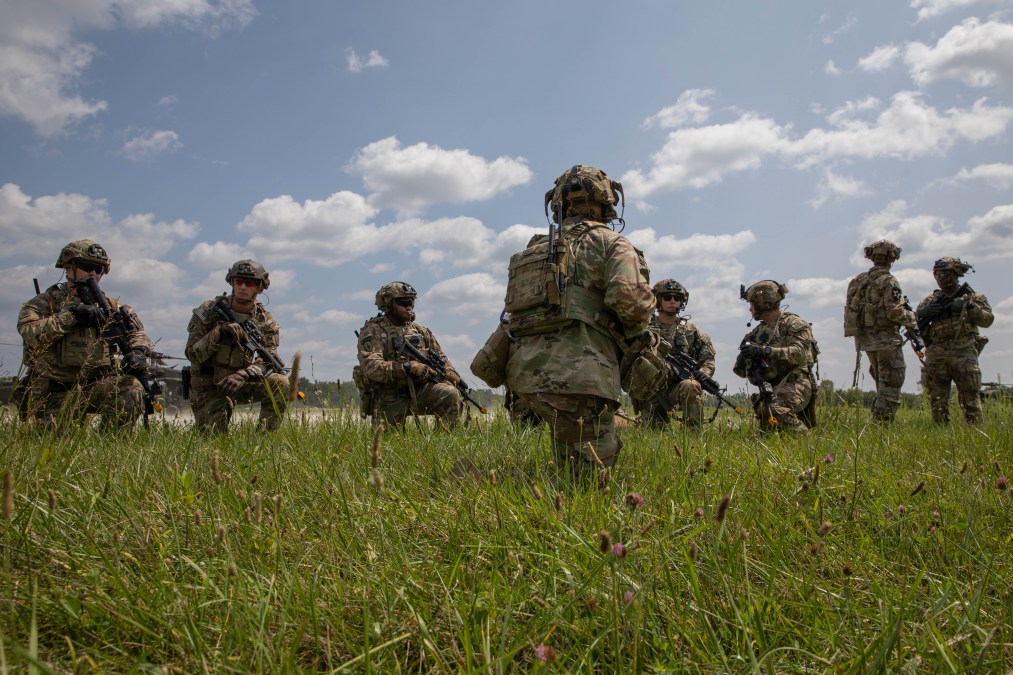 The Army's special cadre of advisers recently conducted a first-of-its-kind validation event that focused on operating and assisting partners within the information environment.
Operation Combined Victory took place in August at Muscatatuck Training Center and Camp Atterbury in Indiana, and tested the ability of advisers from 3rd, 4th and 5th Security Force Assistance Brigades to operate in a contested information environment.
The SFABs, created in 2017, are unique units designed solely to advise and assist local, indigenous forces.
This first validation event for the SFABs focused on the information dimension, which is critical because while these units are built for conflict, they are also expected to work with partners against competitors before a shooting war begins. When conflict breaks out, these small teams of advisers could be the only conventional Army presence in country, according to a Security Force Assistance Command spokesperson.
"This was our first time truly testing and validating our Advisors in the information dimension. We hoped to test them and establish a baseline understanding of where our Advisors stand on their ability to operate within the information dimension," the spokesperson told DefenseScoop. "We gained many lessons learned, and we are taking those lessons learned to expand our information dimension training strategy and nest our strategy with [National Training Center, Joint Readiness Training Center and Joint Pacific Multinational Readiness Center] long term. I truly believe we are ahead of the curve and in line with where the Army and DOD is going with our information dimension and information advantage training and exercising, especially for conventional Army units."
The biggest lesson learned, according to the spokesperson, is advisers need further exposure to the information dimension in a training environment and to work these capabilities and scenarios into their collective training cycles.
Muscatatuck Training Center possesses a raft of capabilities for modern battle and multi-domain warfare with the ability to remotely control infrastructure via cyber means — such as water systems — a radio station that forces can broadcast messages over FM for an information ops effect, and smart houses with Internet of Things devices that can be manipulated remotely, among others.
During the validation event, officials were able to replicate the information dimension of the Russia-Ukraine conflict, the spokesperson said, teaching soldiers about the effects in the information realm that can impact their missions.
Troops were issued cell phones and laptops along with the role players. Role players posted on social media, which the advisers had to monitor and understand how to deal with in terms of the impact to their missions.
Looking ahead, there is another exercise planned in February that will expand the capabilities used, according to the spokesman. It will begin to look more at electronic warfare and the electromagnetic spectrum as it pertains to command post survivability and maintaining low signatures.
Adversaries have become adept within the spectrum at being able to target units based solely on their electronic emissions. The Army as a whole is trying to get units to reduce their signatures and manage how much they emanate within the spectrum to reduce their chances of being detected and fired upon.