How US Central Command's task forces are shaping the future of operational AI
The Navy's Task Force 59, the Air Force's Task Force 99 and the Army's Task Force 39 are exploring cutting-edge technologies that could give the U.S. military an edge in future fights — in any region of the world.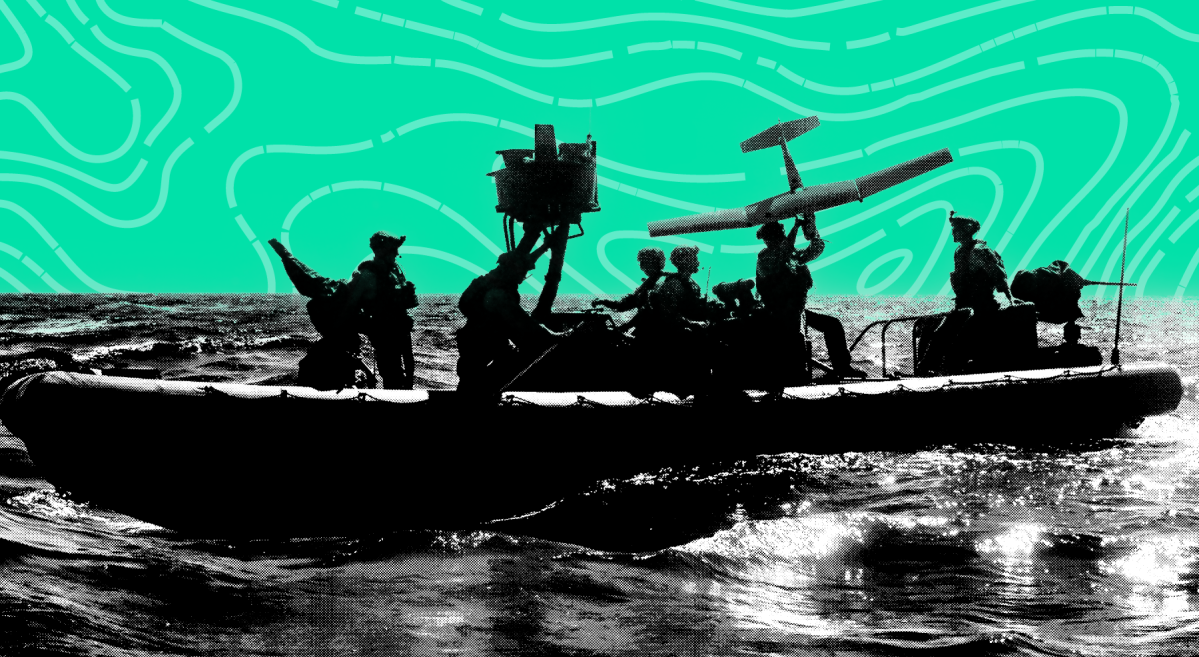 During the first two decades of the 21st century, U.S. Central Command was at the epicenter of America's grueling counterinsurgency wars. Today, Centcom is spearheading operational experiments with artificial intelligence and other cutting-edge technologies that could give the U.S. military an edge in future fights — in any region of the world.
At the heart of this effort are three units — the Navy's Task Force 59, the Air Force's Task Force 99 and the Army's Task Force 39 — which are combining AI, unmanned systems and commercial tech in innovative ways.
Each of the task forces is putting robotic platforms through their paces to see how well they can perform in real-world settings. For example, Task Force 59 is deploying a fleet of unmanned surface vessels (USV) to monitor the waters around the Middle East. Task Force 99 is testing out drones as Air Force Central Command looks to put more eyes in the sky for intelligence, surveillance and reconnaissance. And Task Force 39 is gearing up to receive semi-autonomous ground vehicles, while also exercising new counter-UAS capabilities.
Although robotic platforms might be the most eye-catching aspect of the task forces' activities, artificial intelligence is seen as a key enabler of what these units — and Central Command writ large — are trying to achieve.
"I think that maybe people traditionally think about hardware and unmanned systems, and it's almost more interesting to talk about the software capabilities and algorithmic analytics that are evolving and increasingly getting integrated into our workflows," Schuyler Moore, Centcom's chief technology officer, said at a recent Center for Strategic and International Studies event.
The tech includes capabilities such as computer vision and data analytics to aid intelligence analysts and decision-makers.
"It's really exciting to see these algorithmic programs in particular running in our region. And … we are increasingly learning how important it is to run these types of technology adoption efforts in theater in a live environment with live data," Moore said. "Increasingly pushing these efforts out to the edge can be so important."
Task Force 59
Task Force 59 was established in September 2021 under 5th Fleet and U.S. Naval Forces Central Command (NAVCENT).
The unit achieved full operational capability a few months ago with an armada of unmanned surface vessels — including commercially built platforms made by Saildrone and others — that are conducting ISR missions in the waters near the Middle East to help detect Iranian arms shipments and other potential problems.
"We have a bunch of different systems platforms out there with sensors, cameras that are collecting and sending [information]. Once they send that picture or video feed up to the cloud, it gets transmitted to an operation center, both ashore and at sea. So it's connected through what we call a mesh network … and once it goes to that operation center — ashore, at sea, wherever, but typically ashore — that's where AI really comes into play and data integration systems come into play, which is collating all of these visuals, all of this data, all this information, and then sifting through it," Cmdr. Tim Hawkins, spokesperson for 5th Fleet, told DefenseScoop.
Task Force 59 is deploying AI with four primary functions including computer vision, anomalous behavior detection, enabling multi-system command and control, and edge intelligence.
Computer vision provides the ability for the systems and programs to interpret what they're seeing, such as a ship or other objects in the water.
For anomalous behavior detection, "it's not so much of just having all these pictures and video and data points — you need to be able to sift through it in real-time. And … our operators, our watch-stander humans need help in determining the needle in the haystack and what warrants operators' attention," Hawkins explained.
Sensors employed by the task force have already gathered around 40 million images, according to Hawkins.
"With respect to the anomalous behavior detection, we utilize AI to help establish a pattern of life — what is the norm for this particular area, at this particular time of day, year, under these circumstances, based on historical data gathered. Because we use AI to leverage both open-source information available online, and also make sense of and establish a pattern through the data it's collecting, on any given day, from the systems we have out there," he said.
If a USV equipped with AI sees something of concern, it can transmit those images or video to a watchstander at an operation center where humans can decide what to do next.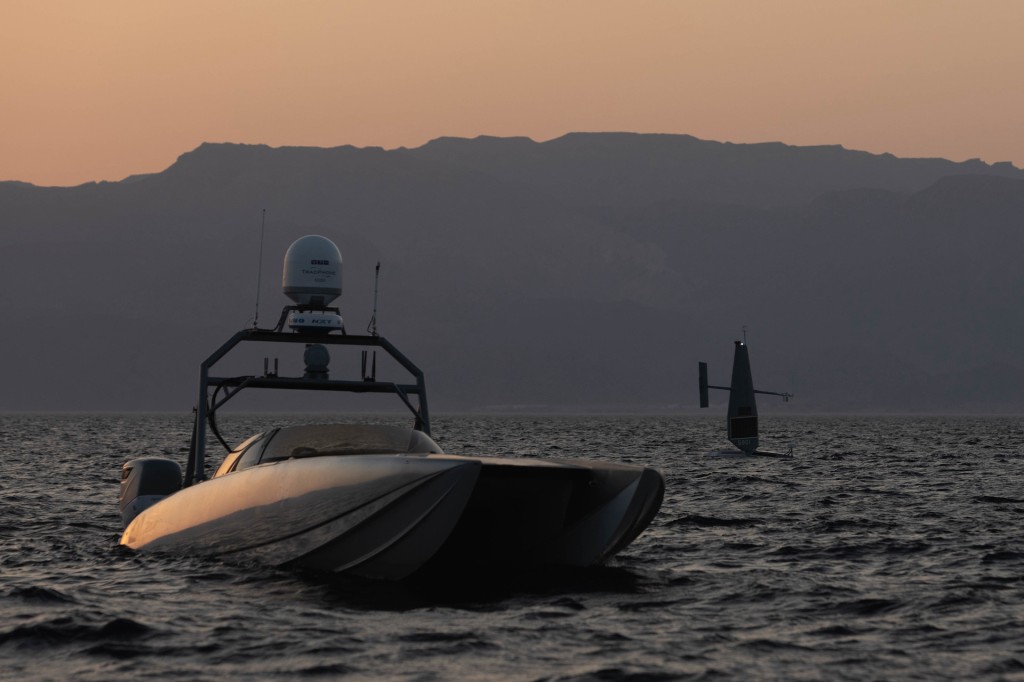 To facilitate command and control, artificial intelligence technology enables the drones to move around on their own without a human having to direct each of them remotely.
"We're not trying to have multiple operators managing a system or … one to one. We're trying to have one operator overseeing multiple unmanned systems, and the way in which you do that is the use of artificial intelligence" Hawkins said.
Edge intelligence is an area where the Navy is trying to make more progress, he noted. That was a major area of focus during the International Maritime Exercise 2023, which wrapped up in March.
"In a communications denied or degraded environment where some nodes may be taken out, or the pipeline through which you funnel and transmit data may be narrow for whatever reason, it doesn't make sense to have these systems that are out there and their sensors just sending everything and thereby clogging a more narrow throughput," Hawkins said.
To address that issue, "you push the AI out to the edge, you push the AI out to the platforms themselves. And based on what the platforms are seeing and what the sensors are picking up, a determination is made at that point what [data or imagery] to actually send back, what is relevant, what to actually send to that cloud and get it to the operation center or ship where the decision-makers are looking to glean what to do based on what warrants their attention," he added.
In addition to its regular operations, Task Force 59 continues to explore the technology through major exercises such as the recently conducted IMEX and Digital Horizon, which was held late last year and brought together 17 commercial partners and 15 advanced unmanned and AI-enabled systems in Bahrain — 10 of which were introduced for the first time.
"We pushed those systems to their limits from about 30 different tactical scenarios to observe their true capabilities," Vice Adm. Cooper, commander of 5th Fleet and NAVCENT, said at the Surface Navy Association's annual symposium in January.
Meanwhile, the task force continues to expand. Later this year, 5th Fleet aims to have more than 100 USVs — including systems contributed by international partners — conducting operations.
"Today, we are operating platforms equipped with sensors, radars and cameras for many uses including navigation, data collection, and intelligence, surveillance and reconnaissance. These new data flows enhance our ability to persistently monitor the surrounding seas and enable leaders to be more predictive and precise in deploying our crewed assets," Cooper said in January. In the not-too-distant future, the Navy envisions deploying these systems "to support warfighting missions across the entire spectrum of joint functions," he noted.
In April. at the Navy League's Sea-Air-Space conference in April, Secretary of the Navy Carlos Del Toro announced that the technologies and operational concepts being explored by Task Force 59 will be expanded to 4th Fleet under U.S. Southern Command this summer. He has also suggested that they will eventually be rolled out to other regions including the Indo-Pacific.
At the same event, Chief of Naval Operations Adm. Michael Gilday also noted that the service is moving to "normalize" the introduction of unmanned forces into the fleet by integrating them into existing command structures.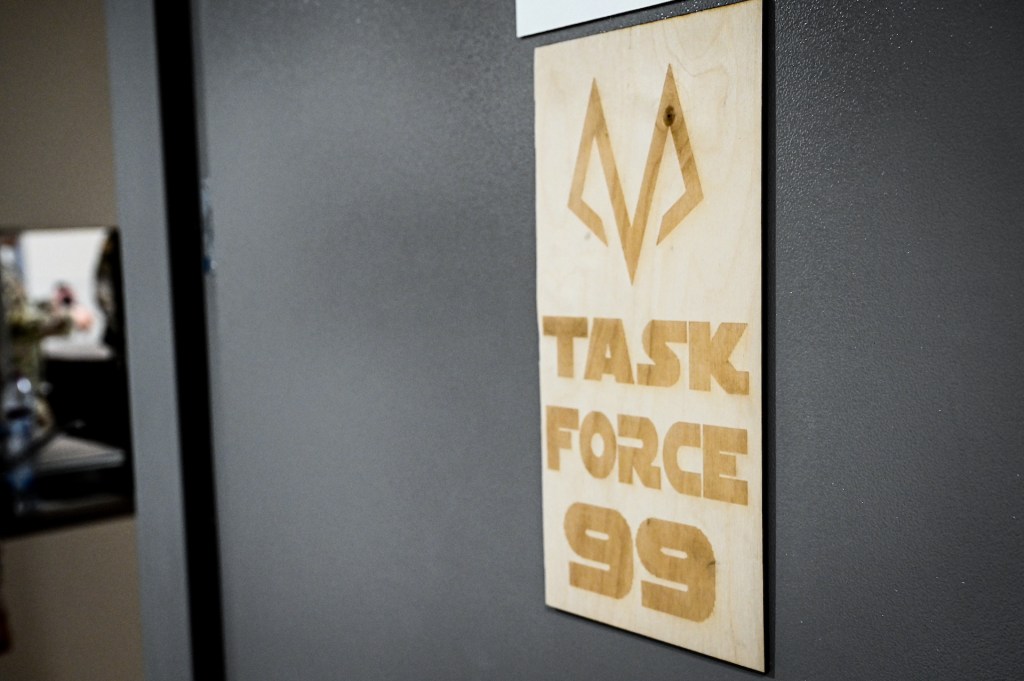 Task Force 99
Task Force 99 was stood up in October under Air Forces Central (AFCENT), the air component of Centcom, to evaluate unmanned aerial systems and other enabling technologies that could aid ISR and other missions.
"Don't think of it as an innovation lab or anything like that. It is a no-kidding operational task force … They're just doing it with different stuff and really getting after these problems," Lt. Gen. Alexus Grynkewich, commander of AFCENT, said in February at an Air and Space Forces Association event.
"We have three lines of effort that we are going after, and those lines of effort are increasing air domain awareness, locating hard-to-detect mobile targets, and creating dilemmas and costs for the adversary," Col. Rob Smoker, commander of the task force, told DefenseScoop in a recent interview.
Right now, the unit is mostly experimenting with smaller systems that fall into the Group 1 and Group 2 part of the UAS spectrum. That includes what Smoker described as a small, long-endurance system that the task force tested out during the International Maritime Exercise that recently wrapped up.
Factors like endurance, range, payload capacity and noise generation are key considerations for evaluating the drones that the unit is using, he noted.
However, the organization isn't just looking at platforms. It's also evaluating sensors and other payloads and conducting "tech scans" for new capabilities like AI.
"We're looking at capabilities across the board," Smoker said, as the task force seeks to satisfy requirements and solve "operational problems" for ISR and other missions.
The unit is eyeing artificial intelligence to aid targeting.
"Some of the things that we look for in AI are … recognition — be able to, you know, point out something to an analyst," Smoker said. "We also look at AI … being able to go out and being able to scan an area and automatically find targets and things like that, in order to be able to pass that [information] back along, too, and be able to find those and get them back into the [targeting] cycle."
AI could be used to find adversaries' hard-to-detect systems such as missile launchers, according to Grynkewich, who noted that finding Iraqi Scud missiles was a major challenge during the Gulf War.
"This is another place where I think we can do some experimentation in the AFCENT region that would apply to the Indo-Pacific," he told DefenseScoop during a meeting with reporters at AFA's Warfare Symposium in March.
"We're trying to go, 'What does it look like now today? How do we go and find these beforehand?' We have in place today algorithms that we're training to identify ballistic missile launch vehicles, and to try to do that in near real-time as possible and feeding as much imagery as we can — whether that's on orbit, commercial imagery, or exquisite NGA imagery or imagery off these drones," he said.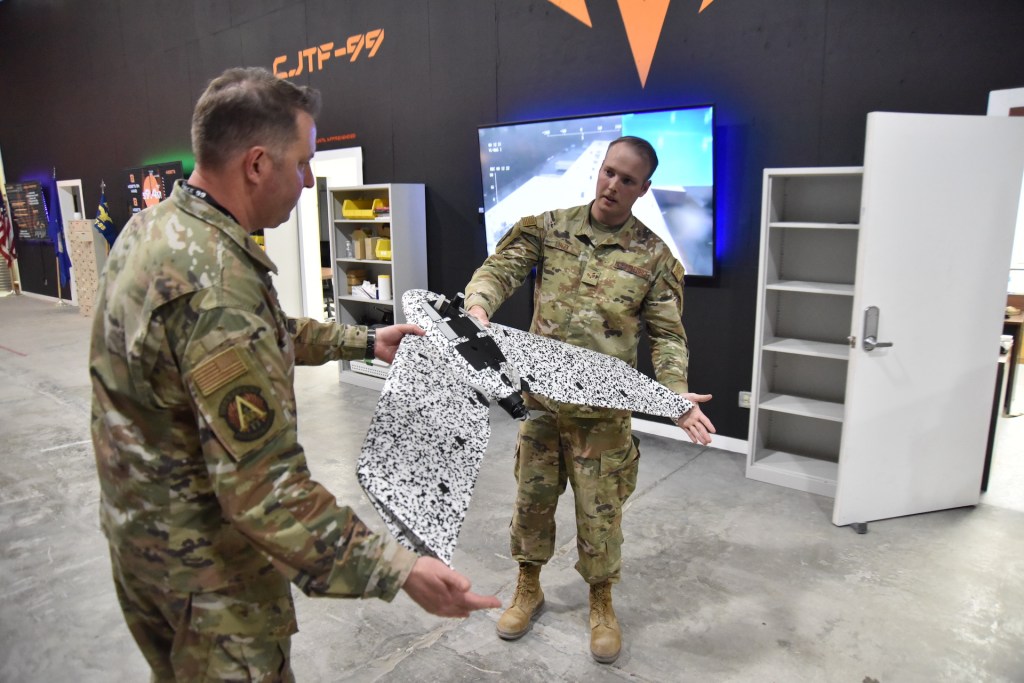 Task Force 99 began its initial operational evaluations of unmanned aerial systems earlier this year.
"I won't say the exact number, but we have evaluated a few. And yeah, we continue to bring capability into theater," Smoker said. He declined to identify the specific systems or the companies that built them.
DefenseScoop asked Smoker if the task force is also pondering arming these systems or giving them other missions besides ISR.
"You can imagine that there are other things that we are doing," he replied.
Meanwhile, there will be another exercise later this year named Armada, that Task Force 99 will be supporting in conjunction with the Navy's Task Force 59, according to Smoker.
"It's going to be, you know, basically looking at the integration of unmanned platforms, integrating the platforms and things across the board," he said.
Smoker declined to disclose the size of Task Force 99, except to say that it's currently a "small unit" but "we continue to grow."
Air Force officials have also declined to say how many unmanned systems the task force aims to bring into the fold. However, in explaining the broader vision for how these types of platforms could be employed, Grynkewich suggested the service is looking to ramp up.
"Rather than just having dozens of airplanes that I can fly to certain locations, what if I had hundreds? … That capacity is gonna matter when we're prosecuting operations at scale," he said.
Smoker said: "We continue to, you know, work with our partners to grow the team and then grow our capabilities in theater … And we hope to, you know, take a lot of lessons learned and be able to provide 'Big Air Force' a framework for the future."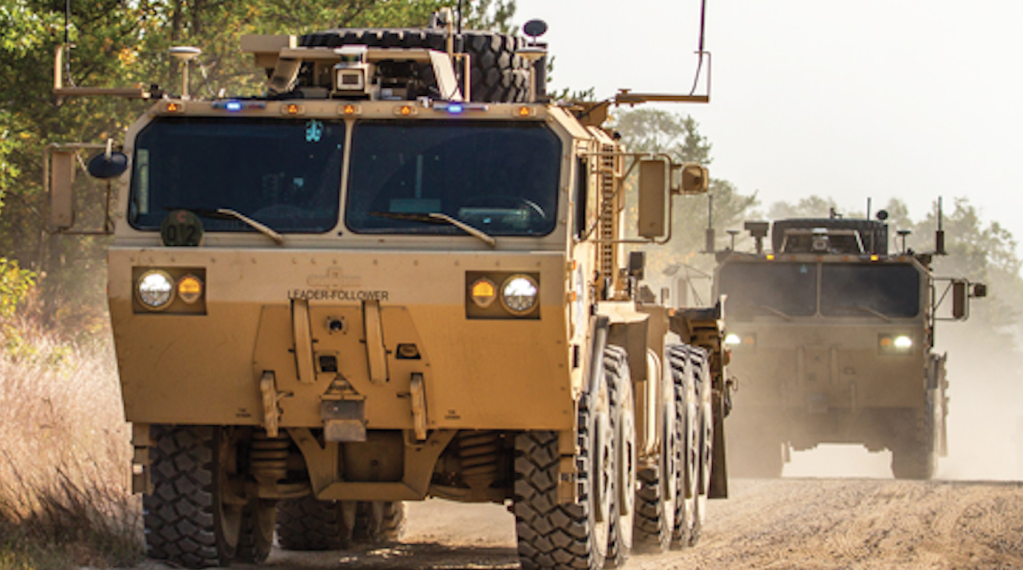 Task Force 39
Task Force 39 was established under U.S. Army Central (ARCENT) in November. Its main goals are to identify gaps, find potential solutions and then put them through their paces in theater, according to Col. Ryan Stamatis, the commander of the new unit.
The task force wants to "experiment and train so we can test those solutions out and see if they're a good fit for us. You know, how does it work out? Do we like it, do we not like it? Can we tweak it, can we modify it? Let's make it better," he told DefenseScoop in a recent interview. "You gotta go play with it, you got to touch it, break it, improve it, fix it, and then modify it to your needs and to your environment and to your unit. So that's kind of where we are right now."
A big focus for Stamatis — as well as Centcom and the Army writ large — is being "data-centric."
"We have more data than we can possibly consume and digest and really kind of analyze and synthesize. So you've got to rely on machines, you know, the AI/ML aspect of those tools we bring," he said. "We're trying to utilize those tools, whether it's the intel side, the logistics side, the targeting side, the operational side … you bring that data, you know, to the right place, right time, so the commanders can make the decisions with the best information available … be predictive and have that advantage over anybody we would possibly face."
Eyeing robotic platforms, Task Force 39 is getting ready to help ARCENT experiment with autonomous transport vehicles that the Army has been building.
"We are in the process of bringing this into theater right now. It'll be there in June timeframe. And we'll start experiments and testing and training on it in July. But this vehicle has the ability to really increase our logistic capacity," he said. "You can increase the number of vehicles being used to push logistics around the theater with less soldiers behind the wheel — therefore less soldiers are at risk … It'd be the first time for us to bring it to theater, train soldiers and experiment on it within theater."
The task force has also been heavily involved in the Red Sands counter-drone technology initiative with Saudi Arabian partners.
The most recent Red Sands experiment occurred in March. That included a new app that can be used to feed information to military air-defense systems. The concept is similar to Ukraine's ePPO initiative.
"What the Ukrainians did, they built a cellphone application … that basically helps the Ukrainian military identify aerial threats. Where the citizens with a cell phone can take a picture of a UAS, a missile, [or] whatever is flying, and transmit data back to an operational center to help augment, you know, kind of radar data they may be collecting there at the Ukrainian level. So that's kind of the concept," Stamatis explained.
Centcom began developing a similar app and "we've taken the application to ARCENT and continue to refine it and experiment with that," he said.
Additional testing of the technology, known as CARPE DRONVM, was slated for May.
The aim is to "help operationalize that in a broader way across the theater, within the military and beyond," Stamatis said.
Another Red Sands exercise is scheduled for September.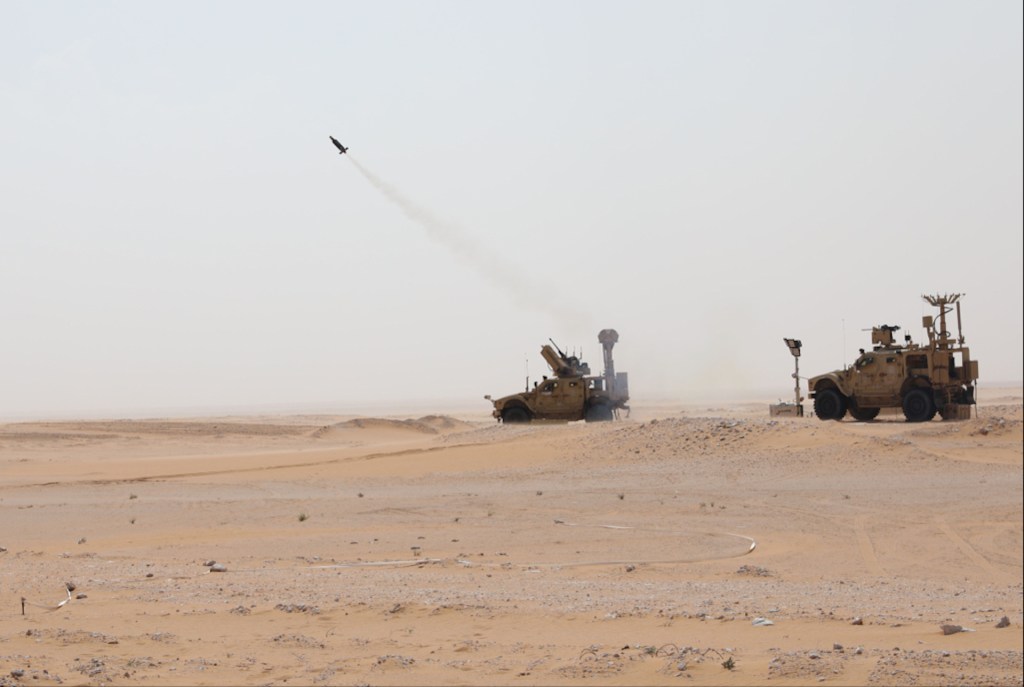 "We're also looking at increasing complexity of this, growing into more of a joint model exercise. You know, bring other components in here as well — the other task forces and, you know, AFCENT, NAVCENT, MARCENT in there to … further test and refine counter-UAS technologies and tools out there," he said.
Task Force is "looking at the digital aspect of everything," Stamatis added.
"We conduct, you know, almost at least biweekly exercises at the local level, connecting all those different platforms and tools together, and just run the processes through and refine our processes and … make sure the connectivity and the data is flowing properly and how we want it to," he said.
Stamatis highlighted an upcoming Joint All-Domain Command and Control (JADC2) event called Digital Falcon, which will include artificial intelligence and machine learning capabilities.
"In June, we'll run a larger kind of Centcom-level exercise on the digital side of the house, that are really connected to all the data flows and the AI/ML tools we're using, from a large [combatant command] joint perspective," he added. "That will be really exciting as we kind of expand, you know, the different warfighting functions we have that are plugging into the AI/ML kind of toolsets to improve our data and our understanding."
Meanwhile, the task force is working with industry to find promising artificial intelligence solutions.
"We want something that is near ready or ready to go," he noted. The unit will be "using the algorithms from industry that are near ready, that we continue to feed and improve — you know, you do your labeling, do your testing, you improve that algorithm and train the algorithm over time. So that's kind of where we are."
Seven personnel currently make up the core of Task Force 39. However, its work ultimately involves "the entire ARCENT command structure," as well as other components of the military and partners in industry and academia, he noted.
"That's where we kind of come in as the backbone and help others connect the ideas that they come up with, from the ground up, who are close to the problems and have the best solution," he said.
The unit is also getting ready to hire a senior civilian with a strong tech background and expertise to assist them. That move follows Centcom's recent hiring of former Google Cloud leader Andrew Moore as the command's first-ever adviser for artificial intelligence, robotics, cloud computing and data analytics.
Stamatis said the work that Task Force 39 is doing under Centcom could ultimately aid U.S. forces in other regions of the world.
"We can take a lot of what we do experiment-wise in that [combatant command's] environment, which is realistic, and under harsh conditions, and take the lessons learned that we get and pass it across to our sister components and our sister services across the board to help them do their jobs as they try and prepare" for future conflicts, he said.