Army wants to 'reimagine' electromagnetic signature management
The Army wants to introduce more obfuscation and deception for its units and command posts to "hide in plain sight" in the spectrum, according to top officials.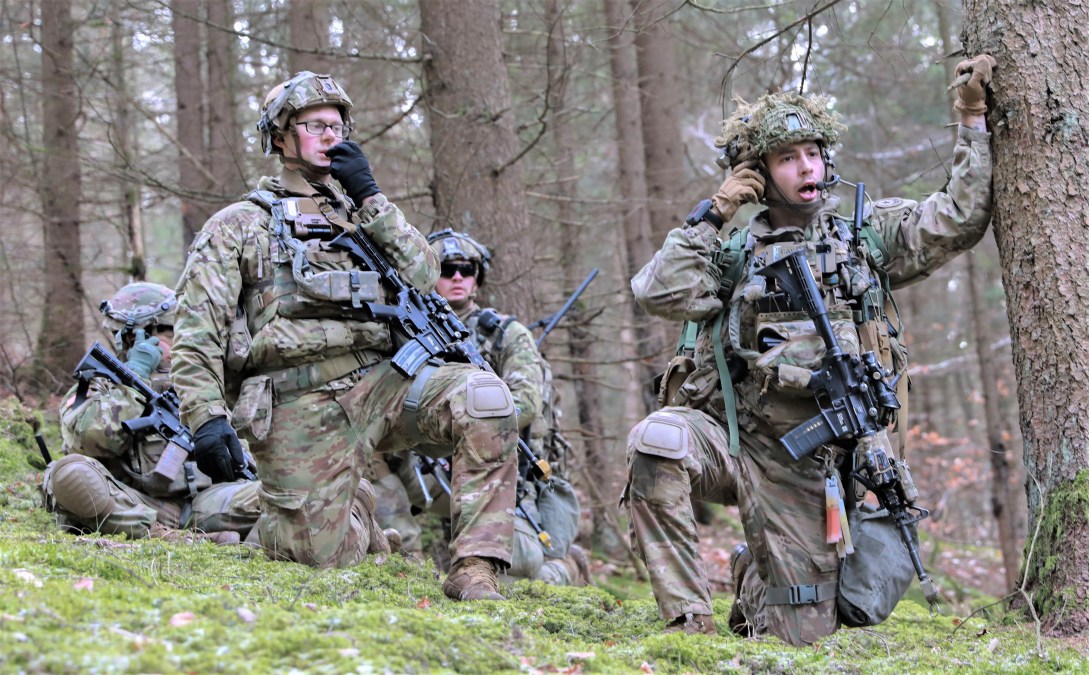 As the Army is thinking about further modernization of its network, it is looking to "reimagine" signature management, according to a top official.
"We're going to reimagine our signature management. The electromagnetic spectrum has to be reimagined," Maj. Gen. Jeth Rey, director of the Army's Network Cross Functional Team, said during a presentation at the annual AUSA conference. "We have to hide our signals in plain sight. We have to ensure that the commander can see themselves so they can make informed decisions along the way on how they look in the electromagnetic spectrum."
One of the biggest lessons from Russia's incursions in Ukraine — stemming from 2014 to its current invasion — is how units can be located and targeted with kinetic munitions solely based on their emissions within the electromagnetic spectrum.
The key for units in the future is understanding what they look like within the spectrum and being able to manage that, Rey said.
"We need people that are trained in and understand the electromagnetic spectrum and can identify what they look like within it … we've got to train, we've got to have the right people, we've got to understand what the spectrum looks like so a commander can reduce his own signature because that's going to be key," Rey told DefenseScoop in an interview at AUSA. "We need the applications that can actually show the commander what they look like in the spectrum … the things that we provide them need to automatically help them in the reduction of their signature."
Rey mentioned the need for low-power capabilities that can help units reduce their signatures. But without the ability to truly see themselves, commanders will be vulnerable.
"Commanders have to be able to see themselves because you can train somebody to use low power all day long, but if you can't see yourself and understand that risk, then you're really at a disadvantage because the enemy can see you much, much better than you can," Mark Kitz, program executive officer for Command, Control, Communications-Tactical, said in an interview.
One such capability is the Spectrum Situational Awareness System (S2AS) that is being developed by Program Executive Office Intelligence, Electronic Warfare and Sensors. It is a planned new start in fiscal 2025 envisioned to be a commercial-off-the-shelf solution that will provide sensing and visualization of what units look like in the spectrum.
The Army wants to leverage existing systems as a means of expediting fielding, eschewing certain tests reserved for brand-new systems designed from scratch.
"We have been doing a lot of discussions with industry about the requirement. We believe that there are mature solutions out there. I don't know if I would call it [commercial-off-the-shelf, or COTS], but maybe a modified COTS or some integration on COTS products," Ken Strayer, project manager for electronic warfare and cyber within Program Executive Office Intelligence, Electronic Warfare and Sensors, said in an interview. "I think what you'll end up seeing in [2025], once we get final approval, is a rapid modified COTS procurement to where we buy some limited prototypes, we demonstrate it, we make sure it's fully integrated with things like [Electronic Warfare Planning and Management Tool] and then we'll be able to roll quickly into production. I described S2AS as some low-hanging fruit. I think we can go faster."
He noted they've had a few industry engagements already this year and they are gathering a lot of data from quick reaction capabilities and pre-prototypes, adding the funding must still come.
Officials also described the need for obfuscation and deception within the spectrum, adding they should be considered part of the command post of the future.
"Hiding in plain sight, being able to, in spectrum, build out decoys and build out capabilities that provide multiple dilemmas to the enemy is another area I think that we're … experimenting with. Many options," Kitz said. "When we talk about a survivable command post more dispersing, you want to be able to decoy that dispersion."
Kitz said that deploying decoys that could replicate the signature of a unit or command post during a convoy or dispersing them throughout the battlespace to confuse the enemy should be a part of the command post.
"In order to build a survivable command post, you may have to then provide some sort of decoy capability, because to be survivable, I mean to operate, you have to emit somewhat. If you make that assumption and you've got to present the enemy with a difficult scenario," he said.
Rey also offered the notion of what he termed "digital camouflage" to hide within the spectrum such that a unit can create so much noise and obfuscation that the enemy can't pinpoint it.