Army aviation community plotting paths to integrating autonomy into future fleet
"There's a path to autonomy ... It's going to be a graduated scale, or I kind of envision it as stair steps," Army Aviation Branch Chief Maj. Gen. Michael McCurry said.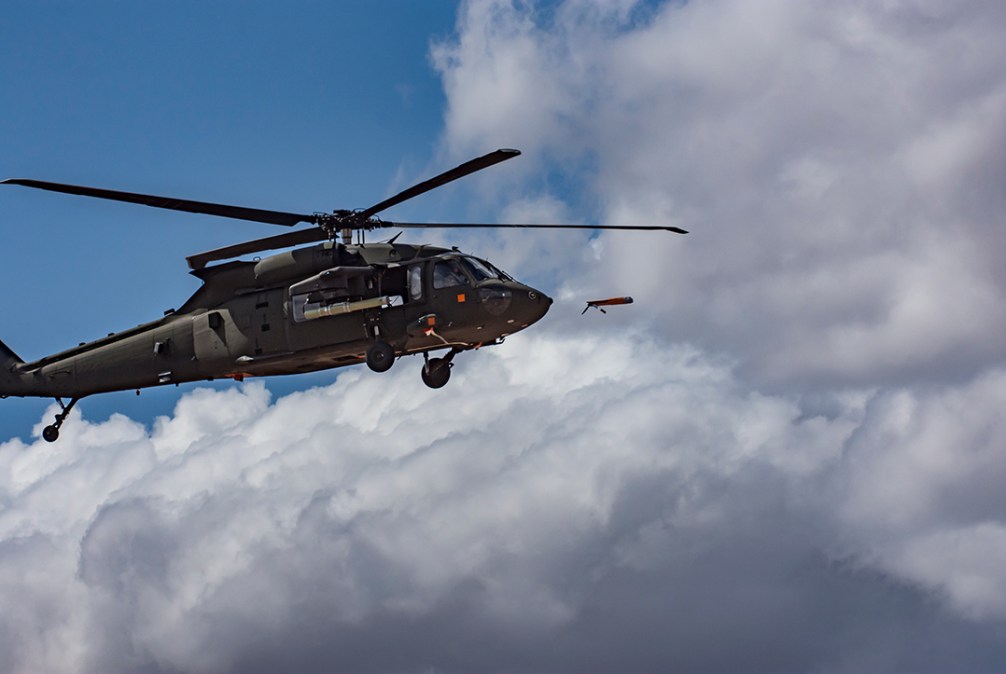 As the Army works to modernize the service's aviation portfolio, officials charged with the effort are keen on integrating artificial intelligence and autonomy in various ways across the future fleet — although fully realizing the capability will have to be a journey.
"There's a path to autonomy. It's not that we're not autonomous and then [suddenly] we are autonomous — it's going to be a graduated scale, or I kind of envision it as stair steps," Army aviation branch chief Maj. Gen. Michael McCurry said during a panel discussion at the annual AUSA conference. "We know that in 2030, we will be able to do more autonomously than we can today, and in 2040 more than in 2030."
The service is currently revamping its fleet of aircraft — from modernized manned helicopters like the Future Attack Reconnaissance Aircraft (FARA) and the Future Long Range Assault Aircraft (FLRAA) to fully autonomous platforms such as the Future Tactical Unmanned Aircraft System (FTUAS) and smaller systems called launched effects.
Integrating autonomy and AI into the Army's aircraft fleet is in line with the service's new emphasis on "human-machine integration." The Army wants future ground and airborne formations to be augmented with robots that are able to make first contact with adversaries.
According to Brig. Gen. Cain Baker, director of the future vertical lift cross-functional team at Army Futures Command, officials are looking to integrate autonomy into the future fleet in two steps.
"One is when we look at our future fleets, how do we build the requirements into the aircraft that we're delivering? And then with a very cleared-eye look into the future, how do we take that capability that we built into the systems with both FLRAA and FARA, and then look at the technology advances that we gained over the next several decades to allow us to take these platforms and operate in an autonomous mode?" Baker said during the panel.
The service already has science-and-technology efforts underway to help realize its vision for autonomous operations in the air domain, said James Kirsch, director of the Army Combat Capabilities Development Command Aviation and Missile Center.
One key type of tech under development is the Army's so-called launched effects, Kirsch said.
Formerly known as air-launched effects, the service now envisions these as small, unmanned drones or payloads that are deployable from both manned aircraft and ground-based launchers. The Army is considering a variety of sizes for the future systems, but has already begun experimentation and prototyping efforts for smaller versions.
When deployed from aircraft, launched effects will be able to increase the range at which Army aviators can both sense the battlefield and attack adversaries, Kirsch noted. And as the service continues working on human-machine integration, better autonomous capabilities could enable more collaborative interactions between the manned and unmanned platforms.
"We're really focused on that … human-machine interface that enables us to have many uncrewed vehicles flying around out there, collaborating together autonomously to accomplish whatever mission we'd give them, and reduce the soldier burden of how many soldiers I need to operate that capability," he said during the panel.
The concept is similar to one being pursued by both the Air Force and Navy, known as collaborative combat aircraft (CCA). The two services are both developing robotic wingmen that can fly alongside their sixth-generation fighter jets and other crewed platforms, and even working together in some areas to ensure the drones are interoperable between the Air Force and Navy.
And although the Army isn't currently a part of that joint collaboration, there is ample communication between the services as they each move out on their own, Maj. Gen. Walter Rugen, director of Army aviation for the Office of the Deputy Chief of Staff G-3/5/7, said during a media roundtable with reporters last week.
"Routinely, we talk to our joint partners and our counterparts — especially at the Office of Naval Research and [Air Force Research Lab]," Rugen said in response to questions from DefenseScoop. "Is it flawless? No, but it is very good crosstalk."
Kirsch also told DefenseScoop that Army aviation is keeping track of autonomy development underway at the Pentagon's Defense Advanced Research Projects Agency, as well as the investments being made in industry.
"I think one of the things that is relatively important as we talk about this is constructing what we might call an autonomy stack, if you will, to allow you to plug and play as new algorithms or new techniques come in. Then we can plug those in without having to redesign the entire system," he added.
Another area where autonomy could play a big role for Army aviation in the near term is using the technology to help distill and filter vast amounts of information coming in, Kirsch said. It's likely that AI will first make its way onto crewed platforms in cockpits as a tool to consolidate data for aviators — that way they can focus on other parts of a mission and make decisions faster.
"In order to look at that, there's a lot of work going on across the space in terms of measuring performance of the aviator and where they're spending their time, where they need to spend their time and how do we improve that interface between what's presented to the aviator and how they're able to interpret that information," he said. "It really is kind of across the gamut of all the functions that our aviation crew members have to perform."
Still, Kirsch echoed the fact that implementing autonomy into Army aviation will be an integrated, gradual process. That way the service can trust that the systems using the technology are going to perform the functions they are tasked with, he said.
"That's not something we're used to doing from an air worthiness or materials perspective, is having the trust in those AI systems," he noted. "So, I think the other piece of adding capability incrementally is gaining more and more trust in our ability to understand that system."