SOCOM wants new targeting tools for urban battles
U.S. Special Operations Command is on the hunt for new non-line-of-sight targeting systems.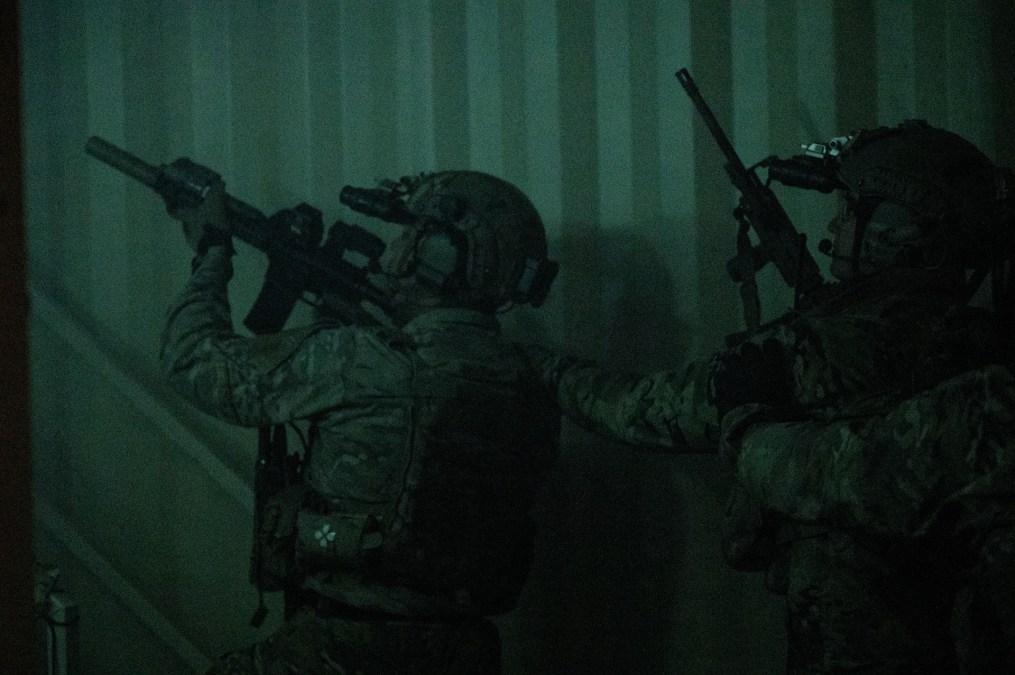 Special Operations Command is on the hunt for new non-line-of-sight targeting systems to help commandos fight in cities.
In a special notice posted on Sam.gov this week, SOCOM unveiled plans for feasibility studies and rapid prototyping. Program Executive Office SOF Warrior is partnering with the Tampa, Florida-based SOFWERX tech hub on the effort, which may include participants from industry, academia, national labs and other government partners.
The aim is to "develop concepts and components of systems that utilize an open architecture to enable rapid, precise, operator-controlled Non-Line of Sight (Non-LOS) targeting in urban, surveilled environments," according to the notice.
"Recent battlefield advancements with fixed and mobile sensors are changing the relational dynamic between opposing sides in the close-in fight. Autonomous vehicles and remotely placed sensors have made it very difficult to ingress to and operate in static, fixed locations with Line-of-Sight (LOS) of opposing positions," it states.
The envisioned solution is to create new networks of sensors and supporting technologies that enable "virtual" line-of-sight targeting and allow commandos to remain in unexposed positions.
According to the notice, SOCOM is interested in sensors that can provide "unique discriminating data" to assist in obtaining non-LOS targeting solutions, platforms that can help standardize sensor control and data formatting, and potential "collaboration" between a variety of sensors such as radar, electro-optical, infrared, hyperspectral and more.
Other focus areas include data networking (including transport, backhaul and short-range data links), data processing, data visualization, data analytics and artificial intelligence.
For the AI component of networked systems, Special Operations Command is looking for algorithms that can be used to "group, correlate, and synchronize data to build a complete, accurate and actionable picture" for dependable target recognition at the tactical edge. That includes enabling increased identification rates of intended targets, better discrimination of decoys, and the ability to "maintain target lock while maneuvering in 3-D space," according to the notice.
"In situations in which a human operator cannot maintain direct LOS, targeting data must be obtained, integrated, and validated to ensure the entire situation is fully understood before kinetic action is initiated. This sensor to integration to visualization process for the operator must occur almost instantaneously to take advantage of fleeting opportunities of the close-in fight. There are many commercially driven opportunities that should be investigated, and the myriad of issues must be better understood to develop a complete close-in, non-LOS targeting system. Further, the system should have an open architecture to permit easy technology insertion. This system will rely heavily on Artificial Intelligence and due to its complex nature will need advanced means to evaluate and train with it in many differing scenarios," per the notice.
PEO SOF Warrior plans to use the forthcoming feasibility studies and rapid prototyping to look at requirements and conduct technology evaluations, which could lead to contract awards.
Responses to the special notice are due Nov. 8. Following a downselect, feasibility studies or a rapid prototyping event could happen as early as December, according to the notice.