White House requesting funding for Israeli laser weapon, other military assistance
The 100-kilowatt laser is designed to intercept a wide range of threats such as rockets, artillery, mortars and drones.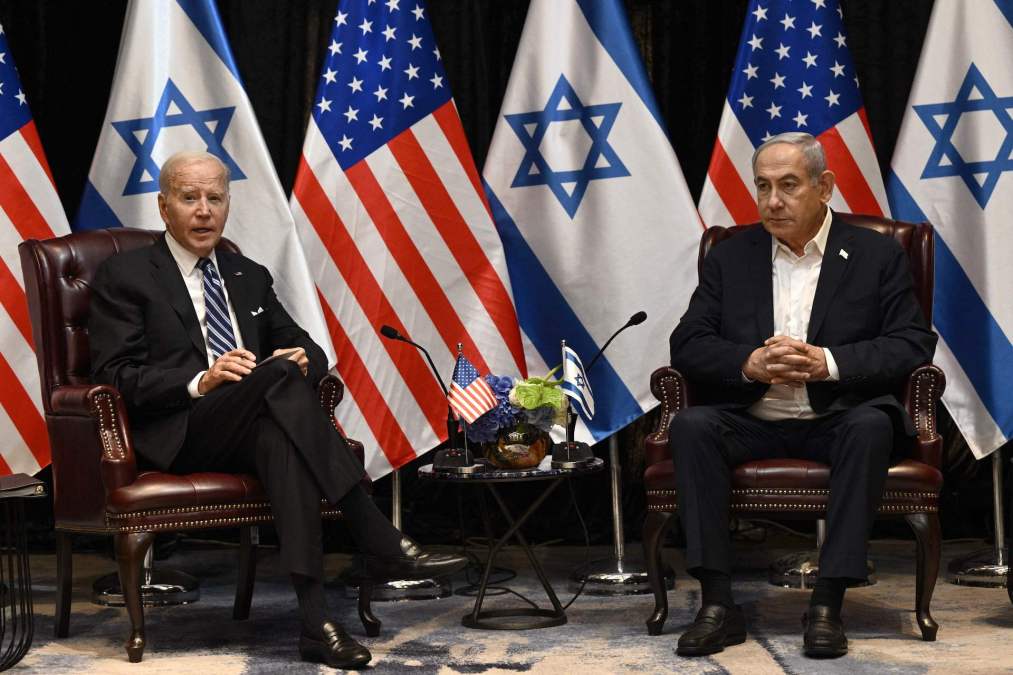 A supplemental funding request that the Biden administration is sending to Congress includes money to support the development of Israel's Iron Beam directed energy system, among other capabilities, according to White House documents released Friday.
The request, which comes amid fighting between Israel and the Gaza-based Hamas militant group, includes a total of $14.3 billion for security assistance related to Israel, about $10.6 billion of which would go toward air-and-missile defense support, replenishment of Pentagon stocks and U.S. industrial base investments, according to a summary of the request.
"To defend its nation and as people using previously approved congressional authorities, we've delivered military aid, including munitions and interceptors for the Iron Dome system, which is protecting people every day from Hamas rockets. To build on that support, the administration is now requesting funding to invest in Israel's defense against terrorists, including by strengthening its air-and-missile defense systems. We are requesting an increase in security assistance for Israel to help it protect its people as well as the many Americans who live in Israel and travel to Israel," U.S. National Security Adviser Jake Sullivan said during a call with reporters on Friday to discuss the funding plans.
The aid package will "ensure Israel's air and missile defense systems' readiness with support for the Government of Israel's procurement of Iron Dome and David's Sling missile defense systems and components, and development of Iron Beam," a White House fact sheet states.
The funding request includes $1.2 billion in research, development, test and evaluation funding for Iron Beam, according to a letter to Congress from the Office of Management and Budget.
Unlike Iron Dome and David's Sling, which use missiles to intercept enemy rockets, missiles, unmanned aerial vehicles and other weapons, Iron Beam is designed to use a high-power laser.
"Increasingly sophisticated airborne threats — including mortars, rockets, and UAVs as well as swarms of mini-UAVs — are being faced by both military forces and population centers. Since current Kinetic interceptor systems are expensive and not always sufficient to counter some of these threats, powerful new solutions are required that meet the needs of this new reality," according to Israeli defense contractor Rafael, which has been working on Iron Beam.
The 100-kilowatt laser is designed to intercept a wide range of threats such as rockets, artillery, mortars and drones and engage targets "a few hundred meters to up to several kilometers" away, according to the company.
"The system can be integrated on multiple platforms and may be a complementary HEL interceptor to any multilayer defense array," per a product description.
The weapon was reportedly tested last year.
Rafael is also developing another directed energy system called Lite Beam, a 7.5-kilowatt laser interceptor, according to the contractor.
Directed energy weapons are seen as advantageous for air-and-missile defense because they are relatively inexpensive per shot compared to traditional air-defense systems and they possess nearly unlimited magazines. The U.S. military is pursuing a variety of lasers and high-power microwaves to defeat drones and other threats.
Meanwhile, the White House supplemental funding request unveiled Friday also has $61.4 billion related to the war in Ukraine — including $30 billion for Defense Department equipment for Ukraine and replenishment of DOD stocks — $3.4 billion to bolster the U.S. submarine industrial base; $2 billion for State Department foreign military sales financing for partners in the Indo-Pacific; $10 billion for humanitarian assistance for Ukraine, Gaza, Israel and others; $2 billion to counter Chinese government financing in developing countries; and billions more for U.S. border security and other priorities.
Updated on Oct.23, 2023 at 8:45 AM: This story has been updated to include the amount of funding requested by the Biden administration for Iron Beam development.