US government gets new miniaturized laser weapon
Northrop Grumman has delivered a 10-kilowatt system named Phantom that the company says is about the size of a mini fridge.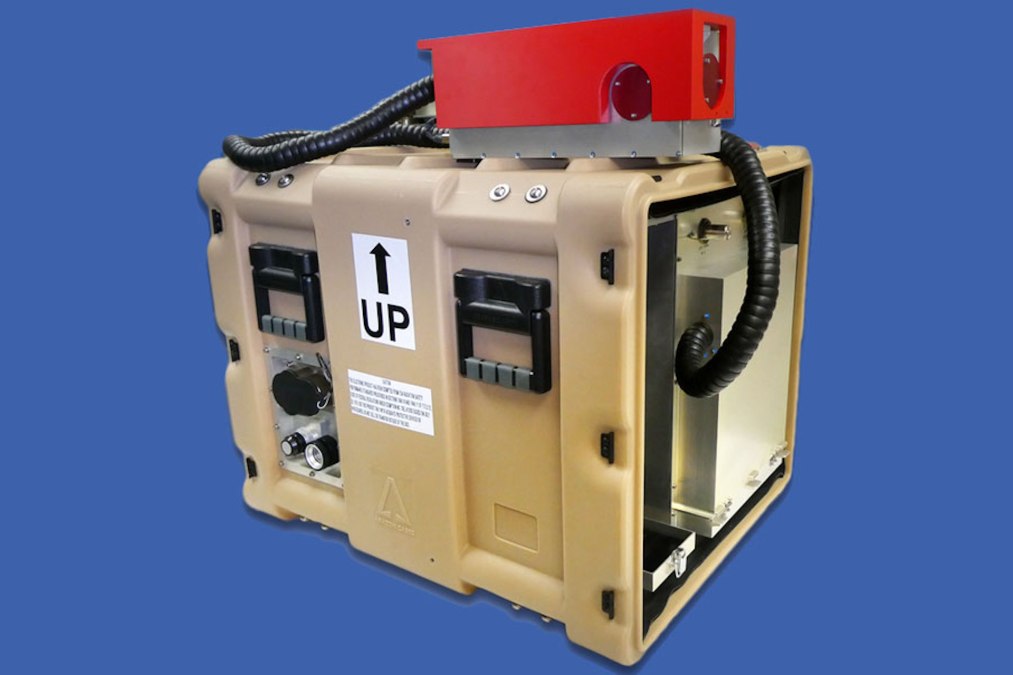 Northrop Grumman has delivered a high-power "mini laser," called Phantom, to a U.S. government agency, the contractor announced Thursday.
The company is touting the portability of the 10-kilowatt system, which is approximately 12 cubic feet — or about the size of a mini fridge — weighs less than 200 pounds and can be carried and installed by just two people, according to a release.
"The laser is ruggedized for field use and miniaturizing it allows for rapid placement in tactical situations," per the release.
The company declined to identify the U.S. government customer that's receiving it or say whether the technology is a prototype or a production-ready platform that is ready to be deployed in a real-world tactical operation setting.
"Due to the critical nature of the technology, certain information regarding Phantom will continue to be protected by enhanced security measures," the company said in a statement to DefenseScoop, adding: "We are unable to speak to specifics at this time."
However, the Defense Department has been openly exploring a variety of directed energy weapons. And the Northrop Grumman release noted that the unidentified Phantom customer "will integrate it with other subsystems for testing and delivery to military customers."
"By miniaturizing this advanced capability, we are expanding the reach of our technology and continuing to lead the way in high-energy lasers. Northrop Grumman is using its expertise in directed energy to deliver an extremely compact, lightweight and efficient laser for the warfighter," Robert Fleming, the company's vice president and general manager for strategic space systems, said in a statement.
The U.S. military is keen on fielding directed energy weapons, including for defense against drones and missiles, because they are relatively inexpensive per shot compared to traditional air-defense systems and they possess nearly unlimited magazines.
However, producibility, reliability and affordability are key considerations, Lt. Gen. Robert Rasch, director of the Army's Rapid Capabilities and Critical Technologies Office (RCCTO), noted during remarks at the Space and Missile Defense Symposium earlier this month.
"The one thing we need help in is to get affordable directed energy, because that's the reason we're doing it, right. We're doing directed energy because we don't have the magazine depth, and quite frankly, can't afford the magazine depth to have missiles everywhere that we want them. So, having the capability of directed energy to provide that kind of renewable kill power on a platform is very appealing — but it's got to be affordable, it's got to be reliable, and we've got to learn then how to fight it with those soldiers," he said.
The U.S. military is still working through how best to employ lasers alongside other capabilities.
"What we don't know yet for directed energy systems necessarily is how to fight [with] them. How to fight lasers on the battlefield, how to integrate kinetic and non-kinetic effectors, like directed energy, and our traditional air-defense missiles into the battlespace," Rasch said.
When it comes to air-defense doctrine, "usually you get something about, like, shoot [the weapon] as far out as you can with an acceptable probability of kill. And so that generally leads to expensive missiles going out a long, long way to hit that interceptor. And we've got to figure out where's our confidence base in directed energy where … I can make a conscious decision to let that missile come through because I know my DE system is going to take it out at a shorter range. We've got a lot to learn in that space and a lot of confidence to build," he added.
The Army has been conducting demonstrations of 10-kilowatt palletized high-energy laser prototypes, among other DE technologies, as the service looks for new tools to combat small drones and other threats.
But officials still need to collect more data, according to Rasch.
"First, what's the lethality of these systems? That's the number one prerogative, you know, number one priority. What can we do with them to get at the threat set, the variety of threats sets that we face in this space? Number two, how reliable are they at different scales? You know, is the 10-kilowatts [laser] as reliable as the 300 [kilowatt]? What are our reliability weak points that we need to learn and where's the knee in that curve? And then finally, affordability," he said.
"As we collect our data over the next couple of years, I believe we'll have the right set of data to again inform the next big decisions for the Army," he added. Lasers "are gonna be on the battlefield in the future, we know it. But what point do we go all-in at first?"
New platforms are also being deployed overseas for operational assessments. For example, 10-kilowatt laser weapons have been transferred to Africa Command, Central Command and Indo-Pacific Command. A 20-kilowatt system is also being sent to Centcom, according to Maj. Gen. Sean Gainey, director of the Pentagon's Joint Counter-Small Unmanned Aerial Systems Office (JCO).
The JCO is focused on new technologies that could defeat small drones and UAS smarms.
The "higher the kilowatt, the quicker in most cases, if the beam control is done properly, you will get a quicker defeat on some of these UASs, which allow the operators to move to multiple [targets] and then move to higher-end target sets," Gainey said at the Space and Missile Defense Symposium.