Officials hope software factory for Air Force cyber operations squadron could be a retention and recruiting boon
The 90th Cyberspace Operations Squadron is opening up a facility in a corporate space in downtown San Antonio, moving outside the traditionally classified facilities.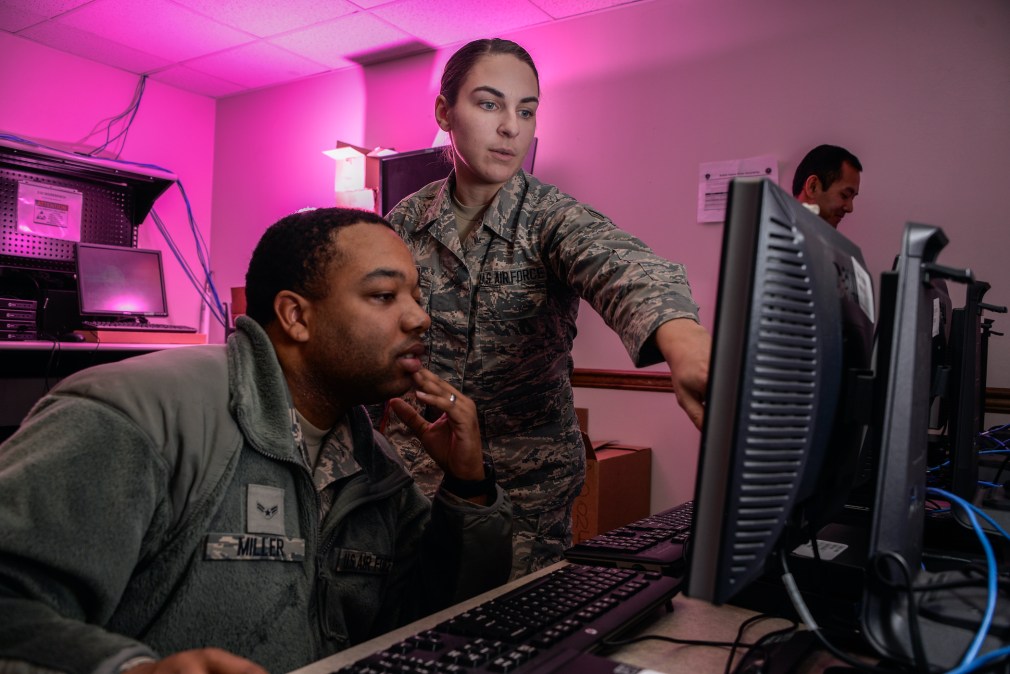 The Air Force's 90th Cyberspace Operations Squadron, which does capability development for offensive and defensive cyber operations, will be opening a software factory in a completely unclassified corporate working space in downtown San Antonio, Texas, in October. Officials hope it will help the service attract and retain highly skilled personnel.
Dubbed Shadow's Edge, the software factory will move the squadron out from its windowless box — known in government parlance as a SCIF, or sensitive compartmented information facility — into a traditional office space, which officials believe will provide tangible quality of life and work benefits for the airmen who use it.
Across the Department of Defense, the downsides of working in the classified space have been a recruitment and retention killer for a variety of reasons, including the number of restrictions involved.
Rebecca Lively, deputy director of the 90th Cyberspace Operations Squadron, said that year after year, the No. 1 trend in the unit's climate assessment is lack of natural light affecting mental health.
"The inability to even know what time it is outside has been harmful, it has been a repeating, recurring concern. A benefit, one, is simply having windows and being able to see whether it's raining," she told DefenseScoop in an interview.
The squadron's leadership hopes that by moving into a more traditional working environment, it will not only improve the well-being of its workforce, but make more people aware of the unit's mission.
"Right now software development in the Air Force is synonymous with Kessel Run. What that means is, if I'm the super talented, brand new lieutenant, brand new airman in the Air Force who wants to do software development, I believe today that the best place for me to do that is at Kessel Run," Lt. Col. Casey "Waldo" Miller, commander of the 90th Cyberspace Operations Squadron, said, referring to the Kessel Run software factory.
Miller continued: "What they don't know is that the 90th exists, that we bridge that gap between business systems and instead go all the way to the tip of the spear when it comes to operations where they're literally writing malware to be used against our adversaries. And we give them no-kidding opportunities to do true deep software development and do it in a way that connects them with the operators in a way that I would argue they cannot do anywhere else."
Lively said the 90th is unique in being an operations-aligned squadron providing organic offensive and defensive capability development for cyber operators under U.S. Cyber Command.
"When it comes to the mission we are executing here, there are very few places in the DOD where our folks, developers have the opportunity to, no-kidding, sit side-by-side with the operators that they're supporting and be able to hear from them … and then be able to immediately pivot and execute whatever it is that they need without having to go through all the different requirements, tracking and submittals and all of that, because we are directly aligned to support the operator," Miller said.
While the notion for Shadow's Edge had been in the works for years — especially as other software factories began to gain momentum — it was the Covid pandemic that really pushed it into fruition.
"Covid hits. We have a unit who has only ever done their mission within a SCIF now all pushed out of the SCIF and told figure it out — how are you going to continue to execute," Miller said. "The unit had to do a lot of introspection, had to do a lot of like reading on security [classification] guides and everything else to ultimately determine how do we continue executing this mission even though we cannot be in the SCIF … What we learned through that experience was there's a lot of our mission that in the past we've just hand-waved, but that we can do unclassified."
Miller and Lively both explained that much of the actual software work — which uses standard practices — isn't what's classified.
"A lot of what makes something classified is the target that we're going after or the operational reason that we're doing it," Lively said.
While some work will still be done in a SCIF, a good portion can be done in the unclassified realm. Plus, an added benefit to working in a corporate office, officials said, is access to high-speed internet while developing software as opposed to doing it in the classified environment.
Shadow's Edge has attracted the attention of Air Force Chief of Staff Gen. Charles "CQ" Brown, especially as it applies to the way the military needs to adapt its force management frameworks to move from a more traditional hardware-centric model to the modern software-based fixture.
"We see infinite potential if the Air Force and if the Department of Defense is willing to change the way that we look at how do we plan and execute warfare moving forward — and as part of that, how do we ensure that our force management systems make the appropriate changes to be able to respond as well," Miller said.
Specifically, what resonated with Brown during a recent trip to San Antonio, officials said, was when the squadron's leadership said they would never give up their best coder in exchange for more personnel working under them.
"There's no number of mediocre or unknown developers that you could give me that would encourage me or propel me to give up my best developer, because that person — that individual person provides exponential value to the mission and to the unit as a whole," Miller said.
Lively said the best pilot in the world can only fit in one aircraft while the best coder or developer could have an impact across the entire mission.
Currently, force management models in the military don't take this into account. If a coding wizard is forced to transition to a new role under standard rotations, there is no way to guarantee their replacement will be just as good.
"What they see is there's a captain that will PCS the 90th next summer. We need to find a captain to replace this person," Miller said of the force management system. "What they don't see is, no this person can work absolute magic. They're a wizard. Unless I can find another wizard, we're hosed. There's no way for me to properly articulate that within the current system. It's no way for them to know that that's what I'm giving up."
Personnel cannot solely do software development for the duration of their career, creating a huge attrition problem for the squadron.
"My attrition rate at the 90th is about 78% for my military folks," Miller said. "Almost eight out of 10 active-duty military members that come to the 90th will leave the Air Force when their time is up because they want to continue executing this mission and they know that there's no future path for them to do software development or capability development for the near future."