Air Force flight tests AI agents with Valkyrie drone
The Air Force on July 25 conducted a three-hour flight test of a XQ-58A Valkyrie drone that was controlled by algorithms developed by AFRL.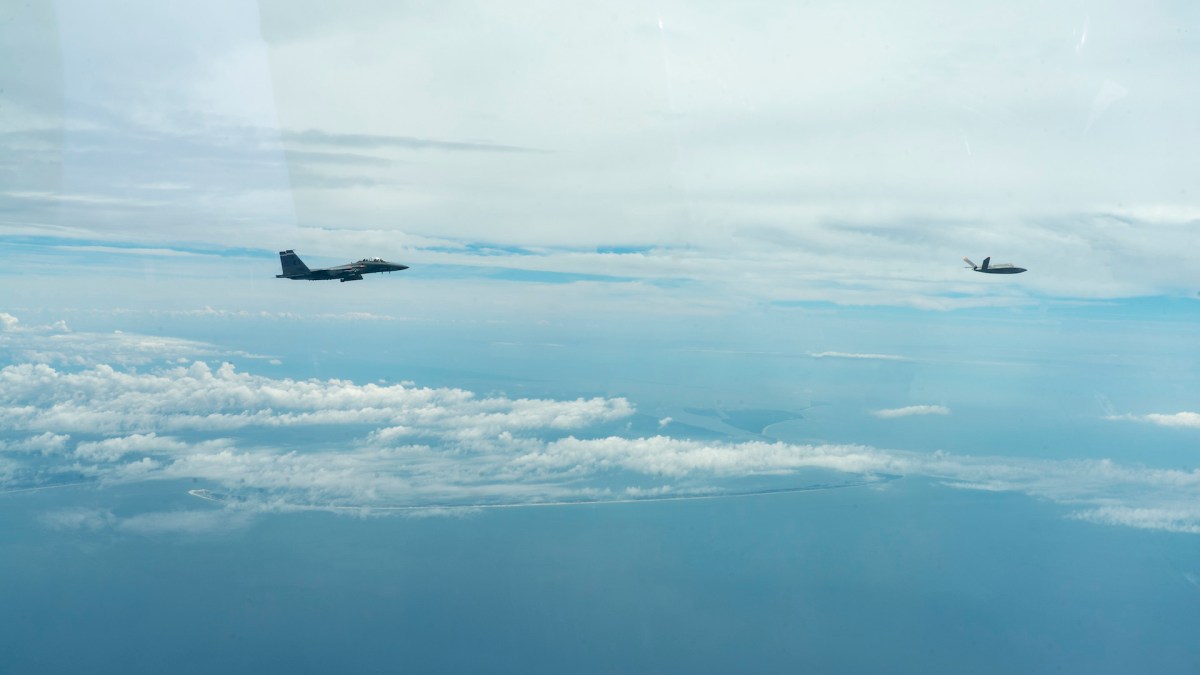 The Air Force last week conducted a three-hour flight test of a XQ-58A Valkyrie drone that was controlled by algorithms — a milestone that has major implications for the service's "collaborative combat aircraft" program, the Air Force Research Lab announced Wednesday.
The event took place on July 25 near the Eglin Test and Training Complex in Florida. The artificial intelligence agents that piloted the unmanned jet were developed by AFRL's autonomous air combat operations team, according to a release.
The Valkyrie is manufactured by Kratos.
AFRL has been working on these types of technologies in recent years as part of the Skyborg program.
The recent test took place as the Air Force is pursuing a new generation drones enabled by AI and machine learning, for the service's collaboration combat aircraft (CCA) program. The autonomous systems are expected to serve as robotic wingmen for Next-Generation Air Dominance (NGAD) fighter jets and other manned aircraft and conduct other missions on their own. The Air Force is currently planning for 1,000 CCA drones, and it hopes to begin fielding them before the end of this decade. It plans to spend more than $6 billion on the program and related projects over the next five years.
Col. Tucker Hamilton, chief of AI test and operations for the Air Force, said last week's test — during which an F-15E Strike Eagle from the 96th Test Wing's 40th Flight Test Squadron flew in formation with an XQ-58A — has major implications for the CCA initiative.
"The mission proved out a multi-layer safety framework on an AI/ML-flown uncrewed aircraft and demonstrated an AI/ML agent solving a tactically relevant 'challenge problem' during airborne operations," Hamilton said in a statement. "This sortie officially enables the ability to develop AI/ML agents that will execute modern air-to-air and air-to-surface skills that are immediately transferrable to the CCA program."
The Air Force did not provide more details about the tactical scenario.
According to an AFRL release, the algorithms benefited from millions of hours of high-fidelity simulation events, 10 sorties on the X-62 VISTA test aircraft, "hardware-in-the-loop" events with the Valkyrie, and ground test operations.
"AI will be a critical element to future warfighting and the speed at which we're going to have to understand the operational picture and make decisions," AFRL Commander Brig. Gen. Scott Cain said in a statement. "AI, Autonomous Operations, and Human-Machine Teaming continue to evolve at an unprecedented pace and we need the coordinated efforts of our government, academia, and industry partners to keep pace."