Transcom 'experimenting as much as possible' with data in modern conflict
In support of unfolding data- and artificial intelligence-driven projects, Deputy Defense Secretary Kathleen Hicks recently deployed a few experts from her newly formed Chief Digital and AI Office to Transcom headquarters.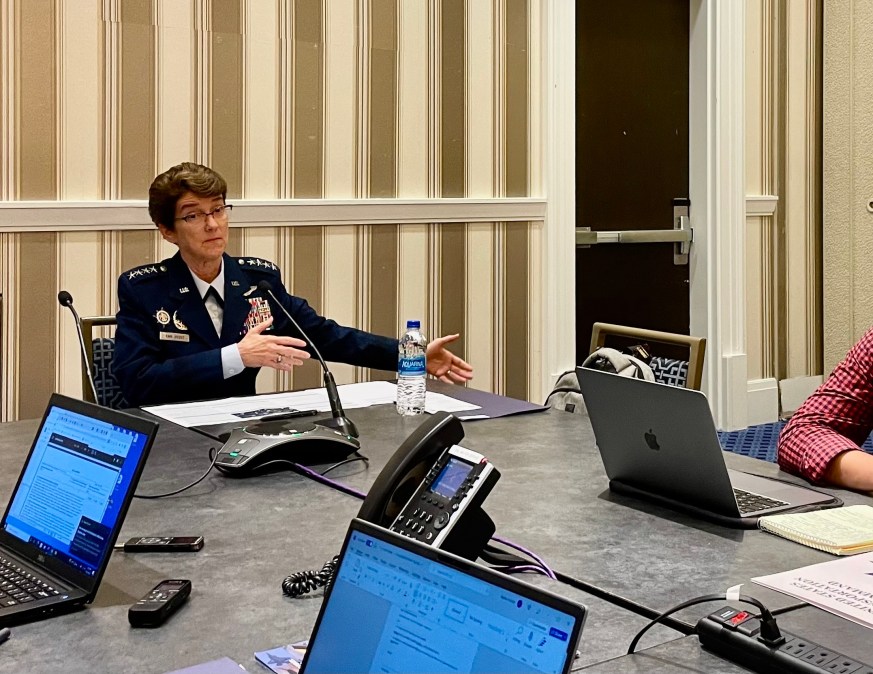 NATIONAL HARBOR, Md. — With sights set on enabling more decision-advantage for senior military leadership, U.S. Transportation Command is applying emerging technologies to sense and make sense of the heaps of data it's capturing as it supports the delivery of assets to Ukraine, its top official told reporters Tuesday.
Transcom is a functional combatant command that steers the Defense Department's integrated global mobility operations via land, air and sea in peacetime and conflicts. It produces and collects massive volumes of data from many complex sources to perform those functions — and recently began developing and applying a new dashboard to drive more data-informed decision-making.
During a media roundtable at the Air and Space Forces Association's annual Air, Space and Cyber conference, Transcom Commander Gen. Jacqueline Van Ovost shed light on some of the ways the command is deploying and experimenting with nascent technologies to strengthen how it operates.
"The complexity of future operations requires us to treat data as a strategic asset," Van Ovost told reporters.
Through performing missions over the last few years, members of Transcom learned valuable lessons about using data to their advantage.
During the U.S. military's chaotic withdrawal from Afghanistan, Van Ovost noted, Transcom officials quickly recognized the need to rapidly identify what assets and people needed to be removed, when, on what timeline and to where.
"The first thing we've had to do is to go find that data," Van Ovost told DefenseScoop during the roundtable. "And so, as I apply it to what's going on in Ukraine, we've worked very hard from end-to-end to understand the data flows."
For example, for the lethal weapons the command is bringing to support Ukraine, data must be captured on where the assets are made and stored, and the best method for delivery. A lot can be done in very short periods, but "you only go as fast as your slowest piece — so, we have to understand ourselves end-to-end," she added.
Transcom is developing and refining analytical models to better grasp a lot of its crucial logistics characteristics and pulling in data to better simulate the functions it needs to do.
"So, let's take that to the Pacific," Van Ovost told DefenseScoop, providing an example of the command's approach, where the Air Force is doing agile combat deployment, the Marine Corps has expeditionary air base operations, the Navy has "their own advanced maneuvering from the sea" and the Army has its own specific maneuver concepts.
"What I need to do is take those concepts" and merge them together into one, Van Ovost explained, adding that "that's what we're doing in our future deployment and distribution analysis" initiative.
Transcom cannot use the same airlift deficits to do all that it does, so officials are looking at joint solutions that can meet all the service's requirements.
"We're developing these analytical capabilities — and frankly, it looks a lot like understanding that data and structuring it, pulling it in and then modeling it. And if the model doesn't work, go back and change the model. So, it's not… perfect. That's why it's iterative," the four-star general said.
Military and Pentagon leaders are learning a lot from tech-savvy Ukrainians in this modern conflict who are deploying drones to their advantage in new and unexpected ways.
Drones, Von Ovost noted, bring back data on critical aspects like terrain, movements, ports, where missiles are being fired and enemy movements. Beyond enabling battlespace awareness, she said Air Force and Navy components of Transcom are also exploring vertical takeoff and landing technologies to enable last-mile deliveries.
"You'd be surprised that when a ship has a casualty — which is a problem — a huge proportion of the time, the problem has to do with getting a part that's less than 400 pounds. It could be just a couple of circuit cards, and for that they have to pull into port," the commander noted.
Transcom elements are working on developing a vertical takeoff and landing capability that can move over water — "which is a little different problem than land, frankly, for the drones," she noted — holding assets that are less than 400 pounds, "so they can support ships at sea that have casualties, that need parts."
In support of unfolding data- and artificial intelligence-driven projects, Deputy Defense Secretary Kathleen Hicks recently deployed a few experts from her newly formed Chief Digital and AI Office to Transcom headquarters.
"We're excited about it," Van Ovost said.
Still, while the command's "liquidity is increasing," the commander said her overarching aim is to get relevant data and associated capabilities down to the tactical level — like to aircraft commanders and ship drivers — to inform their operations and how their strategic environment is evolving.
"So, it's really important — as you say, it's very sensitive to me," Van Ovost told DefenseScoop in the roundtable. "We're experimenting as much as possible and learning from what other people are doing in AI and advanced analytics."