DARPA wants sensors, algorithms and robots to inform medical triage for mass casualties
The Pentagon's advanced research agency plans to award $7 million in a new prize competition known as the DARPA Triage Challenge.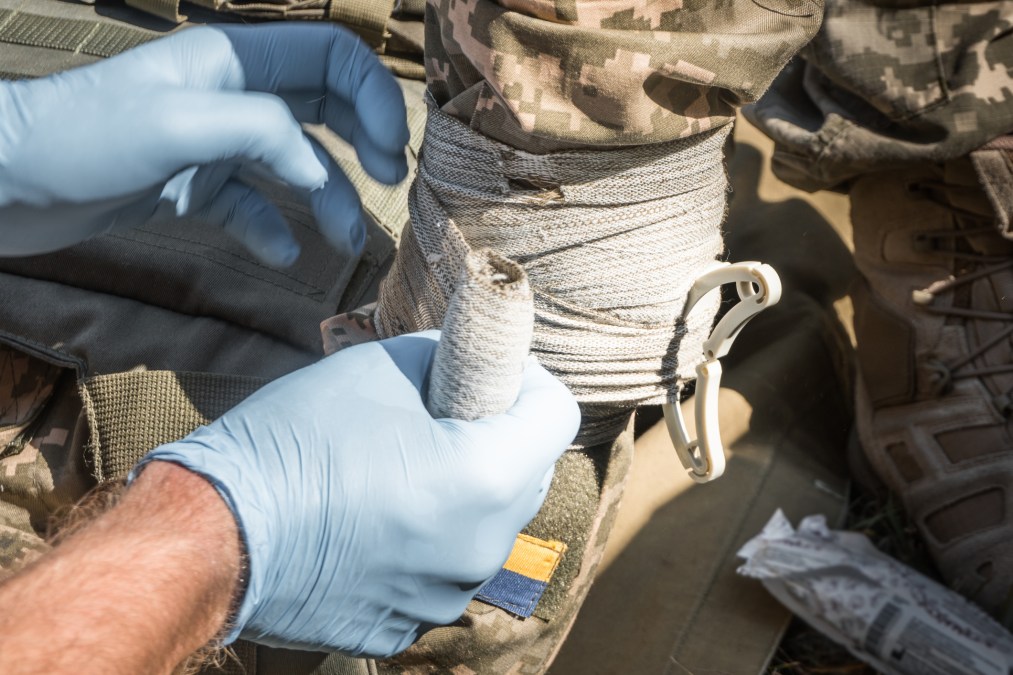 With sights ultimately set on driving breakthroughs to enable faster and better medical triage in mass casualty incidents, the Defense Advanced Research Projects Agency unveiled a challenge competition on Wednesday to pave the way for a new emergency response paradigm where medical personnel could rely on real-time, non-invasive sensors, robots, algorithms and associated data to inform their urgent decision-making in military and civilian scenarios.
This new DARPA Triage Challenge will engage both technology and medical experts to pinpoint physiological features of injury — or "signatures" — that can be captured by special sensors and related capabilities to help first responders perform more scalable, rapid and reliable triage.
"Here's a real life military example of how this plays out: We have many casualties. Who gets on the bird [medevac aircraft] first? Only some will be able to get the surgery quickly and the others are going to have to wait in the field potentially for hours — and the medic has essentially no tools to predict those clinical trajectories to help them make the right call. We believe the core technologies exist to solve these problems and revolutionize medical triage. And that's why we're initiating the DARPA Triage Challenge," Program Manager Cmdr. Jean-Paul Chretien said at a DARPA Forward event in College Station, Texas.
If not immediately spotted and treated, traumatic injuries from combat, natural disasters, accidents or attacks on large gatherings can be lethal. Primary triage demands hands-on evaluation, which generally isn't scalable in mass casualty incidents. The typical approach to secondary triage involves periodically checking victims' vital signs.
Still, both of those forms of triage at times might cause medical professionals to miss early indications of possibly deadly injuries, particularly in mass casualties, according to Chretien.
"The DARPA Triage Challenge seeks to enable medical responders to save lives in mass casualty incidents by exploiting stand-off sensors to rapidly and autonomously provide information needed in primary triage, and providing continued monitoring to predict need for life-saving interventions in secondary triage," he said in a release.
This program is structured to span three competitions — "Primary Triage-Real World, Primary Triage-Virtual and Secondary Triage" — and have tracks for both DARPA-funded and self-funded competitors. Participants will collaborate with independent verification and validation teams and DARPA's Research Infrastructure for Trauma with Medical Observations program, which is supplying clinical data that will be used by selected participants.
The contest is anticipated to unfold as a three-year effort with three sequential 12-month phases for primary triage and secondary triage in parallel — each culminating in a challenge event. DARPA is planning to award $7 million in competition prizes.
In the release, DARPA said the long-term vision of this new program is to foster technology for "an initial, or primary stage of mass casualty incident triage supported by sensors on stand-off platforms, such as uncrewed aircraft vehicles or robots, and algorithms that analyze sensor data in real-time to allow medical personnel to identify casualties for urgent hands-on evaluation; followed by a secondary stage, after the most urgent casualties have been treated, supported by non-invasive contact sensors placed on casualties and algorithms that analyze sensor data in real-time to predict need for life-saving interventions by medical personnel."
DARPA is slated to share more details about this work in a forthcoming Broad Agency Announcement. The agency is planning to host a virtual event for proposers on Nov. 29. Proposals are due by Feb. 13, 2023, and the first of three annual challenge events is expected to be held in 2024.