Space Force puzzling out future support for combatant commands
A full-scale mission analysis is in the pipeline, a senior Space Force official confirmed.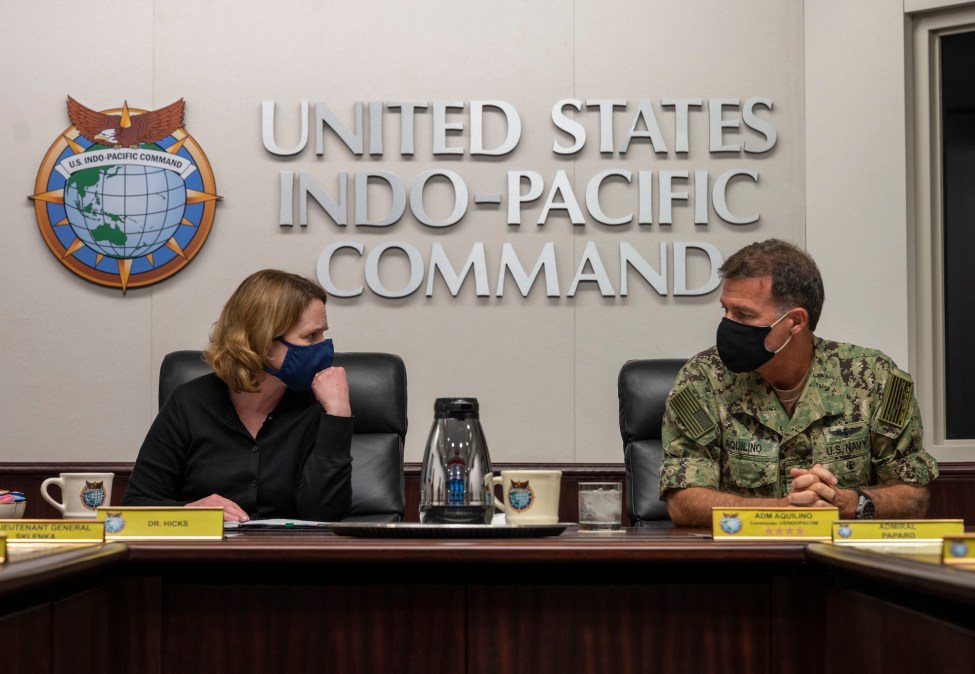 With the activation of its first-ever overseas service component for a geographic combatant command, the Space Force still has a lot to flesh out regarding all the ways its personnel will support joint force activities in the Indo-Pacific and other regions in the future, a senior official suggested.
The service announced the establishment of U.S. Space Forces-Indo-Pacific on Tuesday.
"Space Operations Command is our [Space Force] component in the U.S. Space Command, and it's been that since the day we were established. But this is the first official establishment of a component with those other combatant commands. So in that sense, it's a big day," Vice Chief of Space Operations Gen. David Thompson told reporters in a briefing on Tuesday ahead of the Pentagon's announcement.
At this point, 21 Space Force guardians — a mixture of officers, enlisted and civilians — have been tapped to support the branch's new service component to U.S. Indo-Pacific Command, he confirmed.
Brig. Gen. Anthony Mastalir, formerly special assistant to the commander of U.S. Space Command's Combined Force Space Component Command, will lead U.S. Space Forces-Indo-Pacific.
"We were very deliberate in picking Indo-Pacom first," Thompson noted. "Every day [Defense Secretary Lloyd Austin] reminds us of the pacing challenge — and that's China."
"And so we very deliberately chose Indo-Pacom first because we want the nation, the Department of Defense, that combatant command, and anyone who might wish us harm in that region, to understand that that's what we pay attention to every single day," he added.
Austin has also authorized the establishment of additional Space Force service components for U.S. Central Command, U.S. European Command and U.S. forces in South Korea, Thompson said. Those will be established "probably soon within the next year" and "with time the rest will" follow, he added.
"Centcom and Korea will come relatively soon. We've got a little bit more coordination and agreement work to do with the countries in Europe before we set up the Eucom component," he said.
Currently, the Space Force anticipates supplying roughly 10 to 20 guardians for Centcom and Eucom.
"In fact, one of Gen. Mastalir and his staff's early task will be to do a full-scale mission analysis to understand how many people do I have today? Is it sufficient? And what other resources might I need? Here's the mission I'm going to perform. Here's the resources I needed to perform that mission. And then we'll have a conversation about, is that enough? Do you need more? Where's the priority?" Thompson explained.
During the roundtable with reporters, Thompson didn't go into great detail about the technological implications of this activation. Instead, he reflected broadly on what Space Force-steered capabilities might look like in the Indo-Pacific theater.
"Do you want to navigate with confidence? Do you want to be able to communicate anywhere in the Indo-Pacific?" he said. "Do you want to understand threats, especially from North Korea, and China that might come from ballistic missiles or hypersonics, or other things?"
In the immediate term, none of the guardians supporting Indo-Pacom are specifically dedicated to cyber missions, according to Thompson.
"Today, our cyber professionals and capabilities really reside around what it takes to operate our space systems and what it takes to defend our space systems. And so most of that resides in our continental U.S. forces and systems that are used by U.S. Space Command," he said. "So we won't have a significant cyber presence in these [combatant commands] today. It doesn't mean that once these teams look and do the analysis of the jobs they think they need to do, they might come back and say, 'We need a few cyber folks.' That's certainly a possibility — but today — not yet."