Lockheed Martin details plans for new electronic attack system designed for smaller Navy vessels
The "Scaled EA" system is designed to provide smaller ships an electronic attack capability.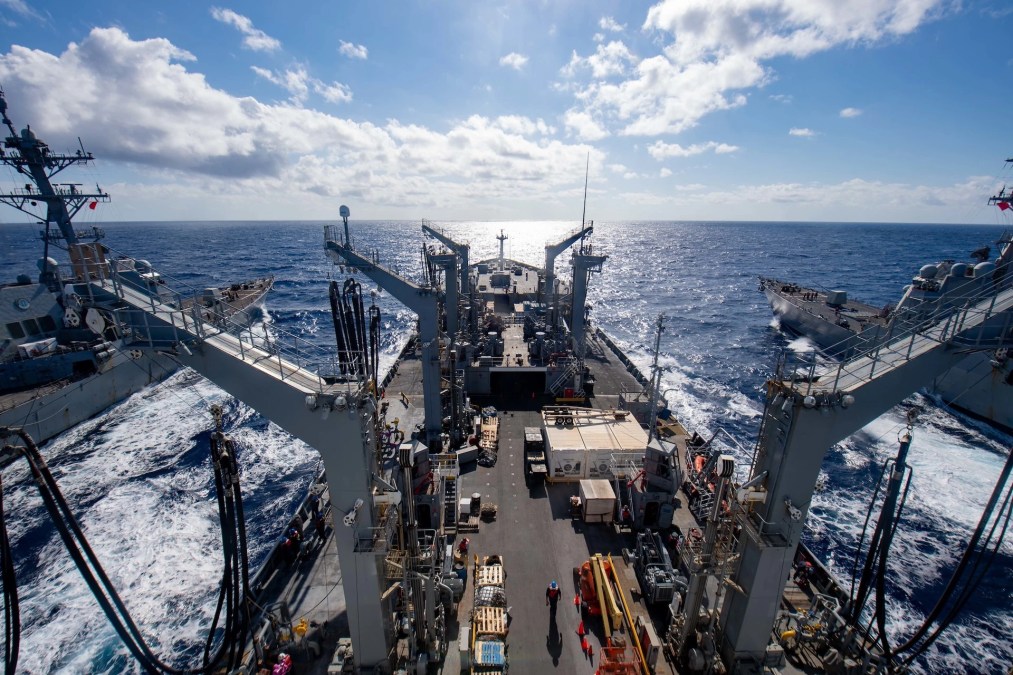 Lockheed Martin is planning further demonstrations this spring of a new scaled-down electronic jamming system that could give some of the Navy's smaller vessels more EW capabilities.
The weapon, dubbed Scaled EA, provides smaller ships an electronic attack capability to protect them from threats. It is based on Lockheed's work with other platforms such as the Advanced Off-Board Electronic Warfare (AOEW) system and the Surface Electronic Warfare Improvement Program (SEWIP).
While the Navy has long maintained a vision to scale down the technology for smaller ships that might not have the space or power to support other systems such as SEWIP, a key impetus to test something like Scaled EA was a shift in how the Navy and other military services are planning to fight in the future under Joint All-Domain Command and Control (JADC2) and other operational constructs.
"A lot of this has been driven by the way we fight these days versus, before we'd see them in groups, [carrier strike groups], but now, when you get into joint all-domain, every ship is part of a larger conglomerate [and they] tend to be more spread out," Joseph Ottaviano, director of maritime and air cyber/electronic warfare at Lockheed, said in an interview. "You've got to have something that gives you the capability to participate in that joint all-domain, but also give you a capability to provide effects that help your own ship in the fight. That's the premise of what Scaled EA is. It's certainly not intended to replace the bigger [SEWIP] Block 3, but not every ship can support the full-up system."
Lockheed took the system out to the Rim of Pacific 2022 exercise last summer summer to "validate the concept of having a scaled EA system on ships that can't support the larger system," Ottaviano said, adding the results were mostly positive.
"I can't go into details on the type of threats or some of the things we engaged. But the system met all its goals, it provided significant capability that would make the oiler an effective part of a joint all-domain exercise, but also give the oiler self-protection via a quick install EA system," he said.
Additionally, Ottaviano said the Scaled EA provides a more rapid solution to outfit on ships, explaining the idea was for it to be installed during a pier availability and not wait for a modification that lasts a year or longer.
"You want to be able to do this in 60-90 days, while the ship is pier side and not have to get construction involved. And that's how it was designed," he said. "We had allocated a week — within three days the system was installed on the oiler, which we weren't originally supposed to go on, we're supposed to go on a different ship. That goes to the flexibility and maturity [of] the system. We ended up finishing in two-and-a-half days on the install."
He later clarified that the install for this particular exercise was a special case, noting that the operational goal is for it to be installed within 60 days.
The Scaled EA capability also doesn't require additional personnel on the ship to operate it, he said, relying only on the sailors already assigned to the vessel.
While the system was developed on Lockheed's dime, Ottaviano said it leveraged capabilities the Navy has already invested in, given this vision of scaling down was part of the Navy's plan.
There will be another set of range demonstrations for the system in the spring to mature the capability and demonstrate that it can be delivered "without requiring a ship to go to dry dock," Ottaviano said.
There is also slated to be a competition for this type of capability in the future, for which the Navy will award a vendor to provide a solution. Other companies have demonstrated similar technology related to their delivery of SEWIP.
Ottaviano said there is interest from other Defense Department components for the Scaled EA system, but he declined to identify them.
"We've seen interest from other services. I'm not going to name them, but at least two other services have looked at this capability and have expressed some interest, whether it be in a non-naval environment," he said. "Again, it was designed so that it can support multiple things and … multiple approaches to the fight. We've had others come in and talk to us about the capability once they've heard about it."