Palantir CEO to those who don't support U.S. military work: 'Don't work here'
Alex Karp also shared how Palantir has "philanthropically" aided Ukraine in its defense against Russia using its MetaConstellation software.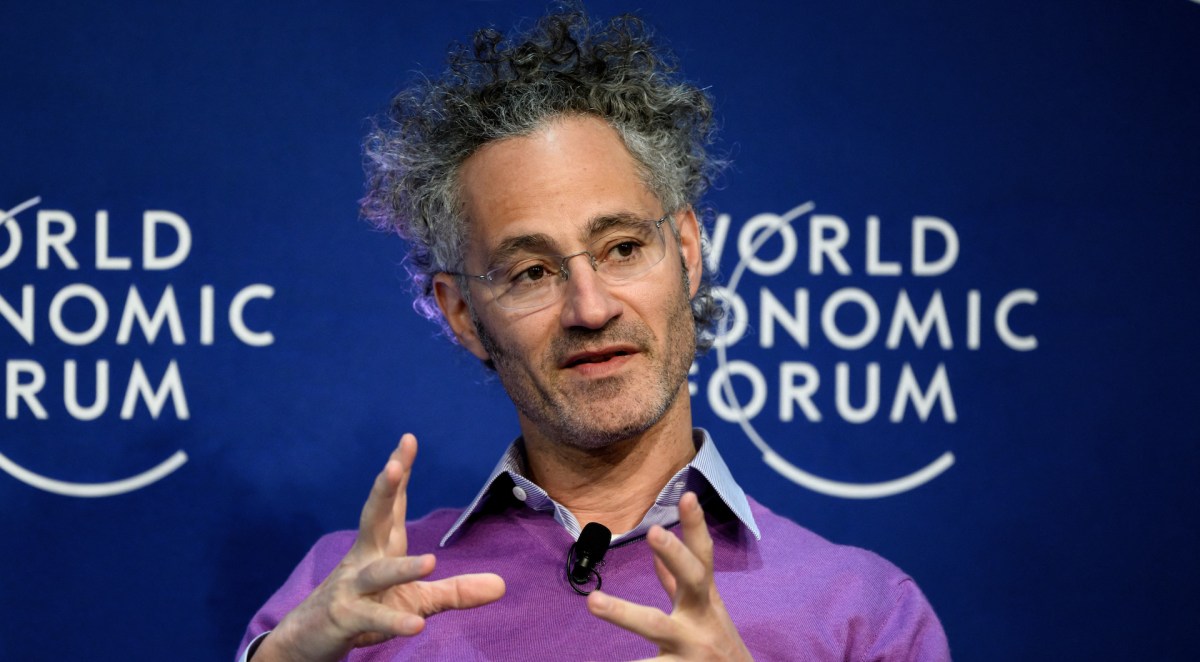 Palantir CEO Alex Karp reaffirmed his commitment to supporting the values of the West via his company's algorithmic intelligence software on Wednesday, telling any current or prospective employees who don't support that mission: "Don't work here."
Asked by David Rubenstein, co-chairman of private equity firm the Carlyle Group, during an interview at the World Economic Forum in Davos, Switzerland, about the tension many major tech companies face from "left-leaning" employees when working with the U.S. military and others, Karp stood firmly by Palantir's mission to support the West from adversaries, whether that's terrorist cells or developed nations like Russia and China who threaten democracy.
"We are not everyone's cup of tea. We may not be your cup of tea," Karp said. "To make society work, there are basic functions that have to work, one of which is the reduction of terrorism, pushing back on, in my view, human rights abuses largely done by adversaries to the West. You may not agree with that, and bless you. Don't work here."
Many large American tech companies, like Microsoft, Google and others, have faced public backlash from employees for their willingness to use tech to support the Department of Defense's use of lethal force. Palantir, on the other hand, has been bullish about expanding its work with the DOD, vying to compete with behemoth traditional prime contractors like Lockheed Martin, Northrop Grumman, Boeing and others.
Karp claims that his company's algorithmic intelligence software powers the clandestine operations of most Western nations — "whether they tell you that or not," he said — including the U.S. Department of Defense, which he credits in a large way for giving Palantir its start through a small In-Q-Tel contract.
"Interestingly, it was that part of the DOD that got us off the ground because they were struggling with finding out where terrorists were putting improvised explosives, and we figured that out in our product," Karp said.
Looking at Silicon Valley, Karp estimates maybe two-thirds of the innovation hub's software developers don't agree with Palantir's pledge to work with the military, law enforcement and intelligence agencies.
"However, one-third only wants to work for your company," he said.
"We've been very critical of the Valley. And that also helps," Karp said. "Bless your soul if you want to distribute carcinogens with your great intellect in the form of consumer internet. That's your decision… We want people who want to be on the side of the West, making the West a better society, more able to defend themselves, better data protection, and that's not for everyone."
During the interview, Karp also wasn't shy in crediting Palantir for its role in helping to secure the norms of democratic nations in the West, pointing particularly to the support the company has "philanthropically" given to Ukraine in its war with Russia. He touted Palantir's MetaConstellation, claiming it gave Ukraine "targeting with like a factor of 20 better" than what it had prior, which played a major role in changing the course of the war, he said.
Karp described MetaConstellation as software that "allows you to use algorithms on large data sets to hone in on adversaries over, say, a whole country … [with] the infusion of data from satellites, telephones, other sources, classified sources, and then the disambiguation of that so people only see what they are allowed to see on the battlefield," adding that it was "something that took us 15 years to build in various forms."
Asked if the U.S. government has the same capabilities, Karp said vaguely: "The U.S. government has our software … and uses it very aggressively."
Continuing on the support Ukraine has received, he said: "I mean, look, the role of the U.S. government and the British government, others is somewhat sensitive … but it would be remiss not to mention that these governments have played an enormous effect and crucial role, not just with our software — but also with our software."
Karp said the U.S. also has a major opportunity to learn from what's going on and what has actually worked in Ukraine. "I'm very in favor of a robust posture in America … we should look, what percentage of our budget is spent on things that actually turn the tide? We need to invest where the West has an advantage."
And though Palantir has seen growth in the commercial side of its business, Karp reasoned that his "fundamental view of what Palantir should be is … a technical, digital software instrument — which again is what I think we are the best at in America — that strengthens institutions both commercial and economic and political in Western countries."