Pentagon highlights air defense, mechanized forces amid 'brutal World War I-style engagements' in Ukraine
Undersecretary of Defense for Policy Colin Kahl told reporters that air defense capabilities will be critical to Ukraine in the next stage of this unfolding conflict.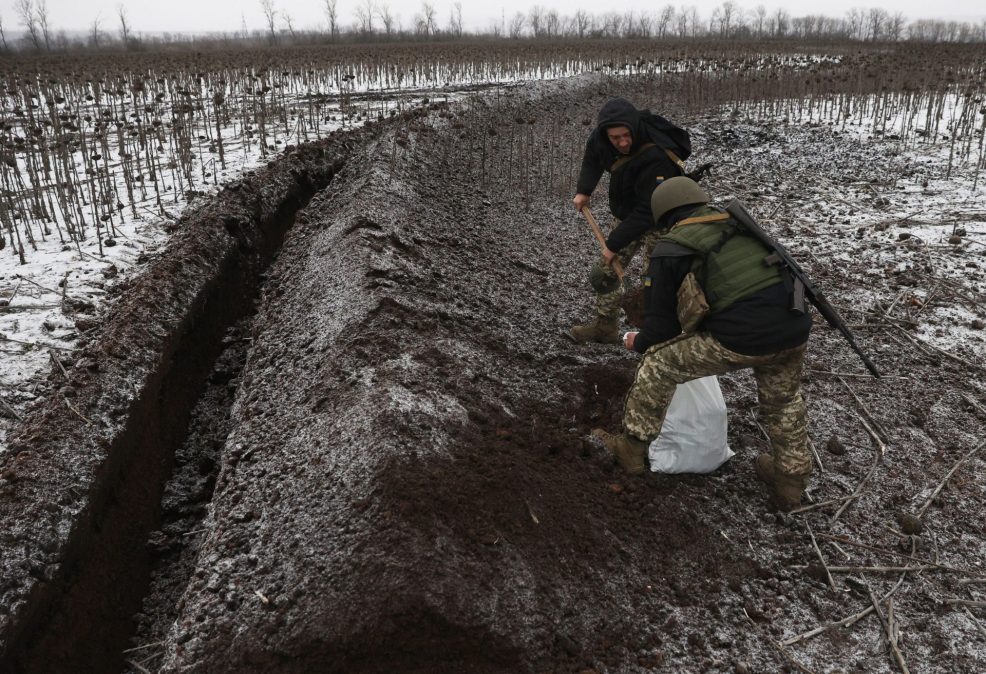 Air defense capabilities will likely prove vital for Ukraine in the next phase of its unfolding war against Russia, according to Undersecretary of Defense for Policy Colin Kahl.
Kahl spoke to reporters at the Pentagon on Wednesday — not long after he returned to the U.S. after visiting Ukraine and other nations to engage with dozens of international partners ahead of the Defense Contact Group meeting that Secretary of Defense Lloyd Austin is hosting in Germany on Friday.
Though he would not get ahead of any impending announcements about additional American assistance to Ukraine in the pipeline, Kahl confirmed that new air defense systems, and components that complement Ukraine's Soviet legacy systems, will remain a priority as the conflict approaches its first-year mark since Russia's invasion.
"Clearly, the Russians are hoping that through the mix of their cruise missile strikes, rejiggering their air defense systems as surface-to-surface ballistic missiles, and the use of Iranian drones, they're clearly trying to turn the lights out across Ukraine. They're also trying to exhaust the [Ukrainians' efforts to protect their airspace]. So Ukrainians know that. We know that. And as a consequence, we're committed to keeping making sure that the Ukrainians' [air defense capabilities] remain viable," Kahl said.
He added that another area of priority in the near term would be mechanized systems that enable troop maneuverability.
For Kahl, the entire trip "was pretty emotional," he noted.
Kahl heard firsthand of Ukrainians' creative and savvy efforts to keep their electric grid "mostly intact," even as Moscow has "brutally tried to freeze the country to death during winter by knocking out energy infrastructure." Kahl said Russian President Vladimir Putin is pushing his military "to brute force their way through" this war.
With "these kinds of human wave attacks — these just brutal World War I-style engagements — I think the Russians believe they could just muscle their way through, and I think that's going to prove just the latest of Putin's miscalculations. They underestimate the Ukrainians. The Ukrainians are not buckling. The advances, such as they are on the frontline, are measured in blocks — or, you know, in the hundreds of meters," Kahl told reporters.
He added: "And I think both sides are likely to kind of exchange territory in those increments in the coming weeks. But, really, what we're focused on is surging those capabilities to Ukraine for the next phase of the conflict to really try to change that dynamic and continue the momentum that the Ukrainians had in the late summer, early fall [last year]. And so our trip was really focused on what we can do."
The U.S. has already committed billions in assistance to Ukraine's military, including a slew of weapons from its own stockpiles. Legacy platforms make up a lot of what's been sent from America to Ukraine so far — but advanced and emerging technologies including unmanned aerial and maritime systems are also among committed articles.
Still, Kahl suggested that the battlefield in many places for now resembles more of an old-school war of attrition than an ultramodern digital fight some experts predicted a Russia-led invasion of Ukraine would cause. He noted that Russia is digging trenches and recruiting convicts to fight in the war.
"We're talking about thousands of casualties just in the last couple of months in this. So I just think that both sides have dug in on their defensive positions, which makes it hard for either side to make a breakthrough," Kahl explained. "So, the shift that I've been talking about here is what changes up that dynamic. And then there is, I think, an assessment that you've got to keep Ukraine in the fight. And that's why your air defense is so important. You also have to protect the Ukrainian population, and then enable them to change that dynamic with these kinds of static defenses by being able to fire and maneuver through the use of more mechanized forces."
Technology and public policy expert James Lewis told DefenseScoop on Thursday that the next phase of the war could involve Ukraine's military leading a counter-offensive.
"So, when the Ukrainians start to push back, they'll need to do two things: They'll need to make sure they have the airspace controlled over their own troops as they move forward, and they will need to secure their rear areas from Russian air attacks," Lewis, director of the Strategic Technologies Program at the Center for Strategic and International Studies, said in an interview.
At this point, he said Russia still has a lot of "freedom of action in the air," which is partially why Ukraine has steadily endured some of the devastating civilian casualties that it has.
"So getting a handle on air defense is crucial for the next phase of Ukrainian military activity," he noted.
However, Russia's military hasn't had as much of a technological edge as many had expected.
"It turns out that the Russian high-tech capabilities were a sham. A lot of it has to do with corruption," Lewis said.
He noted that it's become a war of attrition.
"It's just a meat-grinder. And [Russian President Vladimir Putin is] hoping he can keep the meat-grinder running long enough that he can get some kind of talks with Ukraine that will save space for him and that he can say, 'I didn't surrender. We got concessions from them.' But he doesn't have a choice. He's got to keep this thing going until some sort of avenue for him to escape opens up. It may not happen given how hard the Ukrainians have been [fighting]," Lewis said.
Late Thursday, the Pentagon announced a new $2.5 billion security assistance package for Ukraine that includes air defense systems, a variety of vehicles and other capabilities, including:
Additional munitions for National Advanced Surface-to-Air Missile Systems (NASAMS)
Eight Avenger air defense systems
59 Bradley Infantry Fighting Vehicles (IFVs) with 590 TOW anti-tank missiles and 295,000 rounds of 25mm ammunition
90 Stryker Armored Personnel Carriers (APCs) with 20 mine rollers
53 Mine Resistant Ambush Protected Vehicles (MRAPs)
350 High Mobility Multipurpose Wheeled Vehicles (HMMWVs)
20,000 155mm artillery rounds
Approximately 600 precision-guided 155mm artillery rounds
95,000 105mm artillery rounds
Approximately 11,800 120mm mortar rounds
Additional ammunition for High Mobility Artillery Rocket Systems (HIMARS)
12 ammunition support vehicles
6 command post vehicles
22 tactical vehicles to tow weapons
High-speed Anti-radiation missiles (HARMs)
Approximately 2,000 anti-armor rockets
Over 3,000,000 rounds of small arms ammunition
Demolition equipment for obstacle clearing
Claymore anti-personnel munitions
Night vision devices
Spare parts and other field equipment