White House requests $13B in supplemental defense funding for Ukraine as budget deadline looms
About $9.5 billion would be set aside for equipment for Ukraine's military and to help replenish U.S. military stocks, according to a summary of the request.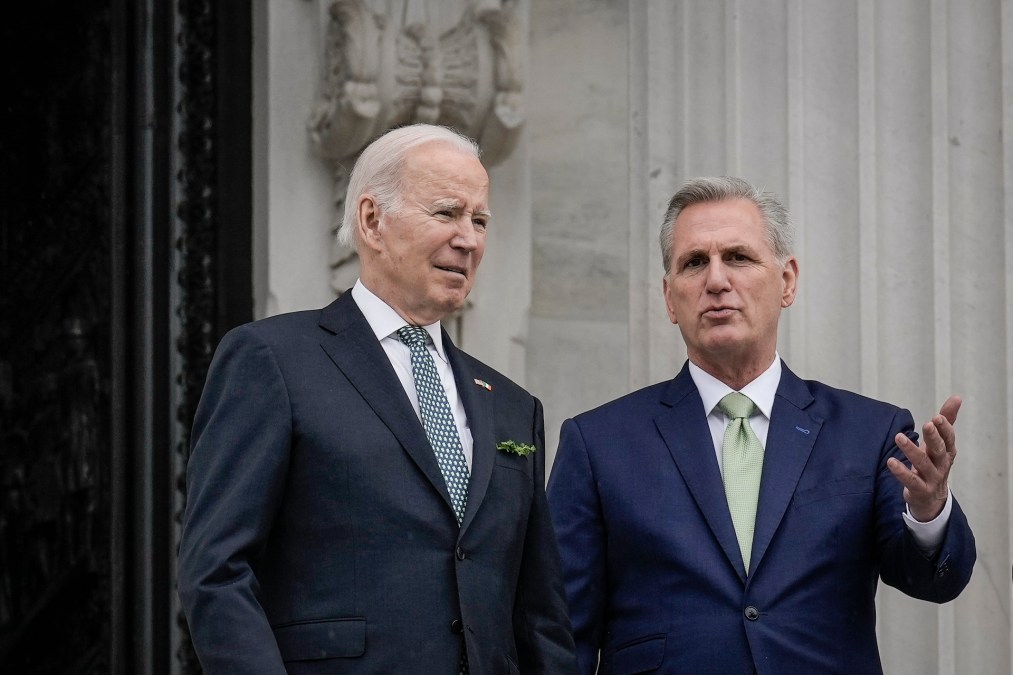 The Biden administration on Thursday asked Congress for $13.1 billion in supplemental defense funding related to the war in Ukraine amid concerns that Congress won't pass appropriations bills on time for the next fiscal year, which begins Oct. 1.
If the request is granted, about $9.5 billion would be set aside for equipment for Ukraine's military and to help replenish U.S. military stocks that have been drawn down to aid Kyiv. Another $3.6 billion would be used for "continued military, intelligence, and other defense support," according to a summary of the funding request from the Office of Management and Budget.
The U.S. has provided a slew of military capabilities to the Ukrainians to help them counter the Russian invasion, including kamikaze drones and other unmanned aerial systems, counter-UAS tools, "unmanned coastal defense vessels," and a variety of other equipment.
"The president has reaffirmed that we will stand with Ukraine as it defends its sovereignty for as long as it takes, a strategy that successfully united our allies and partners and equips Ukraine to defend itself against Russian aggression … Supplemental appropriations for direct military aid, economic and humanitarian assistance and other support for Ukraine are intended only to last through the end of this fiscal year. And this support has all been committed or nearly committed. So today, the administration is requesting supplemental security, economic and humanitarian assistance funding that will support Ukraine, as well as countries and vulnerable populations worldwide impacted by Russia's unprovoked and brutal invasion of Ukraine," a senior administration official told reporters during a background call on Thursday to discuss the request.
The funding for Ukraine is part of an approximately $40 billion supplemental package that includes money for other "emergency" efforts overseen by other federal agencies. If Congress doesn't pass full-year appropriations bills by Oct. 1, there could be a government shutdown or federal agencies may have to operate under a continuing resolution, which is why the White House is asking for supplemental funding to help cover the first quarter of fiscal 2024.
According to a DOD fact sheet, the Biden administration has committed more than $43 billion in security assistance to Kyiv since Russia invaded in February 2022. The additional $13.1 billion would likely be committed in the October-December time frame.
"The figures in there with respect to Ukraine are certainly reflective of what we believe we'll need to act against … in that course of that three months. Now, look, we don't know how much longer this war is going to go on or how much more assistance we might need to support Ukraine. We won't be bashful about going back to Congress beyond the first quarter of next year if we feel like we need to do that," a senior administration official told reporters.
"We believe that we have enough that we've already been working against to get us through this fiscal year. But it's really an estimate, the best estimate we can come up with for what we think we're going to need to support Ukraine, at least for those first three months of the year, assuming that the war is still going on and they're still fighting for their sovereignty. Now, hopefully, that's not gonna be the case. It would be great if the war could end today. But we can't just assume that. So, this is based on our best estimate of the kind of expenditures we've had in the past — the pace of … the way in which Ukraine is using the tools and ammunition and capabilities that we've been given them over the last now almost 18 months," the official added.
Notably, the supplemental request doesn't include funding for security assistance for Taiwan, even though the Biden administration recently used presidential drawdown authority to provide $345 million worth of U.S. military equipment to Taipei to give it "asymmetric capabilities" amid concerns about a potential future Chinese invasion.
The administration hasn't officially listed specific items that were part of that package. But acting Deputy Undersecretary of Defense for Policy Mara Karlin, who has been serving as the assistant secretary of defense for strategies, plans and capabilities, told reporters earlier this month that it includes "critical defensive stockpiles, multi-domain awareness, anti-armor and air defense" equipment.
"On Taiwan, I think it's important to remember that the whole purpose of this particular supplemental is really limited to immediate emergency funding needs. And of course, the war in Ukraine absolutely qualifies for that, particularly when you're talking about … needing an increase in our drawdown authority for their efforts to fight back against Russian aggression," a senior administration official told reporters on Thursday when asked about the lack of funding for Taiwan security assistance in the supplemental.
There are other ways the U.S. can provide security assistance to Taiwan including through foreign military financing, the official added.