Garrison in Syria used by US troops attacked by kamikaze drones
American military forces and their local partners in Syria were attacked by multiple kamikaze drones on Friday, according to U.S. Central Command.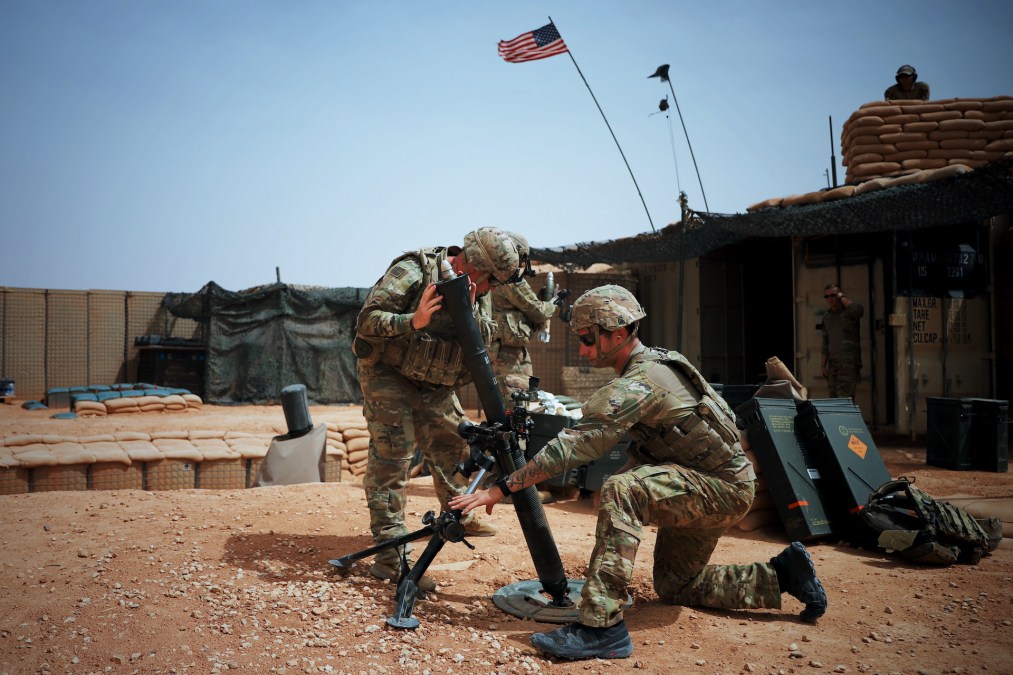 A garrison used by American military forces and their local partners in Syria was attacked by multiple kamikaze drones on Friday, according to U.S. Central Command, highlighting the proliferation of these types of weapons and the growing threat they pose to Defense Department components globally.
U.S. troops have been operating in Syria for several years as part of a coalition that is combating the terrorist group known as ISIS. They are now facing threats from loitering munitions — also known as kamikaze drones, suicide drones or one-way attack drones because they take out their targets by crashing into them. These types of weapons are also being used by both sides in the Ukraine-Russia war.
"This morning, three one-way attack drones attacked the At Tanf Garrison in Syria. Two of the drones were shot down by Coalition Forces while one struck the compound, injuring two members of the Syrian Free Army partner force who received medical treatment. No U.S. forces were injured," according to a Centcom press release on Friday.
Centcom oversees U.S. military ops in the Middle East and is headquartered in Tampa, Florida, the city where U.S. Special Operations Command is also headquartered.
"Attacks of this kind are unacceptable – they place our troops and our partners at risk and jeopardize the fight against ISIS," Centcom spokesperson Joe Buccino said in a statement.
Centcom did not identify who launched the assault or the manufacturer of the drones. It also did not identify what types of weapons were used to defeat two of the unmanned aerial vehicles.
In October, U.S. Defense officials announced plans to intensify their search for new counter-UAS technology to address the growing threat.
"My challenge working with, you know, our [combatant command] partners is, you know, how do we stop the one-way attack UASs that have grown from these quadcopter type threats … more to, you know, destructive loitering munitions" that are being used in Ukraine and elsewhere, said Army Maj. Gen. Sean Gainey, director of the Joint Counter-small Unmanned Aircraft Systems Office (JCO) and director of fires in the Office of the Deputy Chief of Staff, G-3/5/7, said at the AUSA annual conference.
Gen. James Rainey, commanding general of Army Futures Command, told DefenseScoop that developing capabilities to defeat loitering munitions will be an ongoing priority.
"Not only is it a current problem, but we believe that as we start developing better capabilities, we're going to have to be in a continuous improvement process" to keep up with threats, he said at the AUSA conference.
During the Iraq and Afghanistan wars, the Army accepted risk in its air-and-missile defense portfolio as it prioritized other efforts, he said.
"We are now pursuing the growth of that at the max possible speed," he said. "There's going to be a need to continue to provide [soldiers] with new and better kit."
In November, the JCO released a request for white papers on Sam.gov as it looks for solutions for defeating kamikaze drones. A tech demo was tentatively scheduled to take place this month, according to the document.
"The overarching government objective is to rapidly procure production representative, cost-effective detect, track, identify and defeat system(s) for Group 3 sUAS threats for the full threat flight envelope, including at a distance greater than or equal to 2 km in distance," according to the notice.
Vendors are expected to be able to deliver first production articles within 30-90 days of contract award, export production articles to key allied and partner nations within 30-90 days of contract award and provide command-and-control functionality for detecting, tracking and defeating threats, according to the request for white papers.
"The Government currently anticipates that any USG efforts would be 10 USC 4022 prototype OTAs with the possibility for 10 USC 4022(f) follow-on production awards/transactions," the notice said.