Mother ships for drones will be 'extremely important' for the Navy's future fleet, Secretary Del Toro says
The Navy is looking at options to meet that need.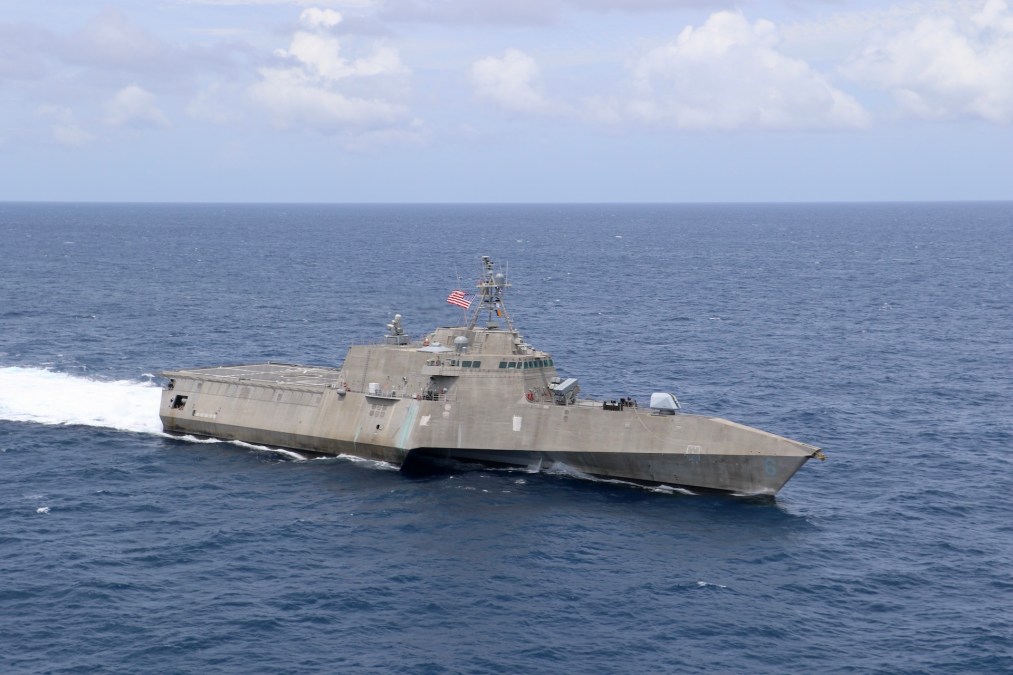 The Navy has ambitious plans for a hybrid fleet of manned and unmanned systems. To that end, it will be "extremely important" for the service to have mother ships at sea that can deploy a variety of drones, according to Secretary Carlos Del Toro.
The Navy is looking at options to meet that need.
In a Feb. 1 letter to lawmakers obtained by DefenseScoop, Del Toro said a study is underway to assess the supporting infrastructure required to operate the envisioned hybrid fleet, including the possibility of repurposing existing vessels for the mothership role. The letter came as Congress is pressuring the Navy to look at potential alternative uses for the Littoral Combat Ship (LCS) amid lingering concerns about its lethality and survivability as a combat platform in a future war against an advanced adversary.
"Specifically, we're looking at the LCS to see … if there's viability to actually turn it into a mothership for unmanned technologies, which I think is going to be very important to our strategy moving forward," Del Toro told DefenseScoop on Wednesday at NDIA's Expeditionary Warfare Conference.
"To be able to utilize the LCS platform as well as a mothership for unmanned technologies is extremely important — whether it be, you know, drones in the air, whether it be smaller vessels on the surface, and also under the surface as well, too. So that's why we took on this exploration to see what we can do and how we can possibly get there. We'll have to see over the next few months exactly what comes from that," he said.
Del Toro hasn't set a more specific target date for staff to wrap up the study and present their findings.
"This is experimental, this is new. And so we have to explore all the different possibilities that exist. I didn't want to put a specific timeline on it … to artificially cut off the work that they actually have to do," he told DefenseScoop.
The Navy has also been conducting market research to see if contractors would be able to satisfy anticipated program requirements for an unmanned mother ship that could launch other types of robotic platforms on the high seas.
Last fall, the service released an RFI for an "Attritable UxS Mother Ship" (AUMS) as it looks for a way to cost-effectively deliver large numbers of drones of various kinds to forward locations in a contested environment. Having a low-cost, uncrewed, "attritable" vessel that could perform this task would allow the Navy to avoid putting manned ships into harm's way to conduct these missions.
AUMS systems "shall be unmanned and capable of following waypoints and navigating via GPS. Design considerations should account for lack of GPS, but with a focus on the trade space of cost to navigate without GPS vs. navigational drift. Also, concepts should consider Over The Horizon (OTH) communications and Line Of Sight (LOS) communications as a means of providing basic tasking to the platform and maintaining situational awareness of the platform," according to the RFI.
Responses to the RFI were due in December.
Meanwhile, the Navy has been experimenting with a variety of robo-ships and drones. The 5th Fleet's Task Force 59 has been deploying them in operational settings in U.S. Central Command's area of responsibility, as it works to build a "mesh network" of uncrewed platforms — enabled by sensors, artificial intelligence and the cloud — for intelligence, surveillance and reconnaissance (ISR) missions.
The service intends to create additional unmanned task forces modeled after Task Force 59, in other regions of the world under 4th Fleet and 7th Feet.
The Navy is expected to spend billions of dollars in the coming years to acquire more robotic platforms to operate in multiple domains, including unmanned aerial systems, surface vessels and underwater vessels.
"Through these investments, we buy down risk for our manned crews while simultaneously adopting platforms that are force multipliers capable of supporting distributed operations. Bringing these unmanned systems online is possible because of the strength of our defense industrial base [and] their ability to research, develop, test and field platforms capable of supporting our expeditionary forces wherever they may be required to go," Del Toro said at the NDIA conference.