Navy developing new mesh network of robo-ships enabled by sensors, AI and the cloud
U.S. Naval Forces Central Command is creating a "mesh network" of unmanned surface vessels that can transmit ISR data via the cloud.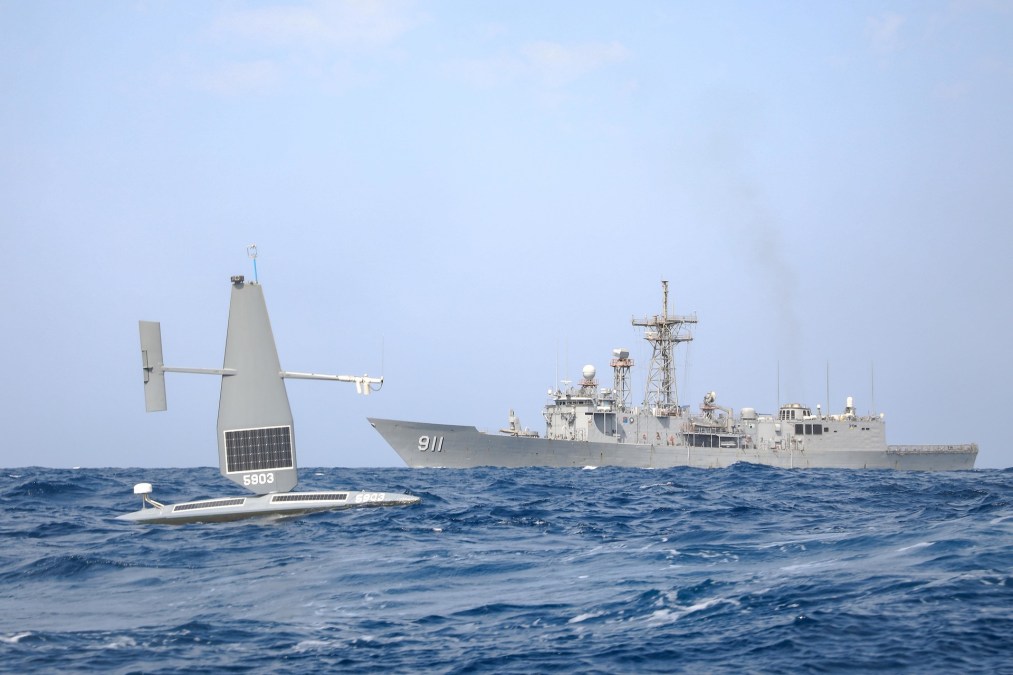 U.S. Naval Forces Central Command is creating a "mesh network" of AI-equipped unmanned surface vessels that carry cameras and transmit data via the cloud, according to the officer overseeing the effort.
The USVs and enabling technologies are expected to enhance the sea service's situational awareness in the vast bodies of water near the Middle East. The Navy and its international partners have been heavily experimenting with the tech. Last year, the sea service established Task Force 59 to help advance these capabilities.
"We've seen great promise in taking new cutting-edge unmanned surface vessel and tying artificial intelligence with them as a means to enhance maritime security around the Arabian Gulf," Vice Adm. Brad Cooper, commander of U.S. Naval Forces Central Command, U.S. 5th Fleet and Combined Maritime Forces, told reporters Wednesday during a meeting at the Pentagon.
The robo-ships have been equipped with cameras that can keep an eye on what's going on and alert commanders when they detect something notable.
The Navy is keen on positioning unmanned sensors equipped with AI throughout the maritime theater.
"These platforms sit out there and they will map the pattern of life of what's happening around them. And then when there's something different than that pattern of life, it will alert the platform. It'll begin to take pictures of it and send that back to a Navy command center where a human being then makes a decision on what to do about it," Cooper explained.
"If you're looking at this picture today in the Arabian Gulf, you know, there's about 8,000 ships that are underway doing something. There'd be no human being that could possibly pick out that movement that's outside of the pattern of life. But what we've seen is AI can do it, it's pretty accurate. We've been operating these platforms for about 25,000 hours now, so have a good sense of how they how to optimize their performance," he added.
Having those capabilities allows U.S. forces to better position themselves to respond when something happens, he noted.
However, the Navy wants to better protect the vessels' communications from being disrupted.
"Just in the last two months, we've been working on developing a mesh network. So if you're not familiar with mesh network … it's the methodology that we use to communicate in a comms-denied environment," Cooper said.
Data collected by USVs can be stored on the cloud where it can be accessed at the Robotics Operation Center in Bahrain. The Navy can then combine that information with other sources to get a clearer picture of what's going on.
"We've used it at a rudimentary level already," Cooper said of the new mesh network. "Operationally it's highly effective. There's a level of classification I probably can't go into. But at a fundamental rudimentary level, we're using it now. Now, it's just a question of continuing to iterate and tweak it because it's pretty high end, it's a pretty high-end business," he said.
"I like where we are and I like the direction we're going and the speed that we're moving with," he added. "In our case, we've been leaning hard into mesh networks because it is the future and provides the most resilient communication capability, which we're obviously going to want to have."
Meanwhile, the Navy is growing its fleet of unmanned platforms in the region. The goal is to have about 100 USVs — contributed by the U.S. and partner nations — operating there by the end of next summer.
The Navy is leveraging commercial dual-use technology for these efforts, including Saildrone systems.
The majority of the 5th Fleet's USVs are "COCONO," Cooper said, meaning contractor-owned, contractor-operated, with Navy oversight. In the near term, that will continue to be the business model.
"What it has allowed us to do is to take leading-edge technology and put it to test in the environment we work with, and very quickly figure out, is it going to work or not? Does it show promise? If it does, okay, then, you know, we'll work with the companies and we can move faster," he said.
The Navy and its industry partners are working collaboratively to train the artificial intelligence systems on the USVs to detect the things that commanders want to know about. The companies providing the platforms aren't necessarily the ones providing the AI technology, according to Cooper.