Army concludes capstone event for next iteration of network equipment
Following the phase II operations demonstration, the Army will be taking lessons to inform the final fielding decision for Capability Set 23.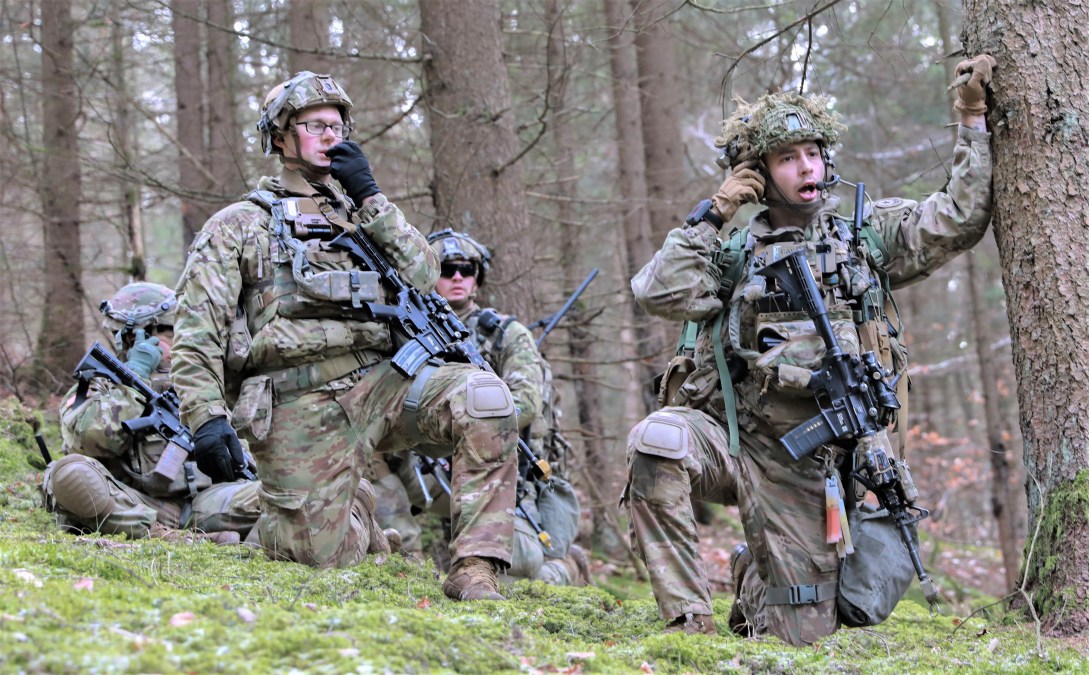 The Army completed its culminating event for activities associated with its next build of network equipment and will now be preparing to make fielding decisions.
Last month, the 2nd Cavalry Regiment conducted its capstone training event at Joint Multinational Readiness Center in Hohenfels, Germany. It is the first unit in the Army to get the next batch of tactical network equipment, serving as the experimentation unit to game out what technologies work and what don't. The Army's network team used this exercise as its phase II operations demo for the gear following phase I last year.
The equipment is part of what the Army calls Capability Set 23. The Army has adopted a multiyear strategy involving the incremental development and delivery of new capabilities to its integrated tactical network, involving a combination of program-of-record systems and commercial off-the-shelf tools. Those Capability Sets now provide technologies to units every two years, each building upon the previous delivery. Capability Set 21 was primarily designed for infantry brigades; Capability Set 23 is focused on Stryker brigades, and Capability Set 25 is focused on armored brigades.
During this two-year process, there are a series of lab-based tests and risk reduction as well as field-based tests with a unit working from smaller formations and culminating in a brigade-sized exercise where they get to see how it all works together in a realistic setting. For Capability Set 23, the Army conducted around 20 different test events.
"This ops demo phase II was really focused on unit readiness and unit use of the kit in a live fire environment," Matt Maier, project manager for interoperability, integration and services at Program Executive Office Command, Control, Communications-Tactical, told DefenseScoop in an interview. "It was the culminating event for our Capability Set 23 activities."
For the first time, the unit and the network team were able to test the gear in all weather conditions, day and night operations, mounted and dismounted configurations, and move around with it all in a real operational scenario against an opposing force.
While the 3rd Brigade Combat Team, 101st Airborne Division is currently being fielded with Capability Set 23 equipment, the operations demonstration sought to evaluate how the equipment performed to inform a final fielding decision in the next few months. Based on the results of the operations demo, the PEO will make a fielding decision to solidify Capability Set 23 systems, basis of issue, and how they're trained and used going forward.
"Because 2CR was our first unit equipped, this was their first experience using some of the new [commercial off the shelf] components that we fielded in cap set 23. They were able to see how they apply to make the mission better for either dismounted soldiers or when it comes to be able to get a position location information in their command post or down to their mounted formation vehicles," Maier said.
Officials said the feedback overall was positive, though not without some growing pains, which is normal for a unit testing and using equipment for the first time.
But, officials acknowledged that the learning curve was shorter for soldiers this time around than in 2021 when the 1st Brigade Combat Team, 82nd Airborne Division tested gear for Capability Set 21, which was the first time any unit received integrated tactical network (ITN) capabilities.
"One thing we learned is, and this is a kind of a side lesson, is that the more reps and sets that leaders out in the field get with ITN and the new capabilities, the better and more comfortable they are," Col. Shermoan Daiyaan, project manager for tactical radios at PEO C3T, said. "That seems intuitive, I know. But what we're seeing is brigade commanders who were battalion commanders, who had Capability Set 21 are now brigade commanders, who are having Capability Set 21 [and] 23, who are much more adept at employing the capability."
The commander for 2nd Cavalry Regiment was one of the early adopters of the Capability Set and ITN, Daiyaan said, adding he was a battalion commander with ITN capability previously. Now, his unit in 2CR is moving faster with the gear and the learning curve is shorter.
Additionally, the unit used all the capabilities at its disposal such as working through what's known as its PACE plan, or primary, alternate, contingency and emergency communications, which Diayann called important for the Army given top defense officials anticipate units will be challenged with their communications by adversaries.
One of the more important aspects of the operations demonstration was assessing the non-program of record commercial off-the-shelf equipment. It was the first time the demonstration focused on collecting data about the non-program of record equipment given they were procured using unique acquisition authorities.
Now the Army has to make decisions about what stays and what goes, and this data will help shape future capability design goals such as Capability Set 25.