Emerging tech takes center stage at Senate Intelligence Committee hearing focused on worldwide threats
Sen. Mark Warner, chairman of the Senate Intelligence Committee, believes the nature of emerging technology has fundamentally changed the nature of national security.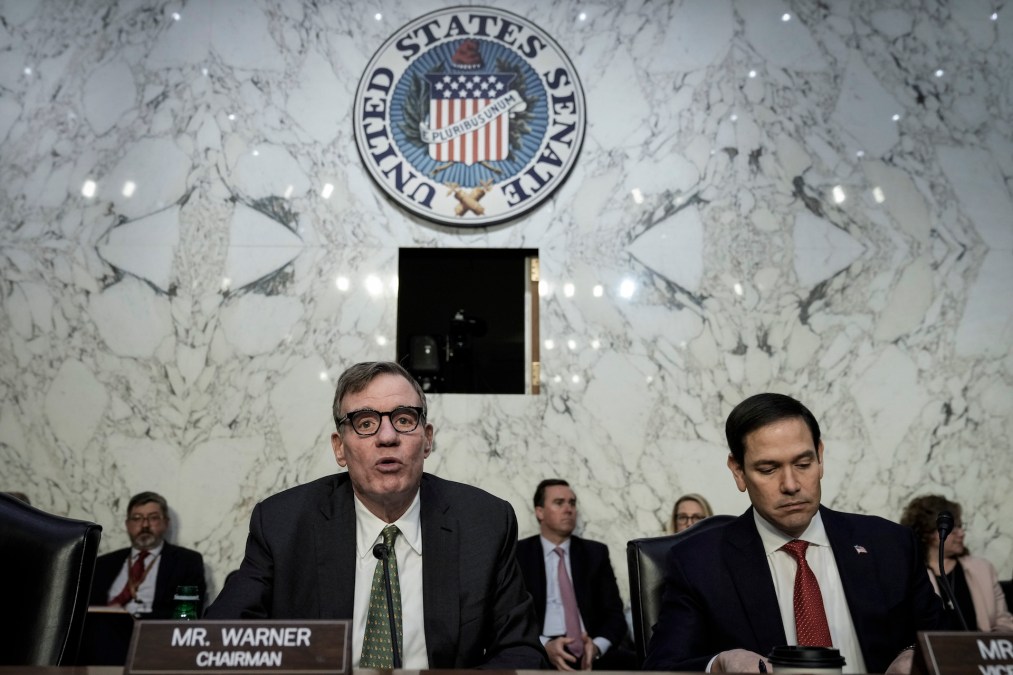 "National security in 2023 is not the same as it was in 1993 [or] for that matter in 2003."
That assessment by Senate Intelligence Committee Chairman Sen. Mark Warner, D-Va., was shared by the heads of all the major American intelligence agencies and, Warner said, a large bipartisan group of senators.
The rise in technology and its application has shifted what national security means relative to years prior, what Warner described as "simpler times."
"While the ongoing war in Ukraine has shown that conventional military capabilities are still important, I think the very nature of national security is undergoing a profound transformation," he said at the top of the committee's annual worldwide threats hearing Wednesday. "We can no longer just pay attention to who has the most tanks, airplanes or missiles. We also need to focus on technology, R&D dollars, strategic investment flows and supply chains. Because whoever leads and wins the challenges in technology domains will have an edge in national security competition in the future."
Warner pointed to the role cyber tools have played, allowing actors to have an impact – either through espionage, subterfuge or outright destructive effects — from across the world.
He also singled out China, who has sought to become a world power that rivals the United States and is making large investments in critical technologies to pursue those aims.
"I think the revolution in technology is not only the main arena for competition with the People's Republic of China, it's also the main determinant of our future as an intelligence service as well," William Burns, director of the Central Intelligence Agency, told the committee.
As the U.S. turned its focus to other priorities, China made significant investments and advancements, he noted.
"While America was focused for two decades on counterterrorism, China was racing to overtake the United States in a range of emerging and foundational technologies such as advanced wireless communication, semiconductors, quantum, synthetic biology and next-generation energy — as well as taking not only the extraction but the processing of rare earth minerals that are so critical in so many of those technologies," he said. "The PRC has also become an active player in the international technology standard-setting bodies and is embedding itself in global supply chains."
Others intelligence officials echoed concerns about other nations catching up to the United States.
"When I came in the Army 1984, we owned the technology — the West owned the technology. We won the Cold War and then I think we took our eye off that ball," Lt. Gen. Scott Berrier, the director of the Defense Intelligence Agency, told the committee. "Now it's about how do we apply this asymmetric advantage that we have and this partnership of folks sitting at this table right now who worked so closely together to try and defend our nation."
The unclassified version of the U.S. intelligence community's annual threat assessment, released Wednesday, notes that new technologies, particularly in artificial intelligence and biotechnology, are being developed faster than governments and companies can shape norms.
"The convergence of emerging technologies is likely to create potentially breakthrough technologies not foreseeable by examining narrow science and technology areas, which could lead to the rapid development of asymmetric threats to U.S. interests," it states. "The convergence of capabilities in high-performance computing, big data, and machine learning — each a critical enabler across multiple domains — could have broad yet unidentified consequences across military, commercial, and basic research applications with relevance to national defense, economic security, and political stability."
Moreover, many advanced technologies are being developed by private industry, providing a shortcut for other nations to acquire them.
"Foreign intelligence services are adopting cutting-edge technologies — from advanced cyber tools to unmanned systems to enhanced technical surveillance equipment — that improve their capabilities and challenge U.S. defenses. Much of this technology is available commercially, providing a shortcut for previously unsophisticated services to become legitimate threats," the threat assessment said.
Officials at Wednesday's hearing said partnerships are key to regaining the edge and winning this global competition.
"Over my lifetime, I have seen increasingly the innovation of critical foundational technologies occurring in the context of the private sector. And our capacity to work with them to understand essentially what those innovations are and how we can help them protect themselves in this context is another aspect of this that has to be focused on and something we spend a lot of time on," Director of National Intelligence Avril Haines said.