Gilday: Navy's big plans to scale Project Overmatch start with USS Carl Vinson
The envisioned network will be "the bedrock for the joint tactical network of the future," he said.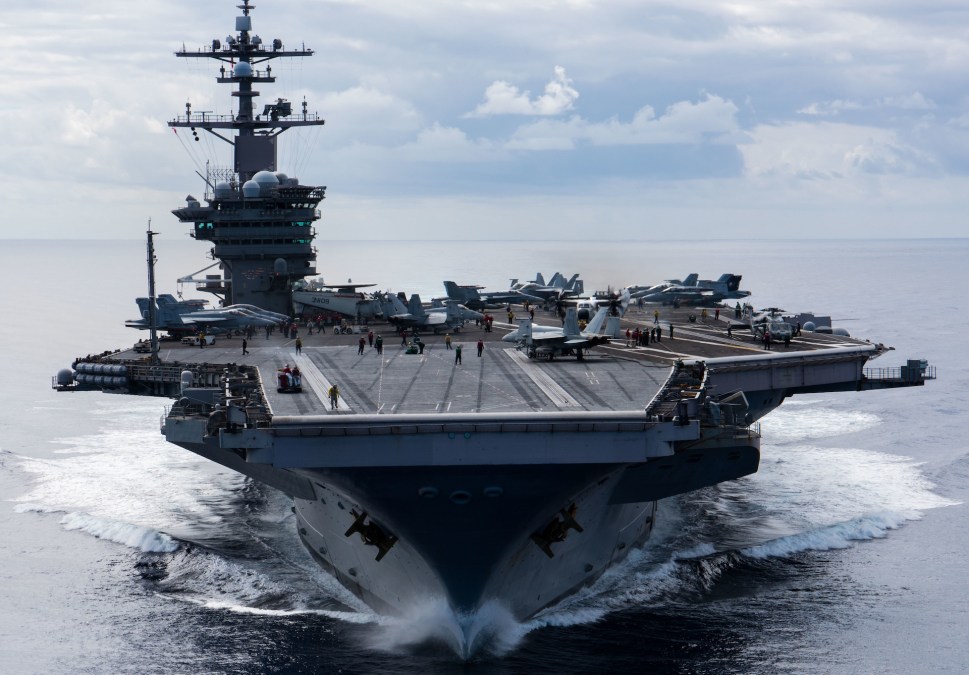 The San Diego coast marks an early proving ground where the Navy is moving to expand and scale emerging capabilities associated with its Project Overmatch, Chief of Naval Operations Adm. Mike Gilday told DefenseScoop on Wednesday.
Broadly, Project Overmatch marks the Navy's complex contribution to the Pentagon's Joint All-Domain Command and Control (JADC2) pursuit — a multi-billion-dollar plan to securely connect forces and military assets across all domains, including space and cyberspace. Each service is bringing its own elements to the table for JADC2, but many details about the Navy's program have been kept secret over the last several years since its inception.
During the annual McAleese and Associates Defense Programs Conference in Washington on Wednesday, Gilday alluded to Project Overmatch-aligned progress now unfolding in California, via the homeport for Navy Carrier Strike Group One (CSG-1) and its current flagship, the USS Carl Vinson.
"I want to use the USS Vinson to accelerate the scaling" of Project Overmatch, Gilday told DefenseScoop after his keynote at the conference.
Investments the Navy has made and continues to make will ultimately enable that next-generation operational architecture, which during his keynote Gilday said "will be the bedrock for the joint tactical network of the future."
He added that the in-the-making systems and technologies will allow Navy officials to "take any data and push it over any network in a software-defined environment, where the software decides what to prioritize information and how that data is going to flow to the endpoint — whether that's a decision maker or whether that's a weapon system."
Though brief, in his keynote Gilday also mentioned that his team recently scaled Project Overmatch "to a carrier strike group, operating up the coast of California now" — and is "looking to scale that fleet-wide after that, and to scale even further across the Navy."
In response to DefenseScoop's follow-up question on that specific work, Gilday said he is "expecting big things" out of Vinson and that carrier strike group in fiscal 2024 to inform how Project Overmatch can be unfurled across the sprawling enterprise.
"I want to see a successful instantiation in the Vinson strike group as they deploy," he noted.
Much like the Navy's Fifth Fleet is doing with drones, Gilday said this work represents experimentation and delivery of capabilities "against real-world problems" — and is not simply "experimentation for experimentation sake."
The Navy is requesting $192 million for Project Overmatch in fiscal 2024 — less than the enacted amount for fiscal 2023, which was $226 million.